Aaron Hernandez's Fiancee on Gay Rumors: 'It's Just Not Him'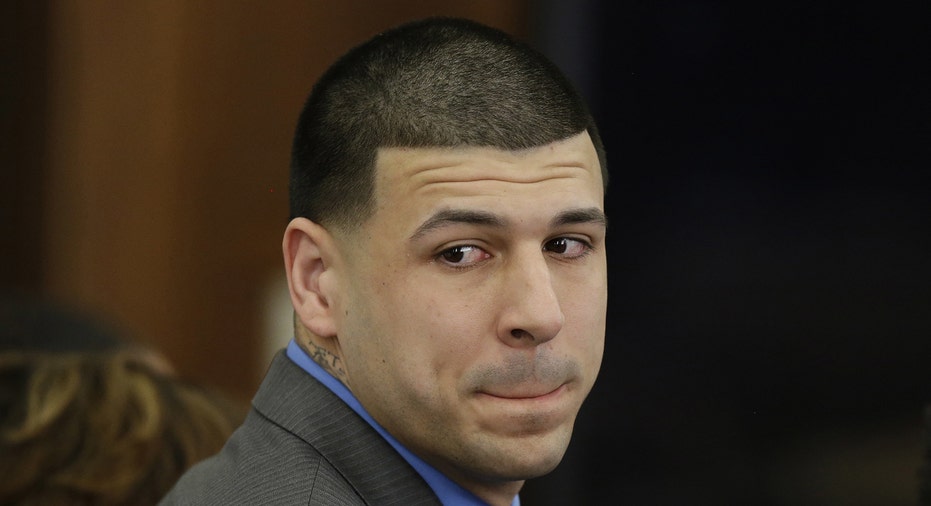 Shayanna Jenkins-Hernandez, the fiancée of Aaron Hernandez, denied this week that the former New England Patriots star may have been gay, or that he had an affair with a fellow inmate while serving a life sentence for the murder of Odin Lloyd.
"The Aaron that I know, no. I had no indication or any feeling that he was [gay]," Jenkins-Hernandez said during a lengthy interview with daytime talk show host Dr. Phil, the second part of which aired on Tuesday. "He was very much a man to me. I don't know where this came from. It's embarrassing in sense. It's hurtful. If it's true or not, it's just not something that I saw. It's not something that I believe, and it's just not him."
Hernandez, 27, hung himself in a Massachusetts prison cell in April, just days after he was acquitted of a separate double murder that occurred in 2012. A judge erased Hernandez's conviction for Lloyd's murder earlier this month, citing a state legal tenant that voids convictions if a defendant dies before the appeal process is complete.
Hernandez's use of the phrase "you're rich" in a suicide note addressed to his fiancée sparked rumors that the former NFL star committed suicide in a bid to clear his record and help his estate recover bonus payments from the Patriots. However, Jenkins-Hernandez told Dr. Phil in the first half of the interview that she read Hernandez's use of "rich" as a declaration of love, not a hint at a potential financial windfall.
Jenkins-Hernandez also denied any knowledge of the contents of a box that Hernandez purportedly asked her to dispose of just one day after his 2013 arrest. During Hernandez's trial for Lloyd's death, prosecutors suggested that the box contained the murder weapon, which was never discovered.
"I don't want to know anything that can haunt me, in a sense," she said. "I'd rather be in the dark with a situation like that."
Experts have told FOX Business that the judge's decision to abate Hernandez's murder conviction could protect his remaining financial assets from lawsuits, as his criminal record is technically clean. The Boston Herald reported in April that Hernandez's estate is worth close to zero, with his $1.3 million North Attenborough, Massachusetts mansion the only remaining asset. The house is currently on the market.
Rosanna Cavallaro, a professor of law at Suffolk University in Massachusetts, said it's unlikely that the Hernandez estate's legal team will be able to recover any bonus money from the Patriots, or pension money from the NFL, in light of the judge's decision to erase his conviction. The Patriots withheld $3.25 million in bonus money after Hernandez's arrest.
*The Associated Press contributed to this report.