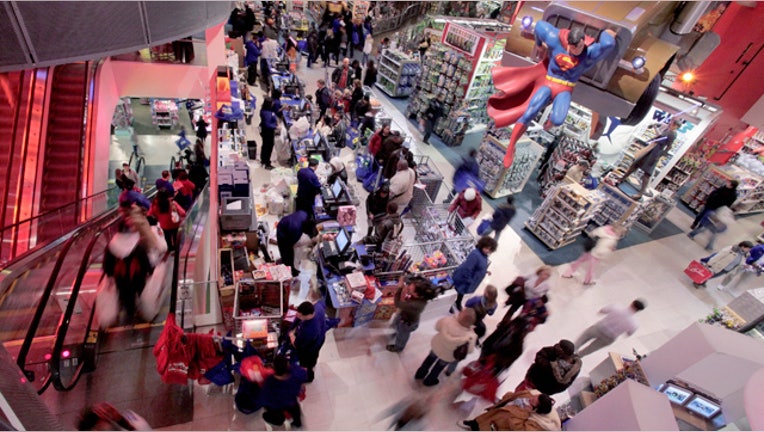 As more retailers offered deals on Thanksgiving Day, the number of Americans visiting stores to shop on the holiday jumped 83% this year, while a record number of people shopped online.
Taking advantage of door buster deals, the average shopper spent $423 this weekend, up from $398 a year ago, while total spending reached an estimated $59.1 billion, according to the National Retail Federation.
Shoppers even headed out earlier this year with stores like Wal-Mart (NYSE:WMT), Sears (NASDAQ:SHLD) and Toys 'R' Us opening as early as 8 p.m. on Thanksgiving, with 28% making it to the store by midnight on Black Friday, compared with just 24.4% a year ago.
An estimated 35 million Americans visited stores after gobbling up their turkey dinners, up from just 6 million a year ago, according to the NRF.
"From green beans to great deals, millions of Americans found time this Thanksgiving to make the most of retailers' promotions," NRF CEO Matthew Shay said in a statement.
On Black Friday, which marks the unofficial start to the holiday shopping season, a record 247 million shoppers visited stores and web sites, up from 226 million a year ago, according to the NRF survey conducted by BIGinsight, which polled more than 4,000 consumers on Nov. 23-24.
More shoppers visited brick-and-mortar stores this year compared with in 2011, however, online spending continued to make up a larger portion of holiday sales as consumers looking to avoid traffic and long lines shopped from the comfort of their living room.
E-Commerce Takes Bigger Bite Out of Black Friday
U.S. retail e-commerce spending this Black Friday reached $1.042 billion, making it the biggest online spending day to date in 2012 and marking a 26% increase from the 2011 period, according to data from comScore (NASDAQ:SCOR), which measures digital sales.
Typically a lighter shopping period, sales grew 32% on Thanksgiving Day to $633 million.
"We continue to see this shopping day become more and more prominent in the e-commerce channel – particularly among those who prefer to avoid crowds at the stores," comScore chairman Gian Fulgoni said in a statement released on Sunday.
So far in the November-December 2012 holiday season online sales are up 16% year-over-year to $13.7 billion, comScore said. The average person spent $172.42 online this weekend, or approximately 40.7% of their total Black Friday spending, up from 37.8% in 2011, according to the NRF.
Reston, Va.-based comScore said it is looking forward to a high-traffic Cyber Monday as people head back to work. E-commerce sales this Monday are expected to be the heaviest of the season – if not ever –predicted to surpass $1.5 billion.
Adobe (NASDAQ:ADBE) last week forecast a record-breaking Cyber Monday, with online revenue growing 18% to $2 billion. It had also expected sales to grow 12% year-over-year on Black Friday.
As of Sunday, Amazon (NASDAQ:AMZN) had been the most visited online retail site over Black Friday weekend, recording a year-over-year increase of 18%, followed by Wal-Mart and Best Buy (NYSE:BBY), according to the comScore data. Rounding out the top five most frequented retail sites this weekend were Target (NYSE:TGT) and Apple (NASDAQ:AAPL).
Online vs. Brick-and-Mortar Retail Stocks
A sign of online retail's growing footprint in holiday shopping, sales of online-only retailers like Amazon, eBay (NASDAQ:EBAY) and Overstock (NASDAQ:OSTK) are up 46% this year, more than double brick-and-mortar retailers.
Big-box retailers are starting to invest more heavily in their Web presence in an effort to better compete with online-only competitors that have been snagging a broader chunk of retail spending.
Richfield, Minn.-based Best Buy, for example, adopted an aggressive holiday strategy this year that included matching prices from some of its biggest online rivals like Amazon and delivering goods directly to shoppers when inventory is not available in-store at the time of purchase to dissuade them from buying the item over the Internet.
The ailing consumer electronics giant's new chief executive, Hubert Joly, has pledged to grow the  company's online sales, while streamlining the organization so that it operates as a more nimble company. Part of that strategy has included investing online, while closing certain 50,000 square foot brick-and-mortar stores in poorer performing regions.