A Positive F-Word and Other Tips From 'Vera Bradley'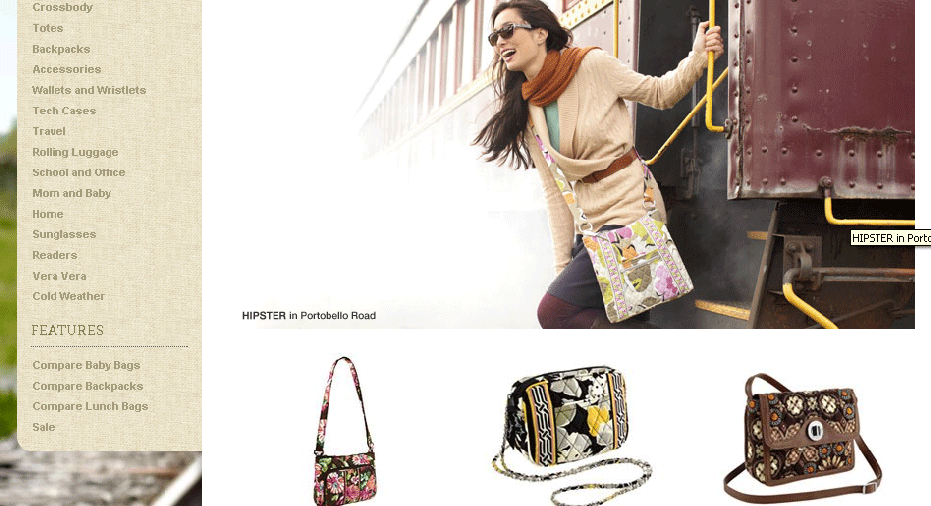 The story of Vera Bradley − the iconic company renowned for its quilted fabric luggage, handbags, and accessories – is a true testimony to the American Dream. Back in 1982, Vera Bradley co-founders Patricia R. Miller and Barbara Bradley Baekgaard were awaiting a flight in an Atlanta airport when they noticed a lack of feminine-looking luggage. Fortunately, Miller and Baekgaard quickly acted on what they say was "a great idea that came at the right time," and just a day after returning from their vacation pooled $500 to buy some fabric and create functional, yet feminine luggage for women.
That very same week, they solicited a seamstress friend to design some luggage and handbag prototypes for a home clothing show taking place in their town of Fort Wayne, Indiana. When all of the prototypes sold out at the show, Baekgaard and Miller were on their way shortly thereafter to the local bank for their first $2,000 ninety-day note. Working from Baekgaard's basement, the two women put out an ad for some "home sewers" to help them keep up with demand for their products. The rest, as they say, is history.
Today, Fort Wayne, Indiana-based Vera Bradley, named after Baekgaard's mother Vera, sells products through 60 retail stores, 10 outlet stores, 3,300 specialty retailers and online at verabradley.com. With over 2,000 employees, the company's fiscal 2012 sales were $461 million.
In honor of October's Women in Small Business Month, Fox Small Business spoke with both Miller and Baekgaard about their 30-plus-year careers and what it takes to turn a cottage business into a nationally and internationally recognized-brand. Miller, who is set to retire from Vera Bradley at the end of October, confides she has a soft spot in her heart for women because she identifies with all of the things they need to balance in life. Known as the founder with the "business brain," Miller says she keeps a figurine of Mickey Mouse in her office to remind her that Vera Bradley will continue to evolve, but their products will always be recognizable as "a Vera Bradley."  Here are three tips Miller offers to those starting, or in the midst of running, a small business:
No. 1: Be passionate and surround yourself with passionate people.
I believe in the power of positive thinking…you have to always have in your mind that you can do it. I also believe your passion is like a mirror, always reflecting back to you what you see/show out. As a leader, you always have the ability to control the energy around you, if you display real, honest passion. Everyone has been around someone that is not energized and they wind up depleting the energy from other people. Always surround yourself with other people that are passionate about your business. This should hold true for all facets of your business – from your banker, to your suppliers, to the people you hire.
Back in 1982, when Barbara and I went for our first loan, we didn't feel our initial banker showed enough emotion (positive or negative) about our business. So, we went right into the bank and asked the receptionist if we could work with someone else. We stayed with that new banker throughout the majority of our careers. Surrounding ourselves with people who are energetic, creative and passionate about what they do has contributed greatly to the growth of Vera Bradley.No. 2: Always encourage quality and continuous improvement; never be satisfied with the status quo.
There is always a way in which something can be improved. At Vera Bradley that could mean anything from a better bag design to a better way to communicate with a customer. However, you must keep in mind how you express the need for continuous improvement. It should be a positive call to action. For instance, express to an employee that what they did was terrific, while giving them positive encouragement for continuous improvement. The word we use to describe it at Vera Bradley is fussy. We're fussy about our surroundings, the goods we're producing, and how we treat people.
Fussy is a good word around here. Textile and fabric have always been important to women, and Barbara and I agreed early on that our bags had to maintain the finest of quality. When someone buys a Vera Bradley product, they know the kind of quality fabric they're getting.No. 3: Treat people as you would like to be treated.
Before I respond to someone, I always like to think about how I would feel if someone said what I was going to say. At Vera Bradley we treat people like they deserved to be treated. At the very beginning, we wanted to be a company that people wanted to work for. Also, we strive to make our employees' lives as livable as possible. Our company is made up of over 86% women, so as women ourselves, we know that when they go home, they have even a bigger job ahead of them. This, of course, goes for the men of the company as well, but we've personally walked in the shoes of women.
Vera Bradley has been a very special place to work and I'm extremely proud of the people who do and have worked here. This mantra extends to other initiatives our company supports of which I am also extremely proud. For instance, our Vera Bradley Foundation has raised nearly $15 million for breast cancer awareness and research over the years.
Baekgaard, who currently serves as Vera Bradley's Chief Creative Officer, known as the founder with the "creative brain," is protector of the Vera Bradley brand and heads up everything on the creative side of the company including marketing, product development, merchandising and advertising. Basically, anything that falls into the "visual" category. Baekgaard contributes some of the company's success to the visibility of its products. She joked that her and Miller could have started a nightgown company with the same iconic patterns and no one might have known. Baekgaard, who constantly keeps abreast of fashion and color trends, strives to evolve the Vera Bradley patterns, while keeping them classic. Baekgaard offered the following tips for growing a business:
No 1: Know what you don't know.
When hiring, don't continually hire people who are like you. Instead, hire people whose skills complement yours. Find the right people to do what you don't have time to do or aren't as good at. Also keep in mind that when starting out there are tons of people willing to help you. The organization SCORE was a tremendous help to us in the beginning. We went to SCORE and found someone who was strong in finance that could help us and it didn't cost anything.
No. 2: Hire people who fit your culture.
Vera Bradley is a very culturally driven company and we feel strong about hiring people who fit into our culture. Our goal is to attract passionate, energetic and honest people. Hiring the right people should be kept as a high priority. Also, the best way to find out about someone's character is to observe the way they treat other people. Ask the receptionist how she was treated or take them out to dinner and see how they treat the wait staff. We like to say at Vera Bradley that we don't hire people and tell them to be nice, we hire nice people.
Also, don't let a resume taint your judgment either way. I talk to a candidate and base my opinion before I even look at their resume – in other words don't hire someone based on what they appear to be on paper. I keep to my Dad's mantra of sell yourself first, your company second, and your product third. No one has to buy your product, as there are tons of them out there. Most business deals start with a relationship, which is the culture part of it and why it's important to hire people who fit your culture.
No 3: Don't overlook family and friends as potential employees.
I know this one might not work for everyone, but it can be a big help when starting out. For instance, when we started Vera Bradley, our family and friends who lived in different parts of the country were the first ones to rep our products. We used, and still do use, family in our catalogues. We utilized my daughter's college friends as sounding boards, sending many products for her to circulate around her school. If you have the right family and friends to help, there is no better way to ensure loyalty.  Our business started with friends and family and we contribute much of the company's success to their help and support.