A Commuter's Dream: Bus Arrivals Timed Just Right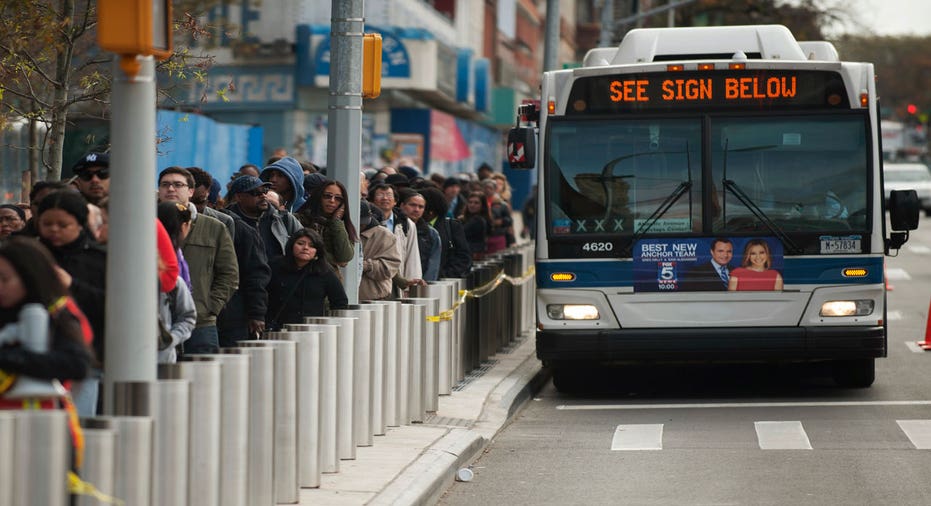 If there's one thing New Yorkers hate about their city, it's waiting for a bus. Traffic, construction, an accident or just a slow passenger with an armful of shopping bags can knock buses off schedule by half an hour or more. Just a few years ago, that meant standing at a bus stop for ages, not knowing if your ride was around the corner or across town or on the far side of a water main break.
Now, any rider with a smart phone - or even an ordinary cell phone - can press a few buttons and pinpoint the exact location and expected arrival time of the next bus, making for a more efficient commute and better use of a commuter's valuable time. That's because of a system the Metropolitan Transit Authority began rolling out in 2012 (and which was completed last year) called BusTime.
Using it is easy. Dozens of free smartphone apps tell riders when their next bus is coming. And for those who can't be bothered to download an app, every bus stop has a unique QR code - those splotchy squares - that a smart phone can read and instantly flash up the time before the next bus arrives. Smartphone apps can even tell you if there is a faster way to travel. And if you've only got a regular cell phone, you can send a text message and get one back detailing the arrival time of the next bus.
It's all based on a free, open-source software called OneBusAway, developed by a group of graduate students at the University of Washington and which is the basis for bus schedules at over a dozen transit systems across the globe.
New York's system involved putting a GPS beacon with a cell phone transmitter in each of the MTA's 5,700 buses, so that every 30 seconds each bus pings its identity and location to a bank of computers - in the MTA's case a host of computers at an Amazon (NASDAQ:AMZN) cloud computing station. The system connects back to an API, an application permitting interface, which allows users to query the system and find out when the next bus will arrive.
"Imagine software that receives a gazillion messages, does a whole bunch of cross referencing and look-up," said Eric Ziering, executive vice president of Cambridge Systematics, a Massachusetts-based engineering and consulting firm that worked with the MTA to turn OneBusAway into a software and hardware package that could track all those buses at once. "There's a lot of intelligence in there that make predictions of when a bus will hit a particular stop."
Riders aren't the only ones who use the app. Dispatchers can tell if buses are behind or ahead of schedule and have them slow down or speed up as necessary. Planners can use the system to decide how to change routes and schedules for greater efficiency, moving commuters faster and more effectively. The MTA's system actually came in under budget - spending only $59.61 million of the $62.06 that was budgeted said agency spokesman Kevin Ortiz. Today the system gets as many as 100,000 text-message inquiries a day, and has 20,000 to 26,000 Web user systems daily, with most of the queries coming in from 7 a.m. to 8 a.m.
As BusTime has spread, so has customer satisfaction. Last year a record 73 percent of riders said they were satisfied with the service for the fare they paid, and this year 56 percent of riders surveyed said they were satisfied with knowing how far away the next bus was, up from 48 percent in 2012.