7UP, Project 7 Team Up to Enable Do Gooding On-the-Go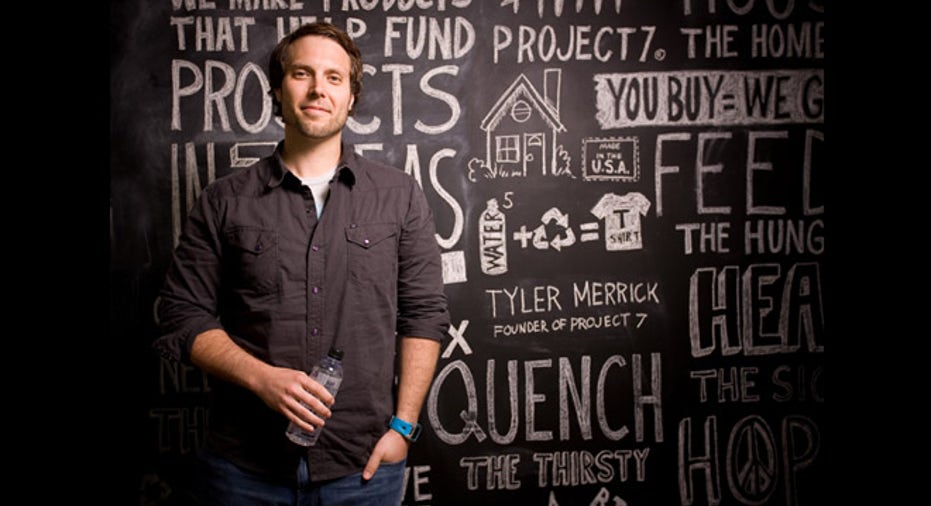 Small Business Spotlight: Project 7 (@Project7) teams up with 7UP (@7UP)
Who: Tyler Merrick, founder of Project 7, and Dave Falk, vp of marketing, Dr Pepper Snapple Group 7UP
What: A collaboration that aims to put consumers in control of worldwide giving initiatives. Consumers use the code under each cap of specially marked 7UP bottles to select which of Project 7's seven causes 7UP will fund.
When: January 2014 through November 2014
Where: Under the cap of your 7UP bottle, online and worldwide
How: In 2012, 7UP approached Tyler Merrick's company dedicated to making "products for good," Project 7, in an effort to turn the brand into a giving structure – and let customers "do good on-the-go" simply by purchasing a soda and redeeming a code.
7UP made a generous donation to kick off the partnership and start the campaign.
"7UP has donated a significant amount to Project 7, which has already made a huge impact across the seven areas of need. For example, 61,607 malaria regiments have been provided as part of the "HEAL the Sick" area of need, as well as 492,857 meals have been provided for U.S. families, as part of the "FEED the Hungry" area of need," says Dave Falk, vp of marketing for Dr. Pepper Snapple Group 7UP.
Merrick launched Project 7 in 2008 with the aim of ensuring that people across the globe have access to fundamental human needs. His "products for good" are everyday purchases like gum, coffee and bottled water. For every good purchased, Project 7 gives back to one of their seven causes: hunger, health care, housing, clean water, education, environmental stewardship and counseling for children in warzones.
"The immediacy and tangibility of doing good is just one thing we love about the partnership Consumers can see the impact they're making," says Falk.
And indeed, when consumers log onto the 7UP site to plug in their under-the-cap code, they can see their contribution in action. Falk points out that the added benefit of being able to share your giving with your friends, families and followers on social media – like a ripple effect – allows more people to get involved.
"It's not just dollars and cents," Merrick says. "It's 20,000 night of shelter, a dozen kids going through anti-bullying counseling, and the more caps redeemed, the more giving that goes on."
Biggest challenge: Merrick says Project 7, like many startups, went through the challenge of having a vision and struggling to gain traction, knocking on doors and encountering rejection. Continuing to "pioneer through setbacks" is what Merrick credits with pushing Project 7 over the top. The company started six years ago as a few notes jotted down on the back of a napkin. Fast forward to the current partnership with 7UP, and it shows that people are willing to give small dreamers a chance.
One moment in time: "What's exciting for [Project 7] from our perspective is that here's this iconic brand … and to think about them giving that much real estate and the 7UP name to our seven causes, making it so easy for somebody to give back, is a really cool thing," Merrick says.
Looking forward: "The thing that's so key about these giving stories is awareness," Falk explains, adding that "the more people know, the more they can support, and that's the kind of thing we want to see long-term.
"By ourselves, we can only do so much, but when you take the ripple effect … that's the neat thing."