6 Financial Mistakes to Avoid in Divorce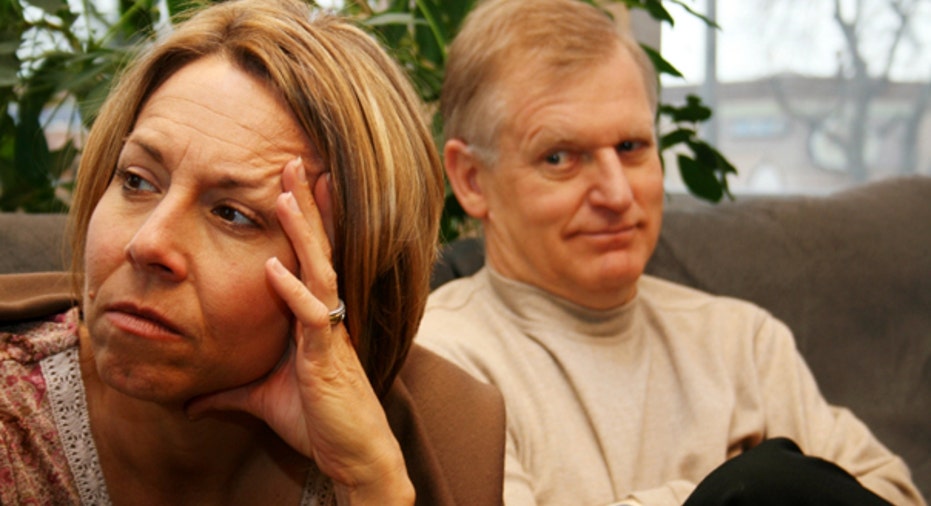 Divorce takes an emotional toll, and if you are not careful, it can often take an economic one as well. Protect your credit and come through divorce under the best possible financial circumstances by avoiding these common mistakes.
1. Trying to get evenThink twice about trying to exact financial revenge for wrongs committed against you in the marriage -- it could cost you in the long run. The more you argue over the division of assets, the more you'll end up paying legal and other professional fees, says Jeff Ivory, a partner with Stonebridge Financial Partners. Those fees could cripple you financially as you start your new life and affect your ability to get credit.
Instead, keep "the personal stuff" out of the equation, approaching the division of assets in as civil a manner as possible, he advises. Consider working with a financial professional or mediator instead of opposing attorneys.
2. Maintaining joint creditMaybe you forgot that jointly held credit card, or maybe you agreed to keep the card open and accessible to both of you, for whatever reason. Either way, big mistake. "If everyone is cooperating, it works, but when someone doesn't pay or runs up debt, the other spouse remains liable," says Jerry Cohen, a certified public account specializing in financial forensics.
Before divorcing, pull your credit report from all three major credit bureaus -- Experian, Equifax and TransUnion -- and pay off jointly held cards, if possible. Otherwise, transfer any balances to one person's name and then close the joint accounts. If you're concerned that your spouse might open a joint account during the divorce proceedings, consider placing either a fraud alert or security freeze on your credit by contacting the credit bureaus.
After the divorce is finalized, check your credit report annually and dispute any suspicious findings. "I found that my ex-husband was using one of my old credit cards six years after our divorce," says Denise Winston, who immediately closed it.
3. Overestimating the power of a divorce decreePeople often think that if the divorce decree specifies one party is to pay off a credit card, they aren't responsible for the debt anymore. That's not necessarily the case, as Kate Burch, director of communications at The University of Oklahoma, learned last fall. "My ex was supposed to pay one of the credit cards per the decree, but when he decided not to pay it any longer, I was at fault since it was in my name," she says.
If you're borrower or a co-borrower, the credit card company can hold you liable, regardless of the decree, says Todd Christensen, director of education at Debt Reduction Services Inc. "Credit card companies are not party to a divorce decree," he says.
Ivory suggests you contact the lender directly before finalizing the decree and discuss what they need from you to remove your liability and minimize your credit risk.
4. Planning without a budgetYou can't make smart financial decisions without a budget, especially when you are starting over after a divorce. First, determine what you need to live on. Cohen recommends working with a financial planner to budget for three, five and even 20 years from now. "You need to think about your finances from the perspective of your future," he explains.
Then, as you negotiate the division of marital assets, keep that budget in mind. Jeff Landers of Bedrock Divorce Advisors, a firm specializing in divorce financial strategy, indicates failure to do so could be financially disastrous. "Once your final divorce decree is signed, it may be difficult, or even impossible, to make changes," he says. "You often have only one shot to get it right."
5. Believing assets are created equalWhen dividing marital assets, you need to weigh their true value. Do you choose a $30,000 car or a $30,000 mutual fund? How about a $600,000 bank account or a completely paid $600,000 home? Choose carefully because the car will depreciate in value, and taxes, maintenance and capital gains can take a chunk out of the home's true worth. Homes are particularly difficult to value because the market can fluctuate, and they're worth zero if you can't afford the payments and lose the house in foreclosure.
Instead of focusing on the now, Ivory suggests, think again of the future. What will the asset be worth? What expenses (penalties for early withdrawal, taxes, depreciation) are involved? Don't let emotion get in the way. "You can buy the physical again, but you don't want to be in a position where you can't afford to pay for it now," he says.
6. Just wanting to get it over withStressed by the divorce process, Jennifer Tanner decided to concede and allow her ex, the noncustodial parent, the right to claim their son on his taxes every other year. That decision cost her $2,300 last year and, by the time her son is grown, tens of thousands in future deductions.
Ivory says it's not uncommon for a spouse to grow weary of the process, but he cautions against throwing in the towel. Spend the time now to work through your financial issues. If you don't, you may end up paying for it later.
More from CreditCards.com: