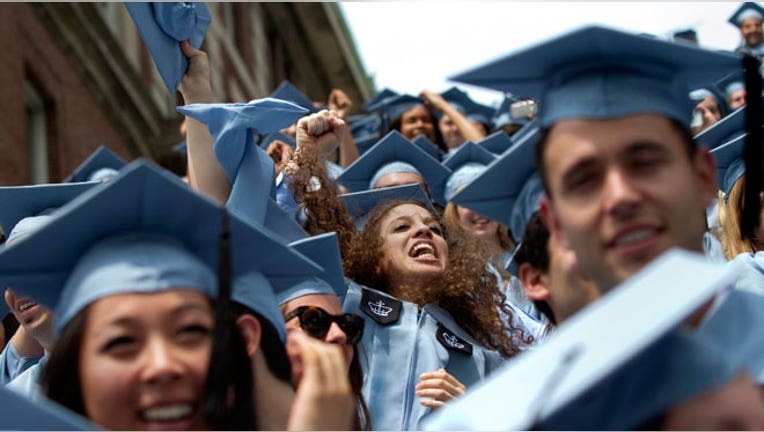 Seniors on the cusp of entering the "real world" might be focused on their last final exams, getting resumes sent out and finding a place to live, but they shouldn't overlook prepping their finances.
Life after college brings on new expenses and financial challenges, but students can soften the blow on their banks accounts by taking action before graduation.
Along with relocation expenses for a potential job, recent grads must prepare to take on new expenses previously covered by student loans, housing and meal plans and tackle any outstanding debt they've taken on, says Andy Josuweit, CEO of Student Loan Hero.
According to data from public policy organization Demos, two out of three students graduate with an average of more than $24,000 in student loans, and the most common kinds of increased debt for Gen Y (age 18-34) are student loans at 42%, credit card debt at 35% and medical bills at 27%.
"Depending on one's starting salary and debt-to-income ratio, college grads can end up in tight financial situations for the first few years out of college," Josuweit says. "If fresh graduates don't keep a close eye on their financial situation, they can end up with negative credit reporting, late fees and even extremely high default collection fees."
For soon-to-be grads on the brink of entering the real world, here are three money moves personal finance experts say every college senior should be taking to get ready.
Step 1: Create a Budget
Even if grads don't have a concrete post-grad plan just yet, creating a budget of projected expenses such as bills, rent and discretionary spending can help them better understand their cash flow situation, suggests John Bucsek, managing director with MetLife Solutions Group.
"Lack of budgeting will compound almost every financial situation and force the recent grad to live 'paycheck to paycheck,' and that will force financial goals to be put off or may eliminate them altogether," he says.
Making a budget doesn't have to be an overwhelming prospect—grads can easily keep up with their expenses using sites like Mint.com or creating a simple spreadsheet.
"The most important thing is to find a system that consistently and easily works for you," says Rita Cheng, financial advisor with Ameriprise Financial.
"Having and following a budget can help make student loan debt feel less overwhelming and…can help you develop good money management skills while you're young before your financial situation gets even more complicated."
Step 2: Figure Out Student Loan Terms
Grads typically only have a six-month grace period before having to start repaying student loans, making it essential to secure a job and stay on top of other expenses.
Unemployed or financially-strapped grads should consult with their lender to determine repayment options available to them such as deferment, forbearance, and Income Based Repayment plans should they have issues making payments on time.
"These programs can serve as great cash flow management mechanisms to prevent defaults and negative credit reporting until a borrower's situation improves," says Josuweit.
To stay on top of payments and potentially receive a 0.25% discount on the interest rate, Cheng recommends that grads sign up for automatic loan payments from their checking account.
"After one year of timely payments, your lender may reduce your rate by another 0.75%--it truly does pay to be organized and disciplined," she says.
Step 3: Get High Interest Debt in Check
Whether grads are an authorized or co-signed user on a parent's card or have their own account, they should  focus on getting the debt with the highest interest rate paid down first.
Understanding how debt impacts future goals and how credit score plays into every major purchase can help them stay on top of making steady payments and monitoring credit history health, says Bucsek.
"Low credit scores can wreak havoc on the cost of acquiring capital--therefore, home purchases will be delayed and even buying a car can be 50% more expensive with a low credit score," he says.
While paying off debt can seem overwhelming, it's important to keep long-term goals in mind and stick with a budget to ensure that all financial obligations are met, recommends Cheng.
"It's important (and possible) to pay down debt in a doable way and continue working toward other financial goals," she says. "There may be some trade-offs in discretionary spending along the way, but you likely won't regret taking this kind of approach to finances early on and building savings."