3 Ideas Your Startup Can Steal From Warby Parker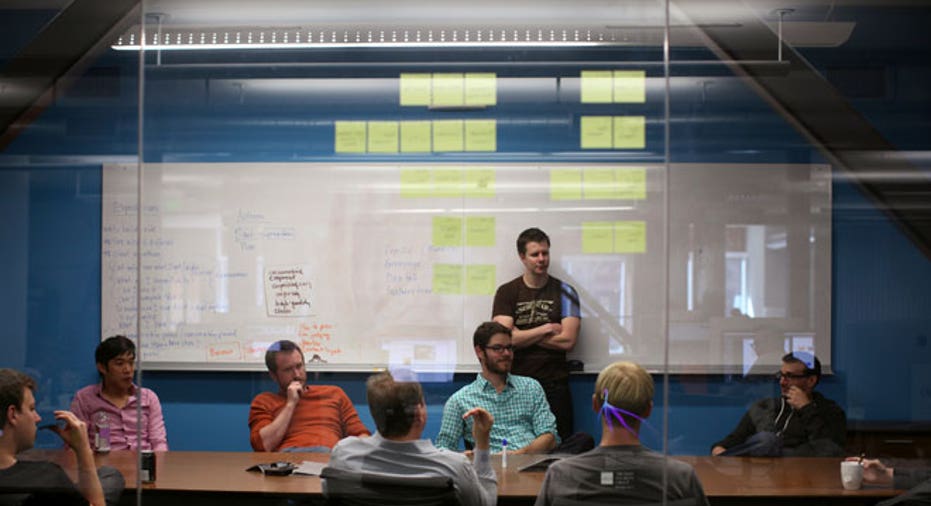 Every so often a company comes along and executes on a business plan so simple that it leaves thousands of would-be entrepreneurs on the sidelines asking one shared question, "Why didn't I think of that?" Warby Parker, a stylish, high-end eyewear retailer, is one of those companies. Since 2010, the company has sold more than 500,000 pairs of glasses and become an inspiration for other aspiring businesses.
How'd they do it in such a short amount of time? Their business' plan was simple: offer a quality product that consumers feel good about buying, all at a price that wildly undercuts the competition. Now, that isn't exactly a world-shattering idea. But what's noteworthy, and what your business should pay attention to, is the way Warby Parker has succeeded in bringing its vision to life.
By mapping Warb Parker's success, you'll find three sweeping, broad ideas your startup can steal and incorporate in its own business plan. And if you're just starting out, you might find the spark your new business needs to take its next step right here. Take a look:
1. The Price Model
In 2010, Warby Parker entered the eyewear market, which was being dominated by the overlord of eyewear, Luxottica. Luxottica owns an array of brands like Oakley and Ray-Ban and their retail banners include the likes of LensCrafters, Pearle Vision, and Sunglass Hut. Its huge market share had allowed Luxottica to basically control the price of designer eyewear and take huge profits. But by setting the price bar so high ($500 for a pair of glasses? Seriously?), Luxottica gave plenty of room for competitors to move into the market. In order to make a serious play in the eyeglass industry, however, Warby Parker needed to answer the question as to why glasses cost so much?
Through research Warby Parker found that most brands didn't design or manufacture their own glasses; these brands sold those rights to huge companies like Luxottica. In these design and manufacturing costs was where other companies were able to inflate the prices of eyewear, and by deciding to design and manufacture their own glasses, Warby Parker was able to drastically reduce the price of its product. Basically, they cut out the middleman.
More AllBusiness.com:
The Top 25 Home-Based Business Ideas
10 Websites Where You Should Have Your Company Profile Listed
25 Frequently Asked Questions on Starting a Business
50 Inspirational Quotes for Entrepreneurs and Start-Ups
This idea of vertical integration is far from new, but it has been extremely effective. By internally handling processes that were typically outsourced, Warby Parker was able to control price. By understanding your company's market, could your startup do the same? It could be well worth your time and effort. In fact, the model has worked so well that one of Warby Parker's founders started another company, Harry's, based on the same model. Harry's recently received $123 million in venture funding and is poised to take on shaving giants Gillette and Schick.
2. Do Good Through Business
Price isn't the only thing on which the Warby Parker brand is based. When they buy a pair of glasses, consumers are told they'll also be donating a pair of glasses to someone in need. So in effect, the Warby Parker pitch is this: Buy a pair of our designer glasses at a fraction of the competition's price, and you'll also improve the life of someone in need. On top of that, the company has been certified by as a B corp and it purchases carbon credits to offset any pollution created during the manufacturing process, making Warby Parker a certifiable choice for the eco-friendly, socially-conscious consumer.
Warby Parker was far from the first company to attempt to undercut the giants of the eyewear industry, but it was one of the first to market itself as a price-effective force for good, which has helped the company stand apart from the competition. In the age of organic, free-range eggs, fair trade, and social entrepreneurship, consumers typically have to pay a premium to feel good about their purchases. Warby Parker, however, seems to have found a sweet spot with price and social-consciousness. Could your business do the same? The idea of partnering your startup with a nonprofit may sound like wishful thinking, but with an inventive business plan, you could possibly be opening up your business to a wider demographic, especially if you can offer competitive prices and a product that makes consumers feel like they're helping someone in need. That's truly a win-win.
3. Distribution
Warby Parker not only cut out the design and manufacturing middlemen, but the company also created a distribution line that cuts straight to the consumer through the Internet. By avoiding having their frames sold in shops on Main Street, Warby Parker was able to dodge additional retail markup and keep the price of its frames low. The company has since opened brick-and-mortar shops in selective locations around the country, but the shops are belong to the company, and it continues to be known primarily as a web-based business.
Now, just because Warby Parker uses an online distribution model doesn't necessarily mean that your startup should follow a web-based model, but it reinforces the idea of analyzing distribution trends in your industry. Are you selling something that customers will look to buy more often online? Would online distribution be more cost effective? Do you need a physical location to attract customers?And possibly the best question to ask, especially if you industry isn't known for online sales, is could your products be sold online? The answers to these questions may help determine the best course of action and eventual success or failure of your business.
When Warby Parker opened its online queues for business, the company had the great fortune of good press, which helped their actual sales beat the digital tar out of the founders' initial projections. Not all businesses will be so lucky in that regard, but their business plan is truly what Warby Parker's astronomical success has been based upon. As a result, Warby Parker has been extremely disruptive in an industry where its competitors had previously felt very comfortable. Hopefully, by stealing some of Warby Parker's moves, your business will be poised to do the same to your industry.
Drake Forester is the chief legal strategy officer at Northwest Registered Agent Services. Drake guides the company and its clients through the vast world of bureaucracy we all deal with when running a business. He specializes in researching and understanding the complexities of business entity compliance and tax strategies.