3 Bedrooms, 2 1/2 Baths ... And Connected Appliances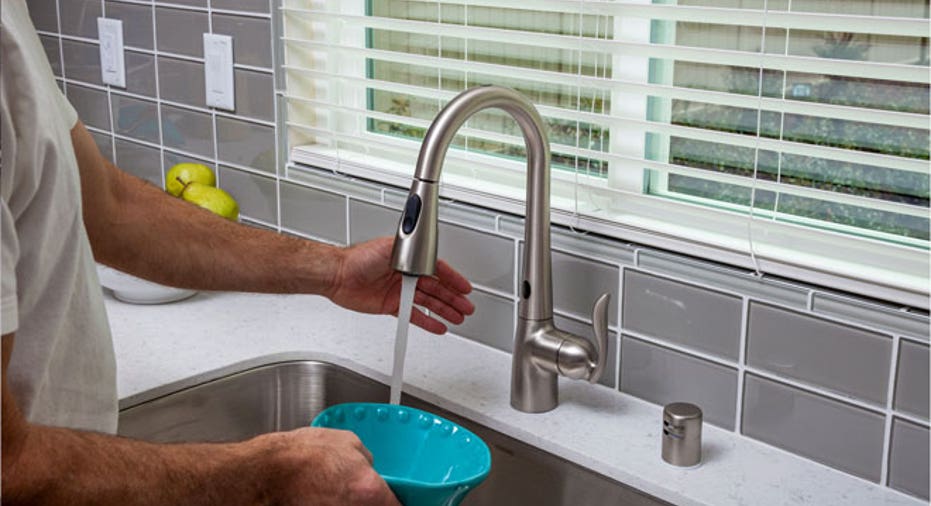 Tech-savvy consumers increasingly expect that all aspects of their lives will be connected, including the home.  Thirty-two-year-old Raffi Kajberouni says technological innovations and features topped his wish list when shopping for the biggest purchase of his life -- a $425,000 first home.
"We have smart phones, why not smart homes.  I was keen on getting a house with (high-tech features)," explains Kajberouni.  And it was the customizable, tech-laden options that led him, and eventually his brother, to buy a house from KB Home (NYSE:KBH) in its Echo Pointe development in Santa Clarita, California, about 35 miles north of Los Angeles.
Kajberouni says his connected home is already paying dividends; while his flight to Ireland finished boarding, he checked in from the plane via smart phone and realized he left the air conditioning on. "Right before we took off I was able to shut off the AC and not worry about two weeks of an electricity bill.  And this was in August, so you're talking about a humongous bill -- I like my thermostat at 68 degrees."
The chief financial officer for helicopter repair firm H.E.R.O.S. Inc. estimates that two-weeks of running the AC full-bore may have cost him more than his total power bill for the past year of just $571.
Kajberouni credits the low electricity bill to remotely controlling the thermostat and to solar panels that come standard in his development and more than 80% of KB Home communities in California.
The remote thermostat control and management system is standard across the US, and other options include controlling garage doors, lighting, and appliances through its web-based Wiser platform that's accessible via smart devices, laptops, and PCs.
Saved by Zero
KB Home has been literally breaking new ground with its high-tech, environmentally friendly homes, which promise to produce more green for the company itself.
The company has dubbed these initiatives the "e DIFFERENCE" program.  It aims to improve energy and water efficiency, indoor air quality, and connectivity with the home.
The homebuilder also promises its so-called Net-Zero homes will save customers cash over the long haul.  "For us, the house should produce as much energy as it needs so you end up with a zero energy bill," explains Dan Bridleman, KB Home Senior VP of Sustainability, Technology, Strategic Sourcing & National Contracts.
What does that mean for customers?  KB Home installs solar panels, water-saving and motion-sensing Moen faucets and fixtures, the Wiser system and offers an EPG rating (Energy Performance Guide) on each house -- an estimate of how much it costs for overall energy usage.
The builder is developing a unique way to save money and energy with its recharging station for electric vehicles.  The home can actually pull electricity from the vehicle during peak hours and then recharge it later.
Reduce, Reuse, Recycle ... Water?!
The LA-based company is one of the biggest builders in eco-friendly California, offering LEED Platinum and ENERGY STAR homes.  The builder is also at the forefront of addressing water conservation with its EPA WaterSense for New Home program—critical in this drought-stricken state.
KB Home has unveiled the first on-site water recycling demonstration system by a production builder in the US.  It's a greywater recycling system that cleans water from showers, baths, hand sinks, and washing machines (not from toilets or disposals) and reuses it for landscaping.
The model home at Dawn Creek in Lancaster, California, is a prototype for what KB Home calls a DoubleZero House—net-zero energy status and zero freshwater irrigation use.
Zero-Sum Game
KB Home's Bridleman says the eco-efficient homes and high-tech offerings give the company's new developments an edge over existing homes and rivals, but at a price.  "It will vary depending on the state," KB Home's Bridleman says. "The ballpark estimate is somewhere between $25,000-$40,000 to get the costs to zero."
Will consumers in this economy be willing to take on a larger mortgage to save on their power bill?  That's a big question for KB Home and its competitors, according to Jay McCanless, who covers the industry as an analyst for Sterne Agee.  He says, "If you can afford how much it will cost you monthly (in your mortgage), there are certainly savings in your energy bill versus existing homes or a place you're renting, but it's getting people to accept a larger (upfront) payment."
While McCanless wants to see more data on uptake rates for the new amenities before passing judgment, he does see KB Home's eco initiatives taking hold in its home market, where some 90% of KB homes come standard with solar: "In areas where you have adverse conditions like Southern California, people are going to pay up for those (water-saving and solar amenities)."
KB Home says nearly three-quarters of buyers purchase more solar panels where it's a standard feature.
At the end of the day, KB Home officials recognize that greywater recycling, energy dashboards, and net-zero power bills are attractive additions, but it's still all about location.  "You want to offer something cutting edge," KB Home's Bridleman says while recognizing that "a lot of people may not come because we build a green house.  They like the neighborhood, the house, and then they can add technology onto it."
Urban Living
And the company is positioning itself to ride yet another demographic trend to higher sales and margins—urban infill.  "Infill projects are going to be more important for the rest of the decade.  That is the trend of the future," explains Sterne Agee's McCanless, adding, "People are looking at less footage (for homes) and shortening commutes.  Walkability is becoming increasingly a first or a 'gotta have' type of amenity."
KB Home is banking on that as it develops both single-family homes and stacked flats as part of a master planned community in the Playa Vista area of Los Angeles that once housed Howard Hughes' aerospace empire and the infamous Spruce Goose.
The development will allow residents to walk to high-end shops, restaurants, and the movies as well as bike to recreation, school, the beach, and for some, to work.  LA's Silicon Beach corridor, home to offices for Facebook (NASDAQ:FB), Google (NASDAQ:GOOGL), and a slew of startups, is nearby as well as some media offices and Hollywood production facilities.
The homebuilder is also developing condos in San Francisco's trendy South Beach/SOMA district and also in Lower Pacific Heights.
KB Home CEO Jeffrey Mezger says the company is profiting as this demographic shift converges with the company's investment and innovations in tech and energy efficiency.  "These land-constrained areas are close to employment centers where demand for new housing far outweighs supply.   These dynamics…are resulting in price points for our new homes that are well above local market averages (and) are reflected in the 30% year-over-year growth in our average selling price in the state."
Car Talk
KB Home is working on new initiatives including a partnership with Ford Motor (NYSE:F) that would allow your car to automatically adjust your thermostat when your vehicle gets close to home.
Executives at the homebuilder say the technology and efficiency initiatives are meeting customer expectations, but the real payoff may be creating an affinity and brand loyalty with customers who may upgrade to new amenities if not outright new homes in a shorter cycle.
KB Home has a head start with technophile homeowners such as Kajberouni in Santa Clarita, who says he paid $50,000 more for his house than he originally planned to buy additional technology.  Still he confesses to keeping a close eye on the latest upgrades since he bought just two years ago.  "My next home will be a KB Home," he says, adding, "I'm jealous of the new homes they're building now because of the technology they have, that I don't have."