124-Year-Old Never-Worn Levi's Found in Arizona Cedar Chest
They looked like brand-new blue jeans, but Jock Taylor knew those Levi's sat in an old family trunk for decades – maybe a century. Judging from their size (W: 44, L: 37) they probably belonged to his great-great grandfather Solomon Warner, an Arizona pioneer from the 1800s.
If so, they're worth a small fortune, says Brit Eaton, a dealer in old jeans who actually searches abandoned mines for inventory.
"Vintage denim can be worth thousands of dollars," Eaton says. "Finding Levi's pre-1900 is a massive rarity. That's the Holy Grail."
Jock Taylor's dungarees are featured in the latest episode of Strange Inheritance with Jamie Colby. It premieres Monday, April 3 at 9:30 p.m. ET on Fox Business Network.
The six-foot-six Warner left his upstate New York home and headed west in the 1830's.
"He was the first to sell American goods in Tucson. The Butterfield Stage came through and whatever you wanted, you had to buy from Solomon Warner," says Jim Turner, a writer on Arizona history.
Warner died in 1899. Through the generations, his descendants handed down a wooden "heirloom" trunk that bears his name.
"When Solomon's son passed away it went to his only daughter, then everything that she had went to my mother" says Jock Taylor.
Taylor didn't know whether the jeans were Warner's, or added to the chest later. He decided to find out when an antique appraisal show came to town.
Auctioneer Daniel Buck Soules recalls Taylor approaching him.
"Why is he showing me new jeans?" Soules thought. Then he took a closer look.
The jeans had the familiar leather tag, adorning Levi's from 1886 until today. But the rivets were exposed, meaning they were older than 1937, when Levi's started covering them with denim.
More clues: suspender buttons indicated they were older than 1922, the first year for belt loops. The single back pocket proved they were older than 1901 – when the second appeared.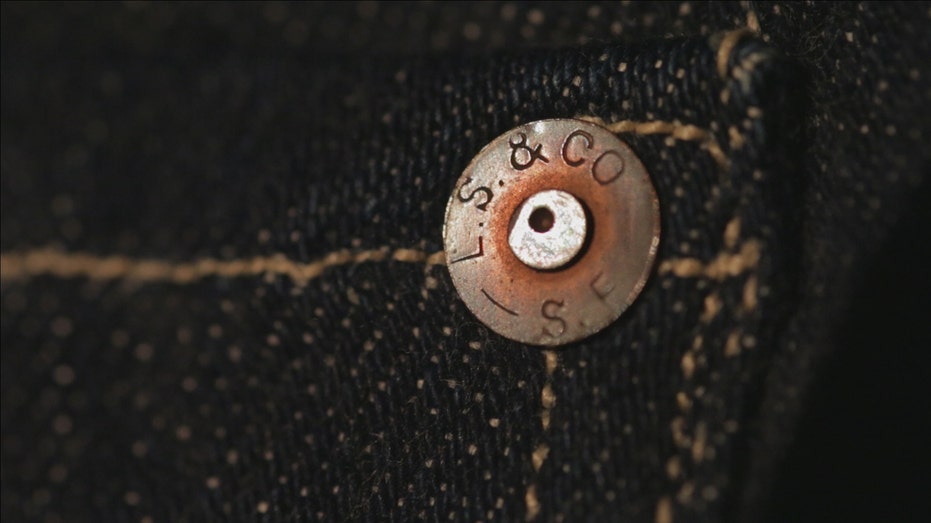 Soules dated them to 1893.  He thought private buyers would pay dearly for the vintage jeans—or even Levi Strauss & Co. itself, which has bought back old jeans at high prices.
"The last pair of blue jeans that sold from the 1880s, it's my understanding, were purchased by Levi's for six figures," says Soules.
Taylor's jeans are not as old, but in much better shape – perhaps the oldest unworn pair of Levi's in existence.
Even still, denim dealer Eaton thinks the 44" x 37" britches are too big for a $100,000 payday. Most of the bidders who drive such stratospheric prices, he says, actually want to wear their vintage jeans.
"Size really does matter," says Eaton. "If they're either too little or too big, they just may not be not as valuable."
Taylor says Levi's offered $50,000 for his great-great -grandfather's pants, but he's sitting tight for a better offer.
It's a risk, he knows. But risk-taking runs in the blood of this descendant of a pioneer who not only left big shoes to fill, but big trousers as well.