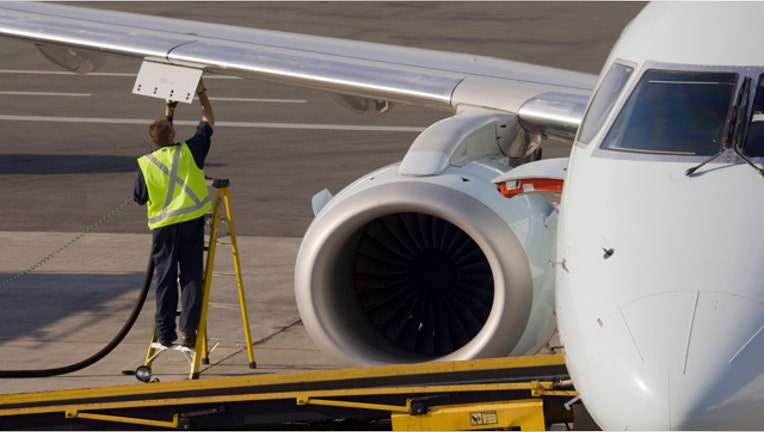 As the aviation industry celebrates 100 years of commercial flights this week, an industry group is warning that profitability among airlines remains weak.
The International Air Transport Association (IATA) lowered its outlook on global airline profits to $18 billion on Monday from $18.7 billion in March.
It is blaming deteriorating economic conditions in China, high tax burdens and painful fuel costs that continue to weigh on carriers' bottom lines despite increases in passenger demand.
"Making ends meet for airlines has always been a challenge," said Tony Tyler, IATA's chief executive. "There are strong headwinds from rising infrastructure costs, inefficiencies in air traffic management, a heavy tax burden, and costly regulation."
However, the group maintained its view that the industry continues to make a "major economic contribution," and forecast that profits will improve despite the near-term headwinds.
Tyler says there is mounting evidence that the industry's restructuring efforts are "beginning to pay off." This follows a wave of consolidation, including United's 2010 purchase of Continental, and the bankruptcy of AMR and subsequent purchase of American Airlines by US Airways (NYSE:LCC).
In fact, at $18 billion, airline profits will have improved from just $6.1 billion in 2012 and $10.6 billion in 2013. Airline revenues now account for 1% of global GDP, and the industry is expected to transport some 3.3 billion people and $6.8 billion worth of goods this year.
Further cushioning the upward trend is an expected 5.9% increase in overall passenger demand this year as fierce industry competition keeps fares relatively low.
This comes as the aviation industry celebrates 100 years of commercial aviation at the IATA's annual conference in Qatar this week. The first-ever commercial flight took off from St. Petersburg, Fla. in Jan. 1914.
IATA, which represents 240 airlines carrying 84% of all passengers and cargo worldwide, is highlighting the industry's strides over the last 100 years, including most recently its adoption of more fuel-efficient aircraft.
It adds that despite "persistent weak profitability," investors will see "more favorable returns" from airlines in 2014 because of these efforts to modernize and restructure.
The industry average return on invested capital is forecast to reach 5.4% this year from 4.4% a year ago. While that's still considered low, it's insisting that new investments will drive employment and profitability over the longer term.
Shares of United Continental (NYSE:UAL) were up 3.2% to $45.81 in recent trade, while those of Delta (NYSE:DAL) increased 1.4% to $40.48.