Oil industry exec rips White House after surprising Keystone admission: Biden created 'economic boondoggle'
Department of Energy report quietly admits Keystone XL cancellation cost thousands of US jobs
After a U.S. Department of Energy report showed thousands of energy industry jobs would've been created with the Keystone XL Pipeline, one oil executive slammed the White House for knowingly creating an "economic boondoggle."
"It's an economic boondoggle here," Canary CEO Dan Eberhart said on "Mornings with Maria" on Friday. "What America needs is clean, cheap energy. And I think that the Biden administration keeps throwing these lifelines to the progressive left and trying to give in to their wish list, but they're doing it at the expense of the American consumer."
The Biden administration published a congressionally mandated report highlighting the positive economic benefits the Keystone XL Pipeline would have had if President Biden didn't revoke its federal permits.
The report, which the Department of Energy (DOE) completed in late December without any public announcement, says the Keystone XL project would have created between 16,149 and 59,000 jobs and would have had a positive economic impact of between $3.4 billion-$9.6 billion, citing various studies. A previous report from the federal government published in 2014 determined 3,900 direct jobs and 21,050 total jobs would be created during construction which was expected to take two years.
BIDEN ADMIN QUIETLY ADMITS CANCELING KEYSTONE XL PIPELINE COST THOUSANDS OF JOBS, BILLIONS OF DOLLARS
But immediately after taking office in January 2021, Biden canceled the pipeline's permits, effectively shutting the project down.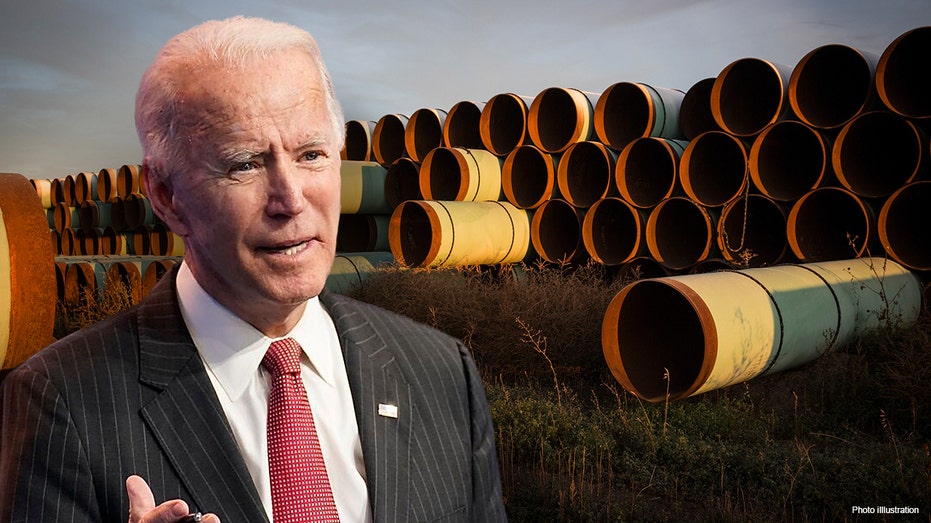 "The fact of the matter is, this pipeline not only would have created jobs here, it would have helped our energy security and strengthened our alliance with Canada, and it would have given us the ability to have more plentiful, cheaper energy," Eberhart explained. "What the administration is failing to do here is reduce demand. Affecting supply and reducing supply just pushes energy costs up to consumers."
Eberhart, who oversees one of America's largest providers of oilfield services and needs, further called out the Biden administration for approaching adversaries and seeking more oil supply, instead of domestic producers, arguing it costs jobs and economic prosperity.
"The fact that the Biden administration is asking for more oil from Saudi Arabia, more oil from Venezuela and not from Texas, not from North Dakota, is extremely frustrating," the CEO said. "We can get both the economic activity and the jobs in the U.S., and we can push the price of oil down."
President Biden's green energy policy is "directly or indirectly out to harm consumers," and holds the economy and U.S. oil producers back from achieving their full potential, Eberhart continued.
"When the rubber hits the road, we've got to make the infrastructure investments to be able to do some of these green energy things," the Canary exec said. "Consumers need to understand what that's going to cost, and taxpayers need to understand what that's going to cost. And I think they are just completely silent on that. So they're effectively misleading the American people on what the energy transition cost."
Ticker
Security
Last
Change
Change %
WTXR
WEST TEXAS RESOURCES INC
0.17025
-0.02
-10.39%
In a statement Thursday, the DOE noted that the project would have had minimal permanent job impacts, but didn't mention the thousands of jobs that were estimated during the construction of the pipeline.
Some Americans who were hired — then fired — to construct the Keystone pipeline, like Neal Crabtree, have argued the Biden administration stole an opportunity to ensure affordable access to energy.
"We didn't just lose key infrastructure, but thousands of workers lost family-sustaining salaries, strong benefits, and a strong essence of fulfillment," the former Keystone XL pipeline worker had previously said in a FOX Business op-ed.
GET FOX BUSINESS ON THE GO BY CLICKING HERE
Eberhart put the onus on the Biden administration to act urgently as our energy policy is "moving in the complete wrong direction.
"We're just asleep at the wheel," the Canary CEO said. "We're creating the [oil] discount with the sanctions, the U.S. and Western Europe. And who's getting the advantage of that? China, India and South Africa. Not the U.S., not Western Europe… So I question the Biden administration here directly: What are we accomplishing on energy policy with these sanctions?"
Fox News' Thomas Catenacci contributed to this report.