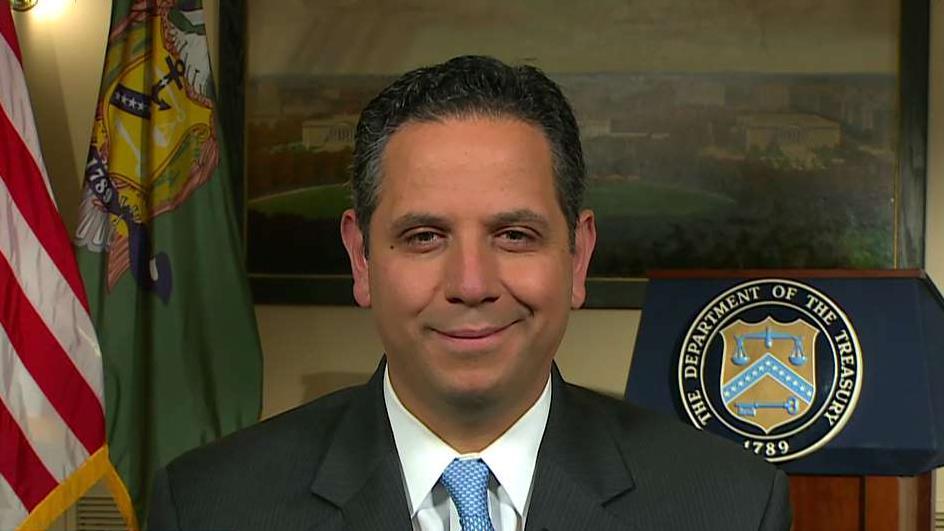 Economic growth will tame America's unruly budget deficit, according to Treasury Department Assistant Secretary for Public Affairs Tony Sayegh.
"We inherited a huge deficit, a huge debt," Sayegh told FOX Business' Maria Bartiromo on Friday. "We want to grow the economy because that's the only way you're going to solve it."
Since President Trump took office the administration has zeroed in on promoting pro-growth policies. The economy is growing at a rate above predictions and unemployment fell at a rate it has not seen in decades, according to the White House.
The Commerce Department announced in July that second-quarter GDP advanced by 4.1%, and first-quarter GDP was revised to 2.2% from 2%. The average annual growth rate has been 2.8% over the past four quarters and is now on track for 3.1% growth in 2018 – a level that has been met with skepticism by some economists.
"When you grow the economy you're creating-- as John Kennedy and Jack Kemp used to say -- the rising tide that lifts all boats, that generates not only trillions of dollars in revenue to the government but so much opportunity — higher wages, lower unemployment, better paychecks, more entrepreneurship and investment incentives to the economy. This is why growth is so important," Sayegh said.
However, some U.S. businesses have raised concerns over some of the administration's policies, such as the steel and aluminum tariffs, wreaking havoc on their ability to manage skyrocketing costs. Sayegh admitted that some parts of the micro-economy will be unfairly targeted during this time, but the tariffs will ultimately benefit the entire country and many sectors in the economy.
"Sadly there will be some short-term pain," he said, "but the broader picture is opening up the export markets in a fair and reciprocal way so all of these American companies have an opportunity to participate fairly there."
More From FOX Business... 
The Trump administration announced in July that farmers would be granted $12 billion in emergency aid after being squeezed by retaliatory tariffs in the ongoing trade battle with China and other American trading partners. Sayegh said most Americans support the efforts and understand the long-term benefits of changing trade practices.
"We are trying to give our products — our companies — our workers — a level playing field," he said. "You can't do that after 40 years of policy that has not really worked in their favor without some anticipation that there will be a short-term loss."
The Treasury in July raised its borrowing outlook amid a looming trillion-dollar budget deficit.