Jobless claims plunge to 184,000, lowest level since 1969
Labor market continues to recover from coronavirus pandemic
The number of Americans filing for unemployment benefits last week tumbled to the lowest level in more than half a century, the latest sign the labor market is bouncing back from the coronavirus pandemic.
Figures released Thursday by the Labor Department show that applications for the week ended Dec. 4 dropped to 184,000 from an upwardly revised 227,000 a week earlier, easily beating the 220,000 forecast by Refinitiv analysts. It marked the lowest level for jobless claims since Sept. 6, 1969, when it was 182,000.
Continuing claims, or the number of Americans who are consecutively receiving unemployment aid, fell to 1.992 million for the week ended Nov. 27, an increase of 38,000 from the previous week. 
FED TO TAPER BOND PURCHASES BY $15B A MONTH AS IT EXITS PANDEMIC-ERA POLICY
The report shows that roughly 1.947 million Americans were collecting jobless benefits for the week ending Nov. 20, a decrease of 350,527 from the previous week; by comparison, just a little over one year ago, an estimated 19.57 million Americans were receiving benefits.
One reason for the larger-than-expected dip is the difficulty in adjusting the raw data for seasonal modifications around the holidays: On an unadjusted basis, initial claims actually climbed by about 64,000 to 280,665.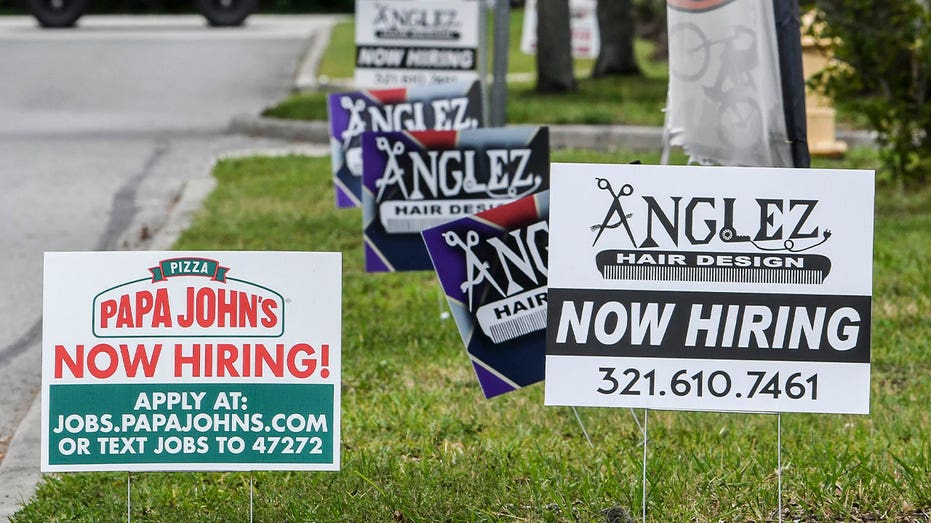 Still, the report underscores a strengthening labor market as the economy recovers from the pandemic and Americans venture out to travel, shop and eat. Businesses have struggled to keep up with the demand, however, and have reported difficulties in onboarding new employees. Thursday's report suggests that companies are making an effort to retain the workers they already have.
"Weekly jobless claims falling to the lowest level since 1969 is powerful evidence of how desperately employers need to keep workers who are quitting at near-record rates," said Robert Frick, corporate economist at Navy Federal Credit Union. "While the latest data should be taken with a grain of salt given seasonal adjustments, we may be entering a stretch when lower-than-average layoffs continue until the 'great resignation' fades."
GET FOX BUSINESS ON THE GO BY CLICKING HERE
The jobless claims data comes on the heels of a separate Labor Department report released last week that revealed employers hired just 210,000 workers, even as the unemployment rate slid to 4.2%. Wages were up 4.8% in November from the previous year, well above where they were pre-pandemic as businesses look to onboard new workers.
There were about 11.03 million job openings in October, up from 10.6 million in September, according to the Labor Department. By comparison, there were about 7.4 million unemployed workers that month – meaning there are nearly 4 million more available jobs than there are workers.