Inflation rises 7.9% in February, a new 40-year high
National average price for a gallon of gas is $4.31, according to AAA
Inflation hit a fresh 40-year high in February, largely driven by higher gas prices. 
The consumer price index climbed 7.9% on an annual basis, according to data released on Thursday by the Bureau of Labor Statistics. Month over month, inflation rose 0.8%.
RUSSIA INVADES UKRAINE: LIVE UPDATES
The year-over-year reading is in line with estimates and compares with an annual 7.5% jump in January, marking the fastest increase since February 1982, when inflation hit 7.6%.  
INFLATION, HIRING SLAM SMALL BUSINESSES: NFIB
From January to February, nearly every category of goods and services got pricier. Gas jumped 6.6% and accounted for almost a third of price hikes. Grocery costs jumped 1.4%, the sharpest one-month increase since 1990, other than during a pandemic-induced price surge two years ago. The cost of fruits and vegetables rose 2.3%, the largest monthly increase since 2010.
For the 12 months ending in February, grocery prices leapt 8.6%, the biggest year-over-year increase since 1981, the government said. Gas prices are up a whopping 38%. And housing costs have risen 4.7%, the largest yearly jump since 1991.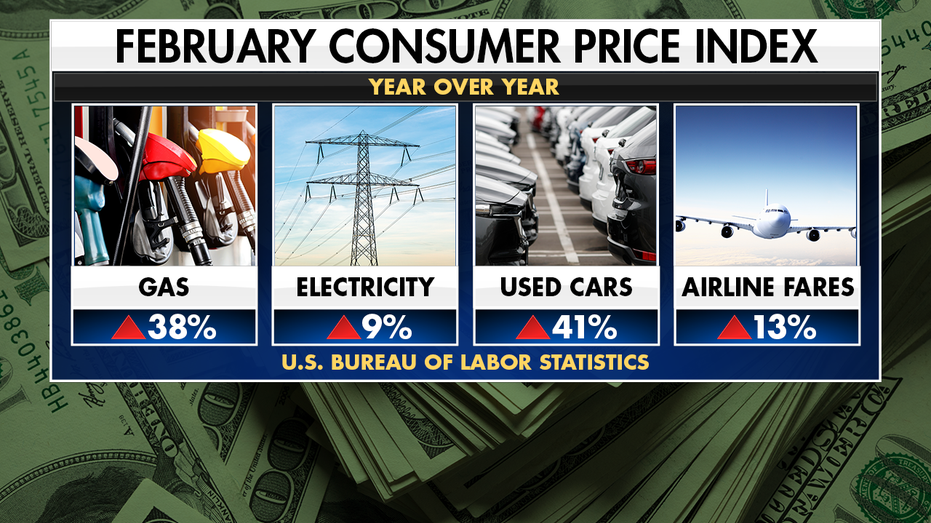 GET FOX BUSINESS ON THE GO BY CLICKING HERE
For most Americans, inflation is running far ahead of the pay raises that many have received in the past year, making it harder for them to afford necessities like food, gas and rent.
The February data was taken before Russia's invasion of Ukraine, which pushed prices at the pump to $4.31 as of Thursday – a record high – according to AAA.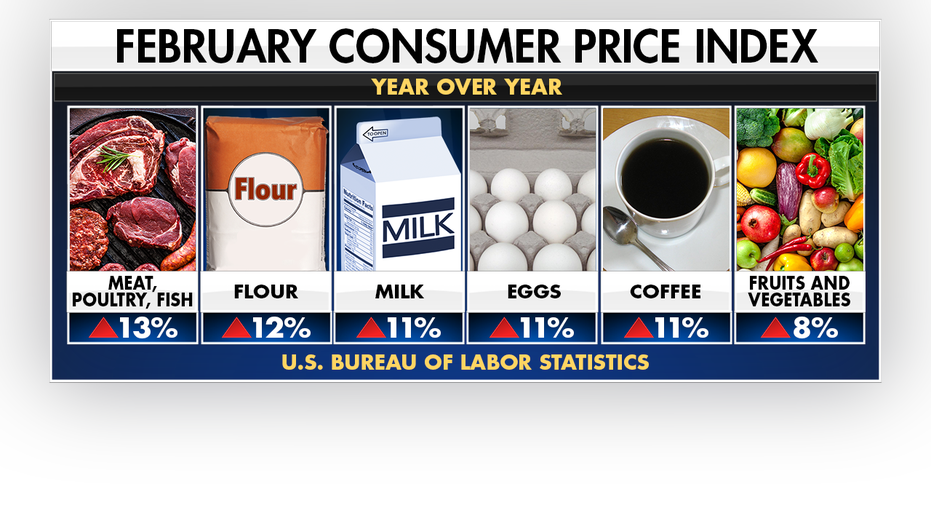 The costs of wheat, corn, cooking oils and such metals as aluminum and nickel have also soared since the war began. Ukraine and Russia are leading exporters of those commodities.
Even before Russia's invasion, inflation was not only rising sharply but also broadening into additional sectors of the economy. Many prices have jumped over the past year because heavy demand has run into short supplies of items like autos, building materials and household goods.
The Associated Press contributed to this report.