Blue state tax exodus to Florida churning the 'perfect storm'
Sunshine State welcoming 900 new residents every day while in the 'best fiscal health' in history, according to CFO Jimmy Patronis
Florida has been taking advantage of "a perfect storm" that's allowed the Sunshine State to welcome nearly a thousand new residents every single day, according to its chief financial officer.
"It's just been a little bit of a perfect storm, but it's been a welcome addition of new Floridians that we have gained from this that like our governance in the state of Florida," Florida Chief Financial Officer Jimmy Patronis told Fox News Digital on Wednesday.
"And Governor DeSantis has been a little bit of, I call it, 'lightning in a bottle,'" he continued. "He has been definitely hitting on all cylinders at the right time for our state."
Patronis confirmed that approximately 900 people move to Florida every day, migrating from states "you would predict they would come from" such as New York, New Jersey and Illinois.
FLORIDA REAL ESTATE MARKET STAYING HOT DESPITE AGENT EXODUS: 'IT'S NOT AN ACCIDENT'
During a recent event in The Villages – a retirement town located just north of Orlando – Patronis recalled speaking with three separate families who relocated from those exact states.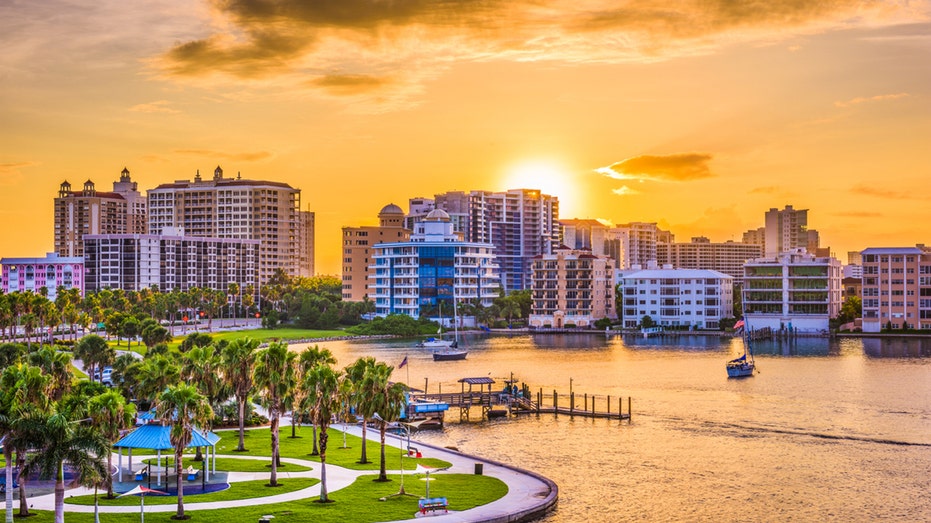 "I was expecting they moved here because of the weather, they moved here because their kids live here," Patronis said. "All three of them, they moved here because of the taxes, and it was definitely more and more the response that I am seeing as I make my rounds around the state and meet our newest residents of the state of Florida."
In 2022, Florida saw the biggest rush of new residents migrating from predominantly blue states with steep taxes, with about 319,000 Americans making the move there, according to data from the National Association of Realtors. That amounts to a population increase of nearly 2% – well above the 0.4% national growth rate recorded in the U.S. between July 2021 and July 2022.
"We think it's about $24 billion in the last year of new recurring wealth that has come to the state of Florida, whether it be small businesses or just couples," Patronis said. "In comparison, California has lost $18 billion in recurring wealth. So that is a compounding effect that really drives down the cost of living for, especially, young families in our state."
New residents have contributed to the state's economic development through fiscal factors such as property taxes, insurance or Medicare plans, low incarceration rates, and high retirement benefits, according to the CFO.
In addition, Patronis noted that many seasonal residents decided to make the full-time switch amid the pandemic and Republican Gov. Ron DeSantis' handling of it.
"I appreciate it when Gov. DeSantis vetoes $3 billion from the budget because he knows we still have to be fiscally restrained in our spending because this is not our money, this is our children's money and our grandchildren's money."
"They stayed because Governor DeSantis worked hard to get the state of Florida back open, while other states like Illinois or Louisiana were shut down," he said. "We got them here and they realized, 'Hey, I kind of like it here.' And it was a time of year they were typically not familiar with what our climate was like or our traffic was like. So a lot of it was by accident, and I think we've been able to exploit that opportunity for a lot of new wealth in our state."
RETURN OF M.L.B. SPRING TRAINING HAS ARIZONA, FLORIDA HOPING FOR BILLION-DOLLAR ECONOMIC BOUNCE BACK
Areas like Sarasota, Bradenton and Palm Beach have reportedly been "bursting at the seams" with new neighbors. The CFO claimed Florida's infrastructure is prepared to provide for growing demographics.
"Our roads, our bridges, our infrastructure is in really good shape. But it's not a sprint, it's a march. Every single year you have to make those types of investments and commitments," Patronis said. "Right now, we're in the best fiscal health we've ever been in the history of the state with over $20 billion in reserves. We've never had this low of a debt-to-reserves ratio."
While he feels that the Sunshine State excels at an affordable cost of living due to its tax policies, Patronis argued there's room for improvement in terms of its insurance environment.
"We developed a market in Florida where the loopholes that existed when it came to litigation were driving insurance companies out of the state and were driving up the cost of insurance. You throw that on top of inflation, lack of competition, a challenging reinsurance market, all that increased the cost of homeownership… We want outside capital in the state to expand our insurance market. Because right now, we have listened, we have learned and we have acted. And we know that the changes we made were not easy to make, but they're in the best interest of the policyholders of the state of Florida," the CFO explained.
Patronis also gave credit to the governor for encouraging and incentivizing law enforcement, first responders and their families to move to Florida, ultimately building safer communities.
"You've seen this governor lean forward on our first responders and our law enforcement. I tell people all the time, you can't have good schools, you don't have quality investment, you don't have communities that prosper unless it's a safe community, a safe environment," he said. "People won't invest their money if it's not safe."
GET FOX BUSINESS ON THE GO BY CLICKING HERE
Readying to spend taxpayers' dollars "a wise way" over the next decade, Patronis expressed confidence in Florida's ability to manage and prosper from a growing population.
"I hope 10 years from now as they reflect on the decisions that we're making now, they're reflecting of, 'Gosh, Florida got it right.' They took care of their natural resources. They've made it affordable. They've made it safe. And on top of that, the type of jobs that are here, my kids want to stay in my community," the CFO said.
"I feel like we've been fortunate that the cash flow has been as robust as it has been," he continued. "But I appreciate it when Governor DeSantis vetoes $3 billion from the budget because he knows we still have to be fiscally restrained in our spending because this is not our money, this is our children's money and our grandchildren's money."
FOX Business' Megan Henney contributed to this report.