JD.com CEO is back to work in China after US arrest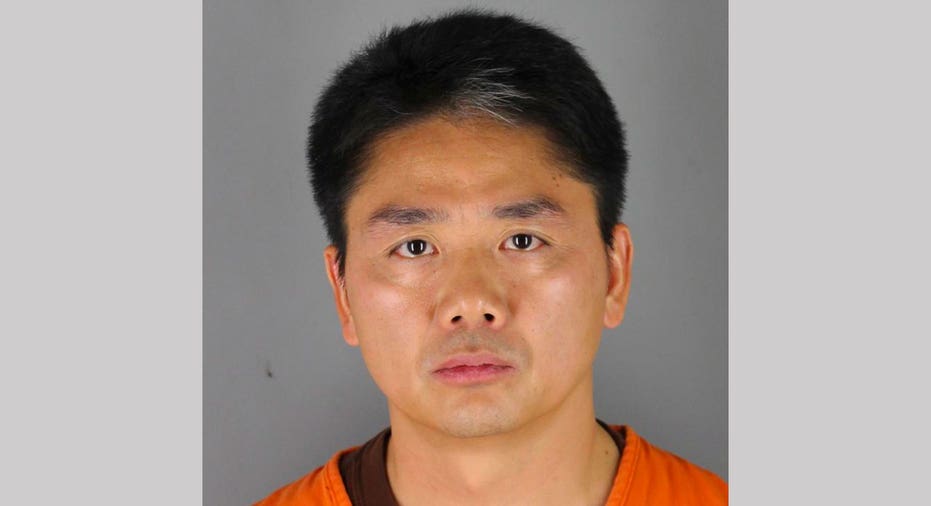 Chinese billionaire Liu Qiangdong was arrested last week on suspicion of rape, Minneapolis police said on Tuesday as they continue to investigate the entrepreneur's actions during a residency at the University of Minnesota.
Mr. Liu was released on Saturday and returned shortly thereafter to China. He appeared at an event in Beijing on Tuesday for the e-commerce site he founded, JD.com Inc.
In Minneapolis, where Mr. Liu spent last week at a residency for a Ph.D. program in business administration offered by the University of Minnesota's Carlson School of Management, authorities continued to investigate what people familiar with the situation say is a complaint against Mr. Liu by a female student from China.
Earl Gray, an attorney for Mr. Liu, on Tuesday said he doesn't expect Mr. Liu to face any charges.
"There is no believable or credible evidence that he has done anything wrong and he denies any wrongdoing," Mr. Gray said.
A Minneapolis police spokesman said the investigation is continuing. Mr. Liu hasn't been charged with any crimes. Minneapolis police said the alleged rape occurred Friday morning at 1 a.m. Mr. Liu was apprehended Friday evening.
Chuck Laszewski, a spokesman for the Hennepin County Attorney's Office, said prosecutors were still waiting for the case file from police investigators before they would be able to make a determination about any potential charges.
Back in Beijing on Tuesday, Mr. Liu announced a partnership with the Chinese company that owns Swiss luxury brand Bally.
The appearance with Ruyi Holding Group executives underscores what business observers describe as Mr. Liu's extraordinary confidence.
In starting e-commerce company JD.com, Mr. Liu, who also uses the name Richard Liu, took on more established players such as Alibaba Group Holding Ltd. and focused the company on selling quality merchandise when online retailing was dominated by the sale of cheap and often counterfeit goods.
"Richard bucked that trend, bucked that idea. He understood early on that there was a sufficient core of users who did care about quality and were willing to pay more for it," said Mark Natkin, managing director of research firm Marbridge Consulting. "I think it speaks to his confidence in his own vision, and his faith in China to develop" in that direction.
The 45-year-old tycoon was born in a farming village in Eastern China's Jiangsu province, where his parents ran a small business ferrying goods and people along canals.
His ambition earned him a berth at Beijing's prestigious Renmin University, where he started his first business in his third year, and propelled him to found what became an e-commerce giant with 362.3 billion yuan ($53 billion) in annual sales.
There are asterisks to the rags-to-riches story. JD.com has reported only one profitable quarter since going public in May 2014, and it most recently reported a quarterly loss of $334 million. Its share price has fallen 25% this year.
JD.com's American depositary receipts fell 6.1% to $29.40 in morning trading Tuesday in New York.
Mr. Liu's enrollment in the Minnesota program isn't a surprise. Despite his wealth, he had long advocated self-improvement and in 2013 studied for one semester at Columbia University in New York.
It was while at Columbia that Mr. Liu began dating Zhang Zetian, then a 19-year-old exchange student at Barnard College in New York. Ms. Zhang shot to fame in high school after a photo of her holding a cup of milk tea went viral on Chinese social media, earning her the sobriquet "Sister Milk Tea." The couple married in 2015.
Mr. Liu's wealth and fame stands in contrast to his childhood. His family was so poor, Mr. Liu has said, that they were able to afford meat only once or twice a year. He said his grandmother would bribe the local butcher with peanuts to get a fattier cut of pork, which would help keep their hunger at bay a little longer.
After graduation in 1998, Mr. Liu started his own company selling computer accessories in Beijing's technology-hub district.
Mr. Liu credits a senior manager with giving him the idea to sell online following the outbreak of severe acute respiratory syndrome in 2002 and 2003, which left many people fearful of going out in public.
Since JD's listing in 2014, Mr. Liu has become one of China's richest men, with a net worth of about $7.9 billion, according to Forbes. He also began to make proclamations about the growth of his business, a move that led to critics saying his confidence is more like cockiness.
"He brags a lot, makes false representations and makes empty promises," said Wong Kok Hoi, founder and chief investment officer of investment firm APS Management, which has taken a short position on JD's Nasdaq-listed shares.
Among other things, Mr. Wong said, Mr. Liu had promised investors in recent years that JD would be larger than Alibaba in the next few years. That promise isn't credible, he said, given that Alibaba's profit last year was $10 billion, while JD has posted 14 straight years of losses.
JD is now a company of more than 160,000 staff and 300 million annual active customers; but even with Chinese internet titan Tencent Holdings Ltd. and Walmart Inc. as backers, it trails Alibaba in China's e-commerce market.
Still, as the company grew, so did Mr. Liu's profile. Mr. Liu was a delegate at this year's Chinese People's Political Consultative Conference, China's top political advisory body, whose delegates consist of the nation's most influential business and political leaders. In January, he also attended the World Economic Forum in Davos for the first time, speaking with Carlyle Group co-founder David Rubenstein in a public interview.
On stage in Davos in January, Mr. Liu was asked what would make the Chinese tech entrepreneur the most proud.
"I think family," Mr. Liu replied. "In front of my wife, I want to be a good husband, in front of the children, I want to be a good father. In front of employees I want to be a good boss. In front of partners, I want to be a good partner to them."