Japan's ispace loses contact with lunar lander following historic launch
Ispace Hakuto spacecraft was launched aboard a SpaceX rocket in December
A Japanese space company attempted to land on the moon on Tuesday – something no other private business has done. 
The ispace lander was expected to have reached the lunar surface around 30 minutes into a livestream of the event. But, following a lengthy confirmation period, CEO Takeshi Hakamada said the engineers had still not been able to confirm a successful landing. 
"Currently, we have not confirmed communication from the lander," he said, noting that engineers were continuing to investigate.
"We already confirmed that we have established the communication until [the] very end of the landing," Hakamada continued. "However, now we lost the communication. So, we have to assume that… we could not complete the landing on the lunar surface." 
He promised there would be further updates on the matter, noting that the team was proud of the work they had done, including acquiring flight data that will be utilized toward future missions.
The primary landside site was Atlas crater, which is located on the northeastern quadrant of the moon. The crater extends more than 50 miles across and is just over a mile deep.
CHINA'S PUSH TO HIJACK ENEMY SATELLITES COULD BE 'GAME OVER' FOR US, NATIONAL SECURITY EXPERT WARNS
"The site meets the technical specifications of the lander technology demonstration mission, the scientific exploration objectives for the [Mohammed Bin Rashid Space Centre] mission, as well as the mission requirements of our other customers," ispace, which was founded in 2010, said on Twitter.
Flight controllers directed Hakuto – Japanese for white rabbit – to descend from 60 miles high and then land.
The 7-foot-tall lander is carrying a mini lunar rover for the United Arab Emirates and a toylike robot from Japan that is designed to roll around in the moon dust.
GET FOX BUSINESS ON THE GO BY CLICKING HERE
The Rashid rover, named for Dubai's ruling family, is the United Arab Emirates' first lunar rover. It was launched aboard a Falcon 9 SpaceX rocket from the Kennedy Space Center in Florida last year. Rashid will operate on the moon's surface for about 10 days, like everything else on the mission.
A solid-state battery from a Japanese-based spark plug company, a Canadian company's flight computer with artificial intelligence for identifying geologic features seen by the UAE rover and 360-degree cameras from a Toronto-area company are also on board. A small NASA laser experiment hitched a ride on the rocket.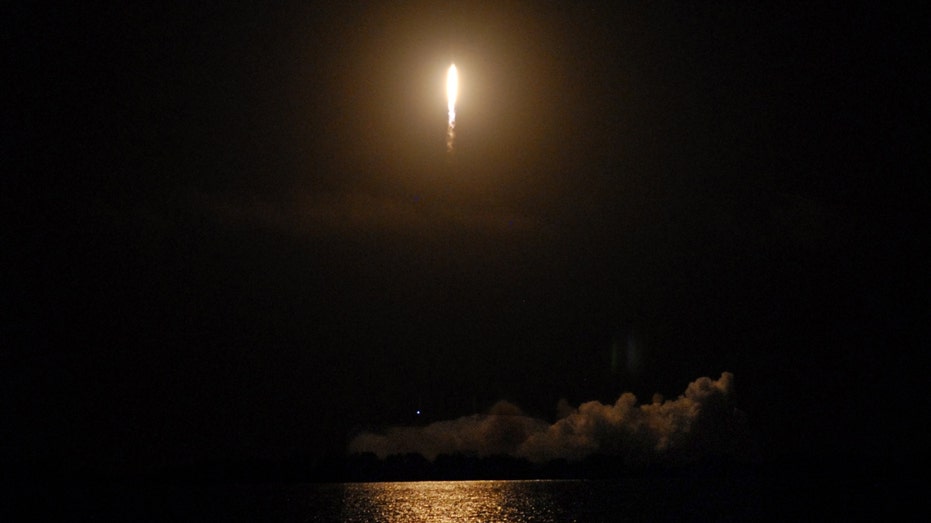 The Hakuto spacecraft took a long trip to the moon following its December launch, and sent back photos of Earth.
CLICK HERE TO READ MORE ON FOX BUSINESS
Only three governments have successfully landed on the moon: Russia, the United States and China. 
A second lunar landing by the private company is planned for 2024 and a third in 2025.
The Associated Press contributed to this report.