Facebook and Twitter reducing distribution of New York Post Hunter Biden story
Social media site says it will rely on its fact-checking partners to determine the story's legitimacy
Facebook and Twitter limited the distribution of a story in the New York Post about a purported email between Hunter Biden and an adviser to a Ukrainian energy company.
The 2015 email indicates that Vadym Pozharskyi, an adviser to Burisma, thanked Biden for "giving an opportunity" to meet former Vice President Joe Biden.
The former vice president has previously said he has "never spoken to my son about his overseas business dealings."
Ticker
Security
Last
Change
Change %
FB
META PLATFORMS INC.
194.25
+3.47
+1.82%
Facebook said it would rely on its fact-checking partners to determine the story's legitimacy, but until then, it is taking steps to tamp down on its spread.
"While I will intentionally not link to the New York Post, I want be clear that this story is eligible to be fact checked by Facebook's third-party fact checking partners," Facebook spokesperson Andy Stone tweeted Wednesday. "In the meantime, we are reducing its distribution on our platform."
Twitter issued a statement about the incident after Fox News reached out about the story, claiming it took action against the article due to the company's "Hacked Materials Policy." Twitter is blocking the post from being shared on its platform.
FACEBOOK REMOVES 790 QANON GROUPS, RESTRICTS OVER 10,000 INSTAGRAM ACCOUNTS
"In line with our Hacked Materials Policy, as well as our approach to blocking URLs, we are taking action to block any links to or images of the material in question on Twitter," a spokesperson said.
Fox News attempted to send via direct message the article titled "Smoking-gun email reveals how Hunter Biden introduced Ukrainian businessman to VP dad" to another user multiple times but was continually met with the same error message.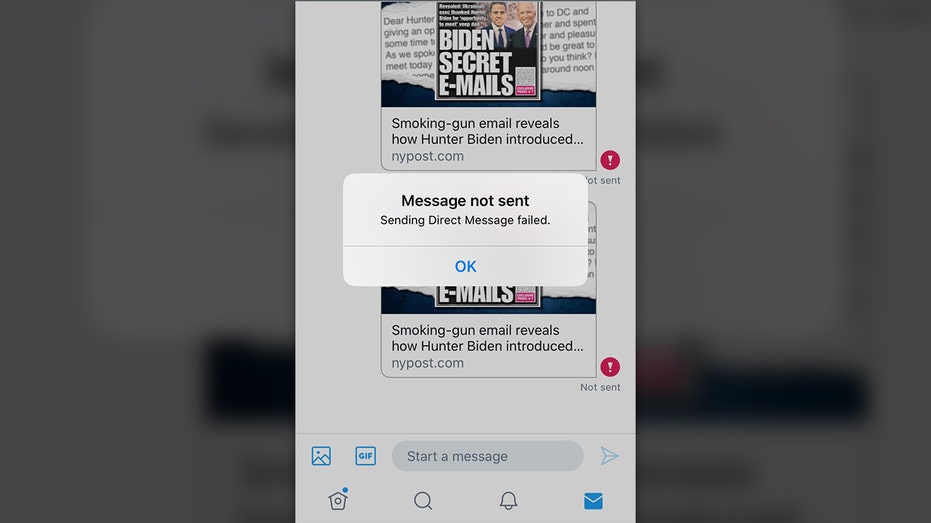 On Wednesday afternoon, NY Post business reporter Noah Manskar said the outlet's official Twitter account had been locked due to the Biden story being sourced from allegedly "hacked" information.
"The Post's primary Twitter account (@nypost) has also been locked because the Hunter Biden stories violate its rules against 'distribution of hacked material,' per email we received from Twitter," he wrote.
New York Post op-ed editor Sohrab Ahmari criticized the move in a Wednesday tweet, saying, "This is a Big Tech information coup. This is digital civil war. I, an editor at The New York Post, one of the nation's largest papers by circulation, can't post one of our own stories that details corruption by a major-party presidential candidate, Biden."
When asked about the Biden piece in comparison to stories that were allowed to be retweeted and shared regarding the now-debunked Steele Dossier, the big tech giant did not respond.
Republican Missouri Sen. Josh Hawley -- a staunch critic of big tech -- on Wednesday sent a letter to Facebook inquiring about the company's decision.
BIG TECH STAFFERS GAVE NEARLY $5M TO BIDEN, LESS THAN $250G TO TRUMP: REPORT
"The seemingly selective nature of this public intervention suggests partiality on the part of Facebook," Hawley wrote in the letter. "And your efforts to suppress the distribution of content revealing potentially unethical activity by a candidate for president raises a number of additional questions, to which I expect responses immediately."
Stone said in a later tweet that reducing distribution of articles that are being examined by fact-checkers is part of the company's "standard process." He also linked to a 2019 Facebook blog post that explains the social media platform's initiative to ensure election integrity and stop election interference.
The blog post states that Facebook and Instagram reduce distribution of misinformation on Facebook News Feed "so fewer people see it."
"In addition to clearer labels, we're also working to take faster action to prevent misinformation from going viral, especially given that quality reporting and fact-checking takes time. In many countries, including in the U.S., if we have signals that a piece of content is false, we temporarily reduce its distribution pending review by a third-party fact-checker," the post reads.
FACEBOOK BANS HOLOCAUST DENIAL, DISTORTION POSTS
Facebook came under intense scrutiny after the 2016 election after reports that revealed Russian troll farms were spreading misinformation or otherwise partisan posts, groups, pages and even public events on the platform ahead of the election in an effort to interfere with U.S. politics.
The website has since put numerous protections and rules in place to help prevent the spread of mis- and disinformation campaigns from foreign operatives and U.S. users alike. Facebook frequently removes users and posts that attempt to interfere with elections around the globe.
HOW DOES CHINA 'INTERFERE' IN THE US PRESIDENTIAL ELECTION?
The Biden 2020 presidential campaign responded to the Post story on Wednesday, saying the former vice president "carried out official U.S. policy toward Ukraine and engaged in no wrongdoing," and that "Trump administration officials have attested to these facts under oath."
The Pozharskyi email was obtained by the Post from a computer hard drive left at a Delaware-based tech repair shop.
CLICK HERE TO READ MORE ON FOX BUSINESS
Fox News has not yet independently verified all of the materials cited in the Post's Hunter Biden article.