Monster Jam truck drivers gearing up for fierce competition
Drivers must prepare mentally and physically before big shows
Monster truck athletes are revving up some scary competition as it creeps closer to the Monster Jam World Finals.
The Monster Jam competition is headed to the New York-New Jersey area with fan-favorite trucks tearing it up including, Grave Digger, Max-D and El Toro Loco. Grave Digger driver Krysten Anderson told FOX Business' Kristina Partsinevelos on Friday that she's ready to "drive wild."
"I'm here to win," Anderson said. "Just because I'm a female doesn't mean I'm not a tough competitor."
Anderson comes from a long line of monster truck drivers, her father being Dennis Anderson – the creator of Grave Digger established in 1982. According to Monster Jam, Grave Digger is one of the most decorated trucks in the world.
FEMALE TRUCKERS TAKE THE WHEEL IN RESPONSE TO DRIVER SHORTAGE
"I'm going to drive wild just like my dad did," she said. "My dad was bad to the bone for almost 35 years and I'm here to carry on his legacy. That's what the Anderson's do. We always throw it down."
Anderson said preparing for competition requires being in physical shape for endurance and safety while driving.
GET FOX BUSINESS ON THE GO BY CLICKING HERE
Maximum Destruction (Max-D) driver Colton Eichelberger is best known for performing daring tricks like the "nose wheelie." His preparation for competition involves mental and physical readiness, as well as his team's technical preparedness.
"Whether it's working out, getting ready for the show, staying focused," he said. "We are in a point series so this is a battle."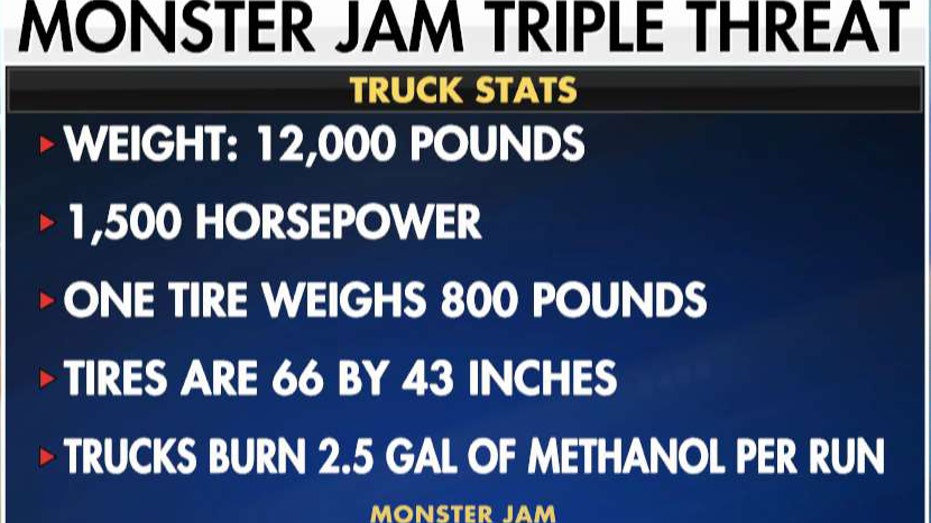 'El Toro Loco' driver Mark List encouraged fans to check out Monster Jam since he plans to pull out all the stops.
"We're competing for very important points going into Monster Jam World Finals," List said. "I'm going to be doing stoppies, some moonwalks. I want everybody to come out here and support us because you guys are the judges."