The 'No Brainer' for savvy entrepreneurs and start-up wannabes
In a world where there is an app for everything, including many that promise to keep you organized, you may think paper day planners are passé.
But, not so fast. Paper day planners are back in vogue, in part, thanks to BestSelf Co, a small business pumping out the SELF journal, a daily, physical schedule planner that helps users organize their day and reach their short- and long-term goals.
Created in 2015 by Cathryn Lavery and Allen Brouwer, the company's revenues are climbing.
"I think because we're so connected all the time, that people want to get away," Lavery explains.
The SELF journal helped take Lavery and Brouwer's business from a Kickstarter campaign in 2015, to making $2.4 million in revenue in 2016, $7 million in 2017, and now, in 2018, the co-founders are expecting at least 30 percent growth.
The Start
So how did Lavery and Brouwer get to a place where they're expecting eight figures in revenue?
The co-founders separately overcame a multitude of obstacles in their business lives. Lavery moved to the United States in 2011 from Ireland and is a trained architect. She tells FOX Business that she would look at her bosses and tell herself that she did not want to be them in 20 years.
"I knew I had to make a change," she says.
Brouwer, meanwhile, had always wanted to start his own business, but was facing thousands of dollars of student debt and did not have the mentorship, guidance or support to get an idea off the ground. Both Brouwer and Lavery wanted to jump-start a new career and ended up joining the same entrepreneurship class where they became accountability partners.
The Idea
The foundation of the SELF Journal was born from checking on each other's progress. The partners would keep track in a blank Moleskine notebook and input their daily timeline, what they were grateful for, targets to meet for the day and reflection notes.
"In the blank Moleskine we would write down this accountability structure every day, and we got tired of that. We said, 'Why don't we do a small batch of this, so we don't have to keep writing in this, building this framework on a daily basis?'" Brouwer says.
Despite a saturated day-planners market, the co-founders knew the SELF journal was different. It offers a three-month plan that helps users achieve a goal with their daily plans and big-picture goals all in one place.
"Three months represents a sufficient timespan to achieve something significant, but short enough that you don't feel you have time to procrastinate," says Lavery. "It's also undated so you can start anytime, no need to wait until Jan. 1 to make a change."
Raising the $$$
Once the idea was born, the duo needed to raise capital and turned to Kickstarter in 2015. BestSelfCo had an initial Kickstarter goal of $15,000 in revenue. Lavery and Brouwer met that goal within 28 hours.
"At the end of the 34 days, we hit $322,000, almost $323,000," says Lavery.
The first e-commerce store opened on Jan. 1, 2016. Then Shopify announced its 'Build a Business Competition.' Lavery and Brouwer took on the challenge.
"It was a natural progression for us," explains Brouwer.  "The best possible thing is we win, but second best is we still build a business."
They scored a win-win; BestSelf won the competition. The prize included mentorships by business power-players such as Tony Robbins, FUBU CEO Daymond John, "The 4-Hour Work Week" author Tim Ferriss, and life coach Marie Forleo. Another accolade included ringing the opening bell at the New York Stock Exchange, a big moment for Lavery.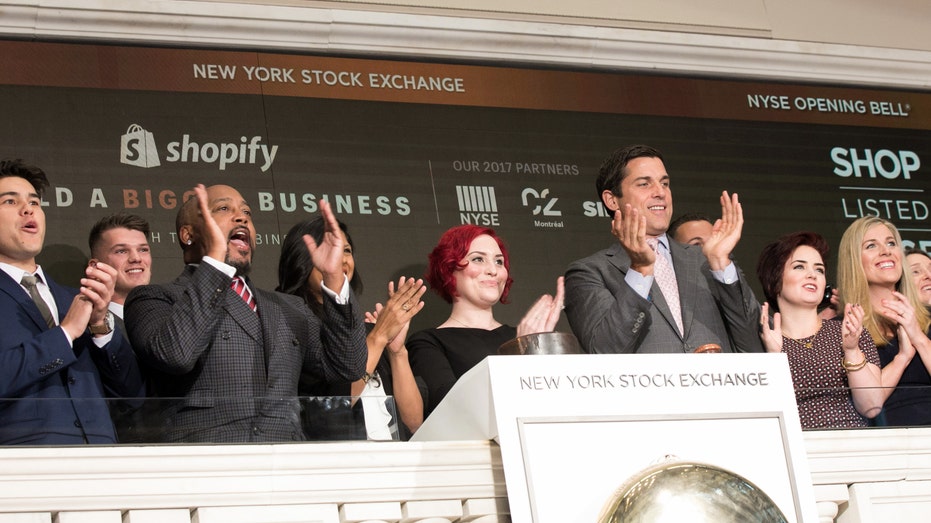 "My mom and dad don't understand exactly what I do," Lavery explains. "But, for some reason when I got to ring the New York Stock Exchange bell they told me, 'We don't exactly know what you're doing, but it seems to be working,' and my dad stopped asking how I was paying rent."
BestSelfCo then went onto to win Shopify's "Build a BIGGER Business competition," which highlighted some of the fastest growing businesses selling on the platform. Lavery and Brouwer's business began to expand and they started to hire additional employees, all of whom work remotely.
The virtual workplace is a core principle for the co-founders who "wanted to maintain a work-life harmony, and not go back to the commute-to-office system that we both wanted to leave."
In addition, Brouwer says working remotely enables the principles to cherry-pick the very best people from around the world without being confined to a geographic location. Lavery adds that their employees value the freedom which promotes taking ownership of their work.
"Our business is based on paper and day planners and journals, but internally, it's a tech business," says Brouwer. "All of our team is connected through software platforms, cloud computing and video conferencing. Our business is run on software, but we sell day planners. I find that interesting."
BestSelf now has international distribution with fulfillment centers in the United Kingdom, Australia and the United States. Their products are on Amazon, in retail outlets like Paper Source, and the co-founders just inked a small deal with Barnes and Noble.
Ticker
Security
Last
Change
Change %
AMZN
AMAZON.COM INC.
120.30
-0.65
-0.54%
BKS
n.a.
n.a.
n.a.
n.a.
SHOP
SHOPIFY INC.
30.05
-0.77
-2.50%
Lavery and Brouwer hope their story can serve as an inspiration for aspiring entrepreneurs.
"You don't have to come up with a new idea or reinvent the wheel, or come up with some 3D printing robot, or something like that," explains Lavery. "You just need to be consistent with what you're doing, and then constantly learn as you go."
Brouwer adds, "Don't wait for the right opportunity, or the right moment. Just start, and the right moment will come after you put in the work, and it will happen, as long as you keep pushing forward."
Emily DeCiccio is a video producer and reporter for Fox News Digital Originals. Tweet her @EmilyDeCiccio