Why October is busiest sports month of year for ticket market
All four major professional U.S. sports leagues are in full swing in October, making it the busiest sports month of the year for the secondary ticket marketplace, according to StubHub.
October features the start of Major League Baseball's postseason, the beginning of league years for both the NBA and NHL, and midseason action in the NFL. Major League Soccer and several NCAA sports, including college football, are also active this month.
The hectic landscape generates a surge in ticket sales volume. About 500,000 tickets for sporting events are used each week in October, according to StubHub statistics. That volume of use translates to about 70,000 tickets per day, 50 tickets per minute or about 1 ticket every second of the month.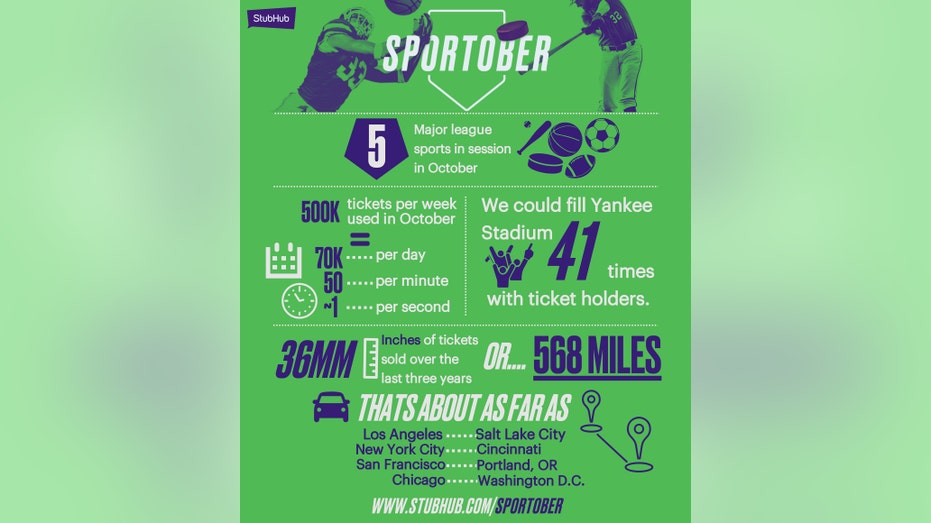 Stretched end to end, the sports tickets sold on StubHub in the month of October would stretch 568 miles, or long enough to travel from New York City to Cincinnati, the platform said. The total number of ticket holders could fill Yankee Stadium 41 times over.
The NHL began play for its new season on Oct. 3, while the 2018-19 NBA season kicks off on Oct. 16, 2018. The divisional round of MLB's playoffs are underway as well.
The Los Angeles Lakers rank as the most in-demand NBA ticket this season, according to StubHub. The Vegas Golden Knights are the hottest NHL ticket.