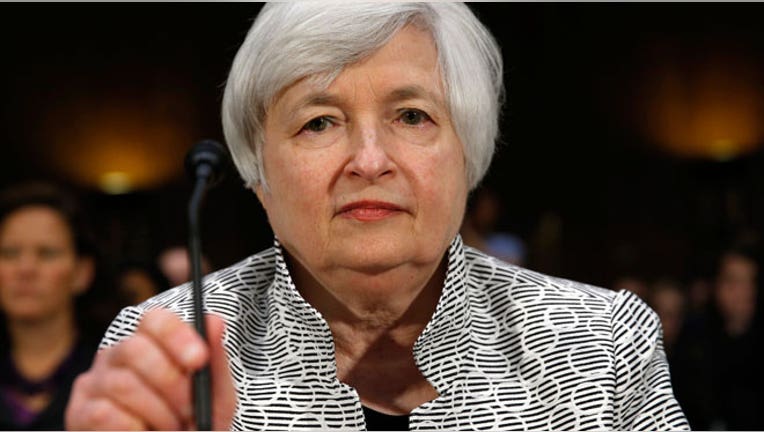 Federal Reserve chair Janet Yellen is still making a case for keeping the central bank's easy-money stimulus policies in place for as long as the economy needs them.
Yellen, in prepared comments before the Senate Banking Committee on Tuesday, said a "high degree of monetary policy accommodation remains appropriate."
It's an argument she's been making since taking the top spot at the Fed in January. Yellen is testifying Tuesday and Wednesday before Congress during her semi-annual update on monetary policy.
"The recovery is not yet complete," Yellen stated, noting that "significant slack remains in labor markets." What's more, inflation is still running below the Fed's target rate of 2%.
Housing is also "an area of concern," according to Yellen, the key economic sector negatively impacted by rising mortgage rates.
Her observations about cracks in the ongoing recovery are significant because she and other Fed inflation 'doves' are making their case for keeping interest rates low for the foreseeable future, at least well into 2015 and possibly longer.
The 'doves' are fighting an increasingly vocal faction of Fed 'hawks' who want to raise interest rates sooner than anticipated. St. Louis Fed President James Bullard, for instance, wants to raise rates in the first quarter of 2015. The 'hawks' believe keeping rates too low for too long will eventually lead to runaway inflation.
Yellen said the economic contraction during the first quarter was "mostly" due to transitory factors, namely a rough winter. She expects the economy to expand at a "moderate" pace in coming quarters.
The Fed chief said the central bank is committed to policies that promote the Fed's dual mandate of full employment and price stability. Currently, the Fed defines those goals as an unemployment rate of 5.2%-5.5% and inflation in a range of 1.7%-2%.
Yellen has said in the past that the Fed isn't likely to even consider raising interest rates from their zero range until those employment and inflation thresholds are met.
The unemployment rate currently stands at 6.1%, its lowest level in nearly six years, and inflation is running at an annual rate of 1.8% (according to the Fed's preferred PCE gauge).