Yellen: Rate Hike Decision on 'Meeting to Meeting' Basis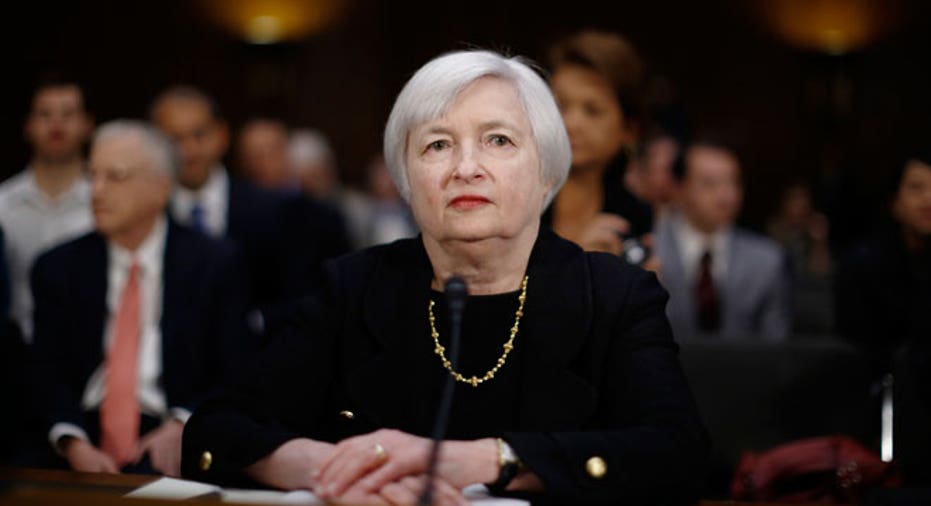 Federal Reserve Chair Janet Yellen told a Congressional committee Tuesday that as the economy continues to improve Fed policy makers will consider raising interest rates on a "meeting by meeting basis."
The language used before the Senate Banking Committee is a subtle shift away from earlier, vaguer language and is clearly intended by Yellen as another hint that the Fed is preparing to raise rates probably by mid-2015, as economists have long predicted.
Yellen, in her semi-annual to Congress on monetary policy, said the Fed will remain patient in its assessment of the timing and trajectory of rate hikes, and that the move won't happen at least for another "couple of meetings."
"If economic conditions continue to improve, as the Committee anticipates, the Committee will at some point begin considering an increase in the target range for the federal funds rate on a meeting-by-meeting basis," said Yellen in prepared remarks.
"Before then, the Committee will change its forward guidance. However, it is important to emphasize that a modification of the forward guidance should not be read as indicating that the Committee will necessarily increase the target range in a couple of meetings," she explained.
Economic instability in Europe and slowing growth in Asia are two situations Yellen suggested  could potentially impact the Fed's timing for raising rates.
"Janet Yellen struck a somewhat Hawkish tone in her Congressional testimony, sticking to her script of bullishness on the labor market and a lack of alarm over soft inflation. This doesn't mean that the Fed is rushing for the exit, but it does mean that a mid-year rate hike is alive and well," said IHS Global Insight analyst Paul Edelstein.
Yellen's appearance Tuesday begins two days of testimony today before Congress and the goal of the politicians will be to glean from Yellen some as-yet ungleaned clue as to the when the central bank plans to raise interest rates.
Yellen helped them out in her opening remarks.
Yellen will testify today before the Senate Banking Committee and tomorrow before the House Financial Services Committee. If history is any indication, the two separate days testimonies will be very similar.
Yellen on Tuesday reiterated the Fed's long-held position that the timing and – just as importantly – the trajectory of rate hikes is dependent on the economic data as it is released. That data includes monthly jobs reports, quarterly GDP readings, housing, construction and manufacturing numbers, etc…
The Fed has long projected a mid-2015 liftoff for interest rates, a timetable that has remained flexible. That position did not change any during Yellen's testimony on Tuesday.
The Fed has maintained its primarily dovish/cautious approach for months despite the fact that the economic data has shown marked improvement in recent months, especially in the area of labor. The U.S. added more jobs in 2014 than at any time since the 1990s and the unemployment rate has fallen to its lowest level since before the 2008 financial crisis.
But the Fed in its most recent public policy statements has stressed that it will "be patient" as it mulls a liftoff date for interest rates, which have been held at a near-zero range since December 2008.
That patience is necessary, according to Fed policy makers, because higher interest rates will mean higher borrowing costs, a situation that could impede an already-fragile economic recovery.
Senator Richard Shelby (R-Ala.), who chairs the Senate Banking Committee, and several of his Senate colleagues questioned Yellen on an array of topics, ranging from from currency manipulation among U.S. trading partners to whether Congress should demand more transparency from the Fed.  delve more deeply into the Fed's affairs.
Shelby in particular stressed the need for more transparency as it unwinds its more than $4 billion balance sheet accumulated during six years of unprecedented Fed economic stimulus in the wake of the 2008 financial crisis.
Shelby said "many question whether the Fed can rein in inflation and avoid destabilizing asset prices," Shelby said. "I am interested to hear whether the current Chair ... believes the Fed should be immune from any reforms."
Yellen said more governmental oversite of the central bank "would politicize monetary policy, and "beyond a shadow of a doubt" weaken the Fed's effectiveness.
Yellen was also asked to address stagnant wages and low inflation.
Despite the strengthening job market, wages have remained stagnant for most American workers. Slack in the workforce caused by a glut of temporary and part-time jobs has allowed employers to keep wages relatively low. That's expected to change as the labor market tightens.
And and as the labor market tightens and wages rise so will inflation. At least that's what the Fed has projected.
Fed policy makers have said the central bank won't raise interest rates until it meets its dual mandate of full employment and price stability, which it defines as an unemployment rate of 5.2%-5.6% and a 2% inflation rate.
The unemployment rate is close to that target, but inflation has been well below the Fed's target for months.
Yellen explained these dynamics to the politicians in greater detail in an effort to persuade them that the Fed's cautious approach is the best way to sustain momentum in the U.S. recovery.
Some elected officials – echoing the position of a handful of hawkish Fed members – have expressed concerned that the Fed's stimulus policies, in particular six years of near-zero interest rates, will lead to runaway inflation, asset bubbles and other unintended consequences.