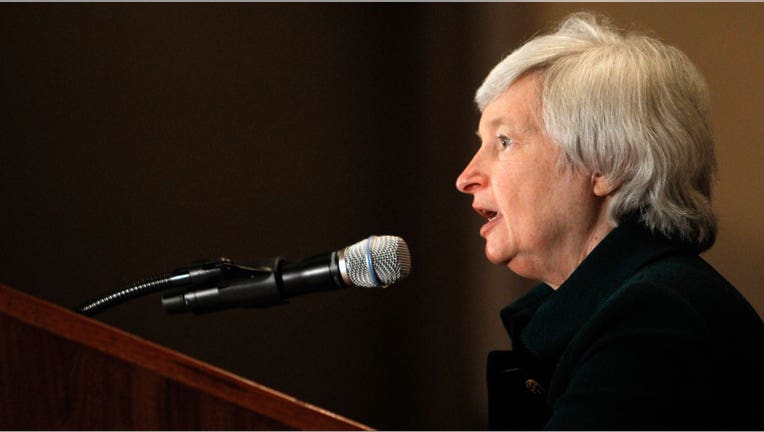 Federal Reserve Chair Janet Yellen has repeatedly urged market participants – investors, analysts, economists, the media – to focus not on the timing of the first interest rate hike but rather on the trajectory of increases once rates start moving higher.
Good luck with that, but her point is well taken.
"Too much emphasis is placed on the timing of the first increase. What matters is the entire path of rates," Yellen said Wednesday during a press conference that concluded the Fed's two-day policy setting meeting.
And for anyone who hasn't been paying attention, that path is going to be "gradual." Yellen and her most vocal allies on the policy setting Federal Open Markets Committee – Fed Vice Chair Stanley Fischer and New York Fed President William Dudley -- have repeatedly assured markets of as much.
Once again members of the Federal Open Markets Committee (FOMC) voted to keep interest rates at the near-zero range where they've been held since December of 2008. The FOMC statement released at the end of the meeting strongly suggested that liftoff would occur before the end of 2015 and left open the possibility of a September rate hike.
Carl Tannenbaum, chief economist for Northern Trust in Chicago, believes the Fed will pull the trigger in September at the Fed's next regularly scheduled meeting. And he's on board with the Fed's stated strategy of raising rates gradually to ensure that borrowing costs don't move higher faster than the economy can adequately adjust.
"There is still enough uncertainty to suggest caution as opposed to aggression," said Tannenbaum.
Nevertheless, there is clearly disagreement among the members of the FOMC regarding that trajectory. While the vast majority of FOMC members believe rates should move higher in 2015, the consensus breaks down considerably when the issue of trajectory is raised.
For investors trying to forecast the path of interest rates in the near-term "there is still quite a range of possibilities between now and December," Tannenbaum said.
The disparity in FOMC views is a direct reflection of the disparity in incoming economic data, Tannenbaum explained. "The Fed is data dependent and data dependency is messy," he said.
While some FOMC members may disagree over how quickly the rate should move higher, they all seem to agree that the best description for the upward trajectory is gradual.
In an interview earlier this year, San Francisco Federal Reserve President John Williams told Reuters a gradual approach toward lifting rates is needed because it will allow for flexibility as the Fed determines whether the U.S. economy still requires stimulus going forward.
"My own view is that the pace of tightening would be actually pretty gradual over the next few years once we start liftoff," Williams said.
Even hawkish members of the FOMC who have been arguing that a rate hike is long overdue agree that rates should move higher gradually once the Fed pulls the trigger on a liftoff.
Dallas Fed President Richard Fisher, an ardent inflation hawk and long-time critic of the Fed's unprecedented stimulus policies, said earlier this year: "The idea that we can substitute a steeper future funds-rate path for an early liftoff seems risky to me. I would rather the FOMC raise rates early and gradually than late and steeply."