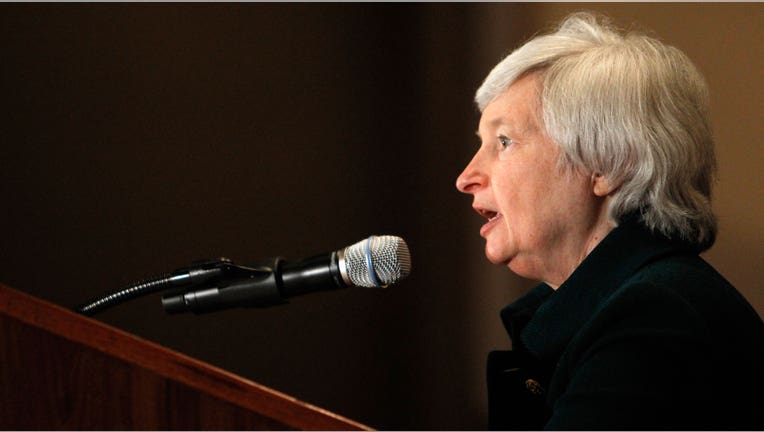 Janet Yellen's appearance before a Congressional committee on Tuesday, her first as the newly installed chair of the Federal Reserve, is likely to be a bit more contentious than her nomination hearings in December.
Now she's the boss.
Yellen, in her first semiannual monetary policy report, will be facing the Republican-controlled House Financial Services Committee, some of whose members are deeply opposed to the Fed's long-running stimulus policies.
The questions will almost certainly focus on how the Fed intends to wind down those programs without throwing up additional roadblocks to a full economic recovery, and whether the programs were worth their staggering cost in the first place.
The Fed set interest rates at near zero in December 2008 and has held them there ever since in an effort to spur lending and economic activity. In addition, three separate bond purchase programs known as quantitative easing have more than quadrupled the Fed's balance sheet to more than $4 trillion.
"This is her first meeting as leader of the Fed. It's extremely important for her to demonstrate confidence," said Mark Williams, a former Fed examiner who now teaches banking at Boston University.
Williams said if Yellen, the first woman to serve as chair in the central bank's 100-year history, can replicate her December performance at her confirmation hearings during which she "exuded confidence," Tuesday's appearance before a more-adversarial group from the House should go swimmingly.
"She's very good in this type of forum. She's an academic and she's used to this kind of debate," said Williams.
In December the Fed voted to begin gradually scaling back its easy-money policies by reducing the amount of bond purchases it makes each month by $10 billion. Fed policy makers initiated the program in January then approved another $10 billion reduction a few weeks ago despite a slew of mixed economic news and a rough patch in emerging markets.
Yellen stands to benefit from the vote in December to begin tapering while former Chairman Ben Bernanke was still in charge because the tough question of when the Fed will begin scaling back stimulus has been answered.
The question that remains is whether the Fed will continue scaling back if the economic recover begins to falter, and given back-to-back weak monthly labor reports, that question is certain to come up on Tuesday.
In December the U.S. added just 75,000 jobs, a tepid number that the Fed blamed on extreme weather. But the January report released on Friday was also a stinker – the U.S. added just 113,000 jobs.
But the tapering strategy was created for just this type of scenario, so that the bond purchases could be adjusted in whatever direction the economic data warrant.
That flexibility will make Yellen's job easier before a cadre of inquiring Congressman and a national television audience.
"Bernanke took some of the heat off her by giving her that ability to be flexible," said Williams.
Another topic that's sure to be raised is inflation, or more precisely the lack of inflation. The  inflation rate has been running at below 1%, less than half of the Fed's target rate of 2%. Central bank policy makers have almost universally forecast that inflation will tick higher in 2014 toward that target rate.
The fear of deflation is that it weakens demand because consumers will put off buying things if  they believe prices are falling. Weak demand pushes prices lower, however, and cuts down on production and reduces the likelihood that companies will expand and hire.
An interesting back and forth could occur if the subject of fiscal policy is raised. The Fed, which sets monetary policy, has repeatedly said the economic recovery has been hindered by lack of a coherent domestic fiscal policy, which is set by Congress.
Many economists back the Fed on that point, saying U.S. growth would have been stronger if not for mandated federal spending cuts, a 2013 tax increase that took more money out of workers' paychecks, and a series of budget battles that have cast a poor light on U.S. lawmakers and drained public confidence in Congress' ability to set fiscal policy.