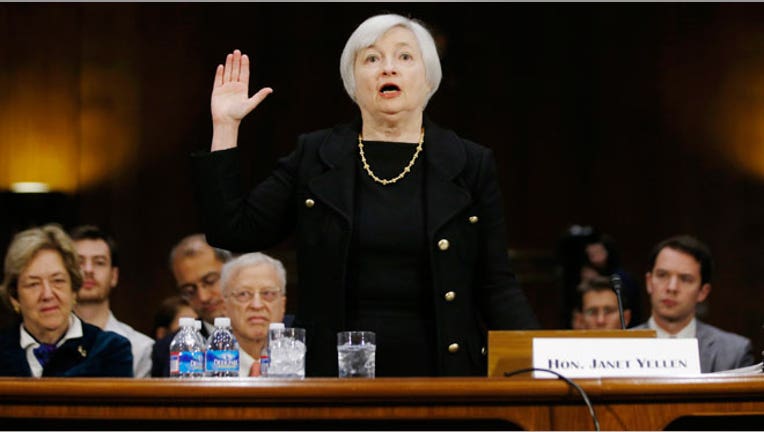 Pressed for a timetable on when the Federal Reserve might begin raising interest rates, Janet Yellen on Wednesday resisted and offered no specifics.
Instead, she held firm to recent Fed policy statements and echoed her own comments, insisting interest rates won't rise at least until the economic data meet the Fed's dual mandate of maximum employment and price stability.
Yellen has defined maximum employment as an unemployment range of between 5.2% and 5.6% and price stability as an inflationary range of 1.7% and 2%.
Yellen was responding to questions from members of Congress' Joint Economic Committee.
The Fed chief caused a stir in March when she suggested interest rates might start moving higher well ahead of when the Fed had previously forecast such a move. She has since taken pains to clarify her statement and avoid and specific timeline for raising rates, which have been held at a 0-0.25% range since December 2008.
In prepared remarks, Yellen told the committee members she sees economic growth rebounding in the second quarter as consumer spending and overall production continue to gain momentum.
The Fed chair repeated her oft-spoken contention that a weak first quarter in which gross domestic product came in at a dismal 0.1% growth rate was mainly attributable to severe winter weather across much of the U.S.
"With the harsh winter behind us, many recent indicators that a rebound in spending and production is already underway, putting the overall economy on track for solid growth in the current quarter," Yellen said in her opening statement to Congress' Joint Economic Committee.
The housing market, however, has lost steam and too many Americans remain out of work, Yellen said.
While ticking off positive labor market statistics – the drop last month in the headline unemployment rate to 6.3%, an monthly average of about 200,000 jobs gained over the past year – Yellen cautioned that "a substantial amount of slack" remains.
Evidence of that slack can be found in stagnant wages, she said. In addition, both the number of people unemployed for more than six month and the number of people working at part-time jobs but who would prefer full-time work are at historically high levels.
The slack in the labor markets has contributed to an unusually low inflation rate: 1%, or about half of the Fed's target rate of 2%. Persistently low inflation could pose risks to the economy, Yellen noted, adding that the Fed is monitoring "inflation developments closely."
Yellen also reiterated the Fed's position that interest rates will remain at their historically low levels well after the central bank closes out its bond purchasing program, probably later this year.
"In light of the considerable degree of slack that remains in labor markets and the continuation of inflation below (the Fed's) 2% objective, a high degree of monetary accommodation remains warranted," she said.
Economic activity should expand at a "somewhat" faster pace in 2014 than a year ago, the Fed chief predicted, and unemployment will continue to "gradually" decline while inflation ticks upward toward the Fed's 2% target rate.
Heightened geopolitical tensions, namely Russia's military intervention in the Ukraine which destabilized that entire region, pose a threat to those optimistic forecasts, however. As do an increase in stress in emerging markets.