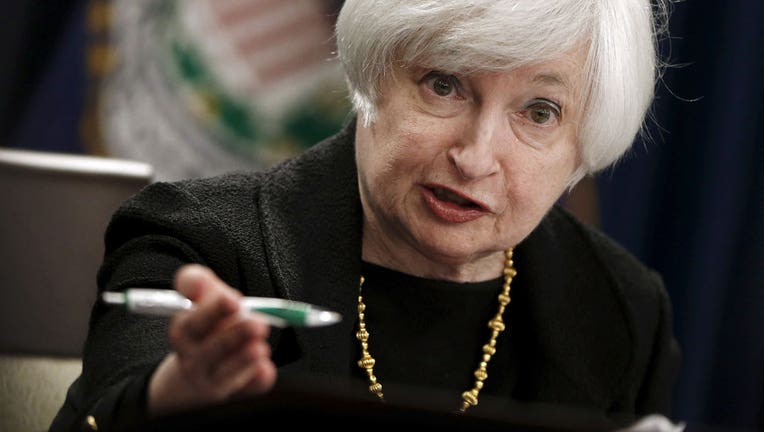 Federal Reserve Chair Janet Yellen said Thursday she and "most other" Fed policy makers "anticipate" raising interest rates at some point before the end of the year.
In a speech on inflation in Amherst, Mass., Yellen reiterated her oft-stated belief that inflation is currently moving higher in the direction of the Fed's 2% target range. She said a bump in short-term interest rates would likely help move that along and that the bump would likely occur later this year.
Inflation in the U.S. has been running at about 1% for months, pressured lower recently by rapidly falling energy prices.
Yellen said she expects that inflation "will return to 2% over the next few years as the temporary factors that are currently weighing on inflation wane, provided that economic growth continues to be strong enough" to fulfill the Fed's dual mandate of full employment and price stability.
To help goose inflation toward the Fed's 2% target, Yellen said short-term interest rates will need to be bumped higher and then raised "gradually" to maintain the Fed's dual mandate.
"Most FOMC (Federal Open Markets Committee) participants, including myself, currently anticipate that achieving these conditions will likely entail an initial increase in the federal funds rate later this year, followed by a gradual pace of tightening thereafter," Yellen added.
That could change, she added, "if the economy surprises us."
In sum, the language contained in Yellen's prepared remarks strayed little from her statements last week after the Fed announced it would hold off on the first interest rate increase in nearly a decade.
The Fed's statement was unclear on when the first increase might occur, maintaining the position that the central bank will remain "data dependent" on the timing and trajectory of a rate hike.
Yellen held to those positions on Thursday, saying the incoming economic data as it relates primarily to labor markets and inflation will be the deciding factor on liftoff.
Yellen said low interest rates and other forms of "accommodative policies" have contributed significantly towards strengthening U.S. labor markets and warding off "disinflationary pressures."
The Fed initiated a series of unprecedented accommodative policies in the wake of the 2008 financial crisis and now central bankers are anxious to wind down those programs and return U.S. monetary policy to "normal."
The Fed was seemingly poised to raise rates in September for the first time in nearly a decade but that timetable was disrupted by signs that China's economic growth was slowing.
The Fed has two meetings left in 2015, one in October and the other in December. Most economists believe if the Fed moves this year it will come at the December meeting.
Janet Yellen received medical attention after coughing, pausing and struggling to finish the speech.
A Fed spokeswoman said Yellen felt dehydrated at the end of the long speech under bright lights.Yellen was seen by emergency medical staff. She felt fine afterwards and continued with her Thursday evening schedule.