With Rival Debt Plans in Doubt, Compromise Eyed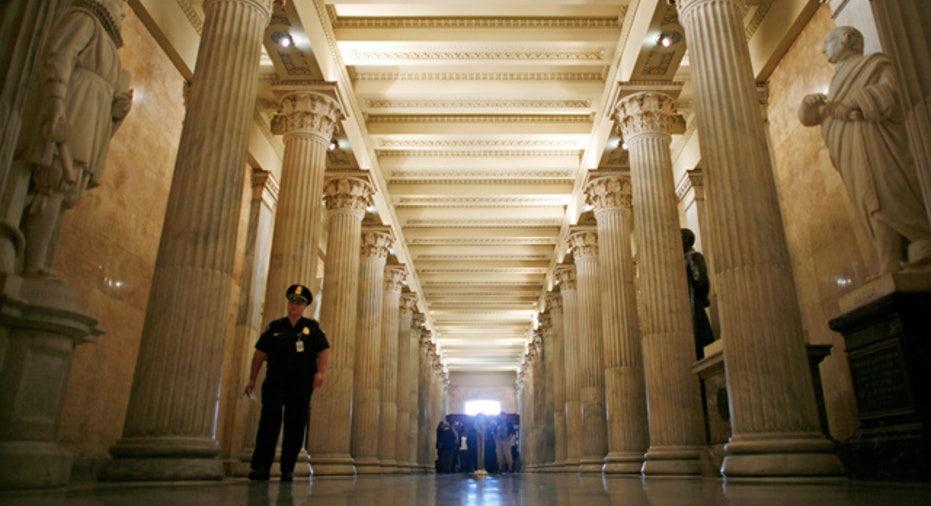 Republicans and Democrats rushed to rework rival deficit reduction plans Wednesday, but with the fate of both proposals heavily in doubt top lawmakers pursued a behind-the-scenes compromise to avert a crippling U.S. default.
With the deadline less than a week away, global stock markets fell sharply on growing fears that the two sides will fail to break the deadlock. That would mean the United States would not be able to borrow more money after Aug. 2 and could run out of cash to pay all of its bills.
Even if a deal is reached to raise the $14.3 trillion U.S. debt ceiling, a budget plan that flinches from hefty cuts in the deficit may result in a downgrade of America's top-notch credit rating, which could sow financial chaos worldwide.
Congressional leaders scrambled to find common ground, but complications surrounding their competing proposals could mean efforts to forge a compromise will go right down to the wire.
The prospect of a quick resolution suffered another blow when a vote on a deficit reduction plan offered by House of Representatives Speaker John Boehner, the top Republican in Congress, was pushed back to Thursday from Wednesday amid opposition by fellow Republicans as well as Democrats.
A separate plan crafted by Senate Majority Leader Harry Reid, a Democrat, also faced a setback Wednesday when the non-partisan Congressional Budget Office said the proposal would cut $2.2 trillion from deficits, about $500 billion less than Democrats had claimed.
Republicans control the House and President Barack Obama's Democrats control the Senate.
Boehner rushed to revise his proposal after a separate CBO analysis found it would cut spending by $350 billion less than the $1.2 trillion over 10 years he had claimed.
Amid the political brinkmanship, congressional leaders including Boehner, Reid and Senate Republican leader Mitch McConnell were holding conversations on how to break the impasse, aides said. But weeks of acrimonious dealings may make it hard to narrow the partisan differences.
In an interview on MSNBC, Steny Hoyer, the No. 2 House Democrat, promoted Reid's proposal as a solution to the deadlock, saying it reflects what Boehner wants -- ``no new revenues, no new taxes, cuts equal to the extension of the debt limit.'' But Republicans have deep misgivings about it.
POTENTIAL FOR COMPROMISE
Signalling a potential for compromise, Reid said when asked if the two plans were the only options: ``We can change any one of them very easily.'' But Reid said every Democratic senator would vote against the current Boehner proposal if it is passed by the House and goes to the Senate.
The gridlock dragged global stocks down on Wednesday, particularly in Europe. Major U.S. exchanges slipped by 1 percent or more on nervousness over unfavorable company news and the faltering debt talks in Washington.
Worried investors shifted funds into traditional safe havens gold and the Swiss franc, which both rose to record highs in dollar terms.
The cost of insuring against a U.S. debt default in the next year increased to a record high.
Still, there have been no signs of panic in markets because most investors expect a deal to be struck by the deadline.
``The market is expecting both sides to take it to the edge, to push it as long as possible given the politics and given the cost to any side which backs down and loses one of its core interests too early on,'' said Stephen Green, head of research for Greater China at Standard Chartered Bank.
However, the bank's Chinese clients take a more pessimistic view on America's longer-term fiscal health, Green said.
``Many of them look at the politics in the U.S. and see that it's so dysfunctional that they're losing hope that the U.S. can actually get its fiscal house in order,'' he told Reuters.
JAPAN, FRANCE WORRIED
Failure to reach a deal would have major implications. A Japan central bank policymaker said a U.S. default or a ratings downgrade would be felt well beyond the United States.
``As the world's biggest economy, the U.S. would have an immeasurable impact on global financial markets and Japan would not escape the damage,'' said Hidetoshi Kamezaki, a board member of the Bank of Japan.
After weeks of debate, the contours of a possible deal have emerged but Republicans and Democrats are digging their heels in on some key demands and blaming each other for putting politics ahead of the national interest.
Obama, who is seeking re-election in the November 2012 U.S. elections, has threatened to veto the Boehner plan if it wins congressional passage.
Boehner's plan has also failed to win the backing of Republicans aligned with the conservative Tea Party movement. They have refused to back tax hikes and want deeper cuts to social programs traditionally protected by Democrats.
The three big credit rating agencies have warned that the United States needs to come up with a credible deficit reduction plan to keep its top AAA rating in the long term. Only S&P has said it will downgrade the United States in the next three months if a credible plan is not agreed upon soon.
Obama and Treasury Secretary Timothy Geithner have stressed the government will run out of room to borrow funds on Aug. 2, which is next Tuesday.
Treasury officials have never said when the government will exhaust its funds to pay the nation's bills and the consensus among Wall Street analysts is that the cash will not run out until about two weeks later than that.
(Writing by Matt Spetalnick; Editing by Will Dunham)