With latest NAFTA proposals, U.S. takes on bigger targets, critics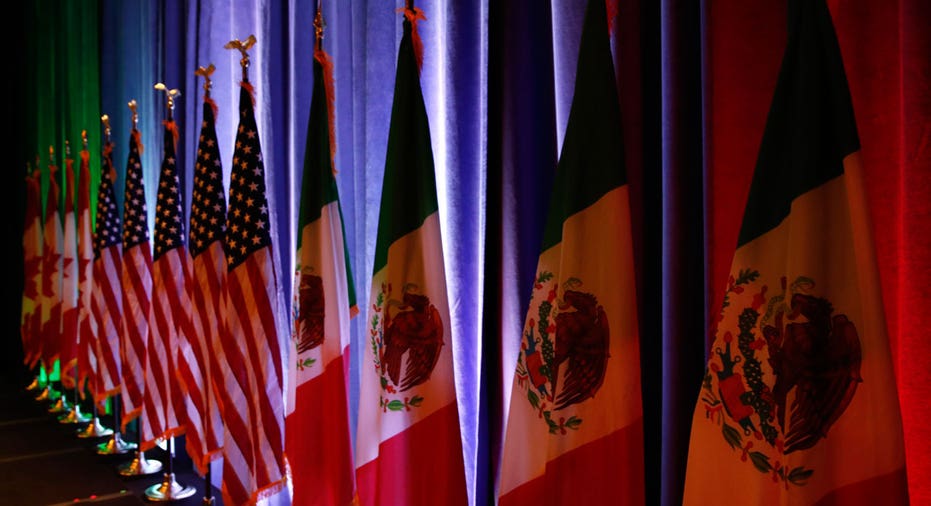 The Trump administration plans to take aim at the areas of the North American Free Trade Agreement it finds most objectionable as negotiators for the U.S., Canada and Mexico gather Saturday in Ottawa, setting the stage for a contentious third round of talks.
"At this point in the negotiations, more challenging issues will start taking center stage, and the U.S. remains committed to advancing and negotiating substantial changes to Nafta for an agreement that benefits all Americans," John Melle, the U.S. chief Nafta negotiator, said in a statement to The Wall Street Journal.
Mr. Melle didn't elaborate.
"We are all putting text on the table at this point," Steve Verheul, Canada's chief Nafta negotiator, told reporters Saturday as he entered the negotiating rooms, adding he expects talks to intensify over the next five days.
But according to people familiar with the Trump administration's Nafta strategy, the U.S. moves at the Ottawa round seek to bring in the "America First" theme championed by Mr. Trump, including by rolling back international arbitration and other forms of dispute resolution enshrined in the current version of the trade pact. The Trump administration has expressed strong reservations about such binding arbitration decisions, seeing them as an erosion of national sovereignty.
But such proposals aren't likely to face opposition from only Canada and Mexico -- they also are causing an uproar at home in the U.S. business community and among members of Congress in both parties, according to the people familiar with the matter.
U.S. Trade Representative Robert Lighthizer this week backed a preference for government-to-government consultations and negotiations to resolve disputes rather than binding solutions imposed by an arbitrator.
As for Nafta talks in general, he said they were "moving at warp speed but we don't know whether we're getting to a conclusion."
The U.S. has said it wants to do away with one of these dispute systems, known as Chapter 19, in which panels of trade experts resolve conflicts over tariffs.
Any move to abolish them is bound to face stiff opposition, especially from Canada. That country's exporters see the dispute-resolution panels as an essential safeguard against U.S. protectionist whims in areas such as softwood lumber.
Pressure this week from Capitol Hill and the business community means that these changes are unlikely to be introduced in a formal written proposal this round, but are set to be informally discussed with senior Canadian and Mexican officials, according to people briefed on the U.S. strategy.
In recent days, the U.S. has floated proposals in Washington that would overhaul Nafta's Chapter 20, too, which sets out the rules for resolving general disputes among the three countries, according to two people familiar with the U.S. position.
In addition, they said the office of Mr. Lighthizer has discussed sweeping changes to the investor-state dispute-settlement system, which allows investors from one country to challenge governments in another country before an arbitration board. The U.S. has been working on a proposal that would allow it to withdraw from the system.
But the moves away from arbitration panels are creating alarm among U.S. companies that are major international investors, including those in the energy industry, because they say the panels protect their interests overseas. Two people familiar with briefings between the Trump administration and congressional staffers said the discussions were tense and involved what one of the people called a "crazy" approach to dispute settlement. Other backers of traditional U.S. trade policy agreed with that description.
"Any talk about eliminating investor-state dispute settlement will have a harmful impact," said Cal Dooley, president of the American Chemistry Council, in a call Friday with business groups concerned about the potential loss of international investor arbitration.
Still, the administration's approach has support from labor and other left-leaning organizations in the U.S. that don't want trade agreements to give American businesses what they see as international protections.
Also unclear is the fate this round of other controversial measures the Trump administration has floated, such as increasing the amount of U.S. content in North American-produced cars; demanding a "sunset clause" that could reopen Nafta to renegotiations every five years; and measures aimed at narrowing the U.S. trade deficit with Mexico.
On the prickly issue of auto-sector-rules, Mr. Verheul told reporters he "didn't expect to see anything radically new at this point."
Canada and Mexico officials have grown frustrated over the lack of detail from the U.S. on matters expected to be flashpoints during the talks.
"We still aren't very sure about what the real ask is from the U.S.," said Jayson Myers, a Guelph, Ontario, trade consultant and former chief lobbyist for Canadian manufacturers. "There's a lot of political rhetoric going on, but when it comes to negotiations, there's not a lot to work on."
Mexico Economy Minister Ildefonso Guajardo warned this week the success of the Nafta renegotiations hinge on addressing "elephants in the room." He told a Mexico City audience that seven Nafta chapters are close to completion, with some of them likely done in the Ottawa round.
However, echoing the sentiments of U.S. negotiators ahead of this week's talks, he said work remained on another 13 chapters "that represent some degree of difficulty."
--Jacob M. Schlesinger contributed to this article.
Write to William Mauldin at william.mauldin@wsj.com and Paul Vieira at paul.vieira@wsj.com