Wisconsin's Walker Vows No Compromise on Unions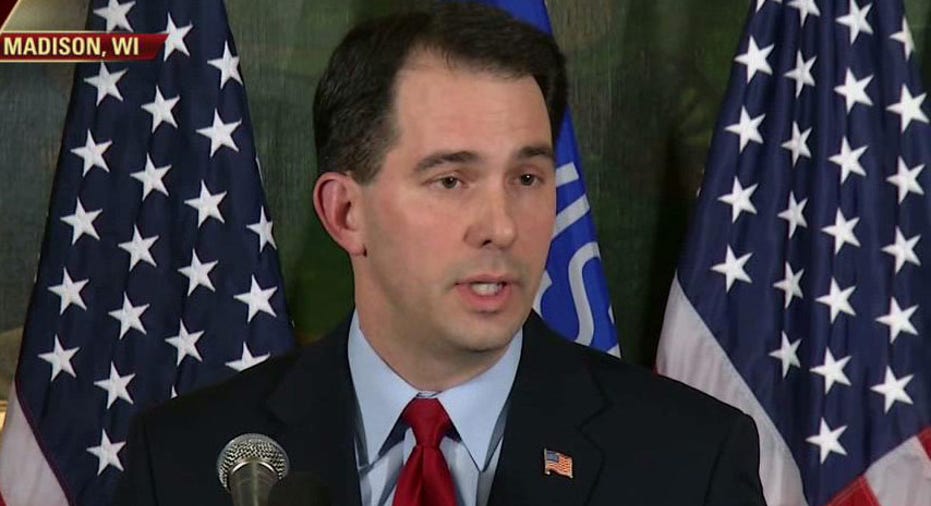 Wisconsin Governor Scott Walker vowed on Thursday never to compromise on the core of his plan to curb the power of public sector unions and said investors should buy the state's bonds precisely because he was taking a tough stance.
In an interview with Reuters Insider exactly two weeks after state Senate Democrats fled to Illinois to stall action on Walker's proposal, he said public sector unions must be reined in to allow local governments to cut costs.
"I want to be different. I want to be unique. I want to be an innovator here and give my local governments the ability to manage their own budgets. On that part, we can't compromise," the newly elected Republican said.
He added that he saw room to talk with opposition Democrats on "the process." He did not specify what that meant, but talks were reported to be under way with the 14 Democrats who departed the state. Various media accounts said the Democrats were seeking minor modifications to Walker's proposal on workplace safety and recertification of unions in exchange for the senators returning to Wisconsin.
Earlier on Thursday, Walker told reporters that unless the Democrats returned, he would begin preparing layoff notices for some 1,500 state workers by the end of this week in order to achieve the necessary budget savings.
Walker said it was "outrageous" that Democrats left Wisconsin rather than debating or voting on his proposal.
"The crisis that is occurring is for one reason and one reason only -- because the 14 left and abandoned their jobs."
The governor said that he has instructed senior Republican lawmakers and his inner circle to reach out to "some of the more reasonable" Democratic members of the state Senate.
"Unfortunately, they go back to their caucus, and extremists in their caucus pull them back to Illinois. We need to find a way for them to break free of that and ultimately come back to the capital," Walker said.
Republicans need just one Democratic senator to return in order to reach the quorum required for a floor vote on the proposal.
Walker's proposal has sparked a major confrontation with organized labor and the largest protests in Wisconsin since the Vietnam War. At least 70,000 people marched in Madison last Saturday to demand he withdraw his union plan.
But Walker showed no signs in the interview of backing down. He said investors should buy Wisconsin debt because its pension system is fully funded and his budget proposal would lower the state's structural deficit 90 percent by the end of fiscal 2013. This contrasted favorably with states such as Illinois and California, he said.
"We made the tough decisions to make the point to the investor that while it was tough doing it, we actually had the courage of our convictions," Walker said. "This is exactly the place you want to invest in because it is rock solid. There's nothing that is going to shake us."
Asked about the delay in refinancing the state's debt that is tied to the union dispute, Walker said he was "cautiously optimistic" that time remained to resurrect the restructuring plan.
"If they (Democrats) came back tomorrow, for example, we'd still try and see if we could talk to our bank and see if we could push this (refinancing) forward because its much better than losing $165 million in savings," he said.
The proposal to curb unions also included a provision allowing the debt restructuring that Walker's administration has estimated would save $165 million, and that has been held up by the larger controversy. Democrats have said Walker is bluffing on the urgency of the debt refinancing.
Walker's union proposal would allow collective bargaining on wage levels only up to the rate of inflation, require rank-and-file members to vote to recertify their union representation ever year, and require union members to assume more of the cost of their health insurance and pension plans.