Wisconsin to vote on $3B Foxconn incentives package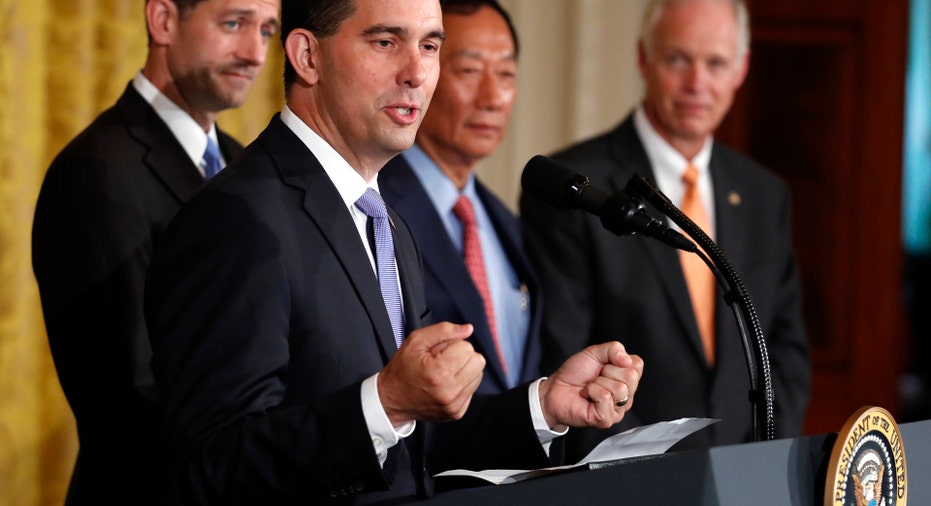 Wisconsin state legislators are set to vote on Gov. Scott Walker's (R-Wis.) proposed $3 billion incentives package for Taiwanese electronics giant Foxconn on Thursday, a plan likely to pass despite criticism from Democrats.
Democrats have questioned whether the massive display panel factory is worth the cost. The tax breaks up for a vote Thursday would be the largest in state history and the biggest to a foreign company in the U.S. The proposal could end up costing local governments nearly $150 million in lost sales tax, according to state agencies' fiscal estimates. Provisions blocking sales taxes on construction materials and equipment would cost the state about $139 million. Local governments would lose about $10.7 million.
Walker, who led negotiations on the deal won by Wisconsin over competition from several other nearby states, has called it a once-in-a-generation opportunity.
Foxconn will make an initial investment of $10 billion to create its new manufacturing facility in the U.S. The project could generate as many as 13,000 direct jobs, according to Gov. Scott Walker (R-Wis.), and the starting salary for those positions will be $53,000 plus benefits. The Foxconn plant could also potentially create 22,000 indirect positions within Wisconsin. Construction would begin in 2020.
But critics question where enough trained people for the high-tech work at the plant will come from, given that Wisconsin's unemployment level is 3.1 percent and the state has long suffered from a shortage of skilled workers.
Opponents also point to a wide array of environmental regulations that would be waived under the deal, including the requirement that an environmental impact statement be prepared.
Not all conservatives are on board with the project. The Wisconsin chapter of the conservative group Americans for Prosperity, funded by billionaire brothers Charles and David Koch, came out against the deal as a free market advocate and opponent of government tax incentives.
It will take at least 25 years for Wisconsin taxpayers to break even under the deal, according to an analysis by the nonpartisan Legislative Fiscal Bureau.
Democrats complain the bill is moving too quickly through the Republican-controlled Legislature. Walker and Trump announced that Foxconn was coming to Wisconsin on July 26, and the $3 billion incentive package was introduced on July 28. The Assembly is voting on it less than three weeks later.
The measure must also clear the Senate, but Republicans there have indicated they may want to make changes. If that happens, the Assembly would have to vote on it again.
Republican Assembly leaders defended voting on the measure less than three weeks after it was introduced, saying at a news conference before debate began Thursday that they hoped Democrats would join with them in voting for the measure.
The Associated Press contributed to this report.