Wisconsin Governor Defends Curb on Union Rights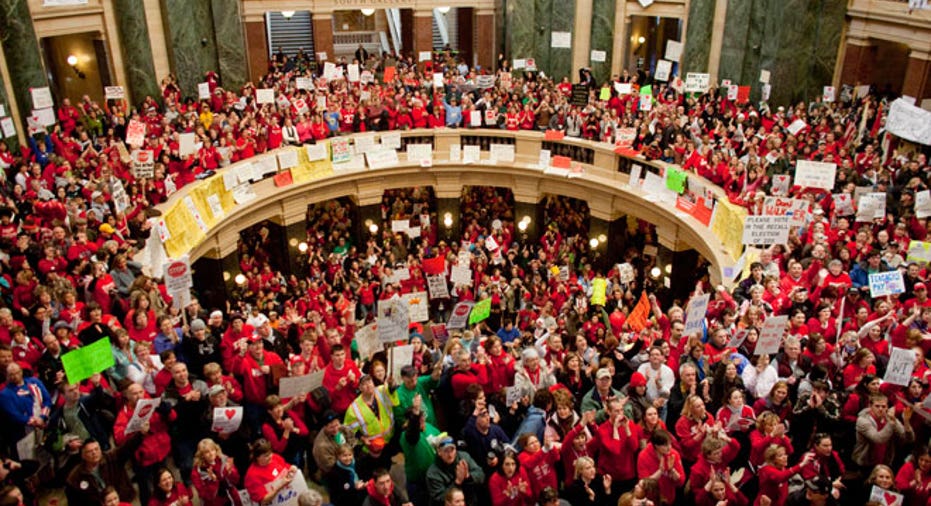 Facing large protests from state workers and a Democratic revolt in the legislature, Wisconsin's Republican Governor Scott Walker on Friday called his proposals to curb union rights and cut worker benefits a "modest request."
Democrats in the state Senate failed to show up at the legislature in the capital Madison for a second straight day on Friday morning. They had left the state on Thursday to protest Walker's plan to curtail rights for public employee unions, effectively delaying legislative consideration of the measure by depriving the senate of a quorum.
Addressing the situation in Wisconsin on Thursday, President Barack Obama said he understood the need by state governments to make cuts.
"Some of what I've heard coming out of Wisconsin, where you're just making it harder for public employees to collectively bargain generally, seems like more of an assault on unions," Obama said.
Walker's administration put the deficit for the remainder of the current fiscal year at $137 million and for the next two fiscal years under its biannual budget at $3.3 billion.
His proposal is for state workers to increase contributions to their pensions to 5.8 percent of salary and double contributions to their health insurance premiums to 12.6 percent.
The governor wants to limit collective bargaining to wages only, which could rise only the rate of inflation.
He would also end the government's collection of union dues, allow workers to opt out of unions, and hold a recertification vote every year.
RIGHT TO BE HEARD
"This is a bold political move, but it is a modest request of our employees," the governor said on CBS's "Early Show."
"The people who are here, the thousands of protesters, union protesters ... have a right to be heard, but the millions and millions of taxpayers in the state have a right to be heard as well," Walker said.
U.S. state and local governments are struggling to balance their budgets after the recession decimated their finances. Some states such as Wisconsin, Texas, Arizona and Ohio are trying to make deep cuts in spending to balance the books. Others such as Minnesota and Illinois are raising taxes.
Scott Fitzgerald, the Republican majority leader in the state Senate, said he has asked the governor to send a state trooper to the home of Democratic senate minority leader Mark Miller to see if he was there, according to WisPolitics, an online news service.
Fitzgerald said he hoped that would make Miller realize the seriousness of the situation and return to the Senate.
Madison has been swamped this week with demonstrators opposing the legislation, many from teachers' and other public employee unions. Many Wisconsin schools closed after the largest teachers union called for members to join the protests.
Protest leaders and Democratic allies say they are less concerned about wage and benefit issues than about reductions in union rights.
Capitol police estimated 25,000 people, many carrying signs protesting the Republican plan, converged on the state Capitol building on Thursday, including 5,000 packed inside.