Wisconsin Assembly Approves Plan to Curb Unions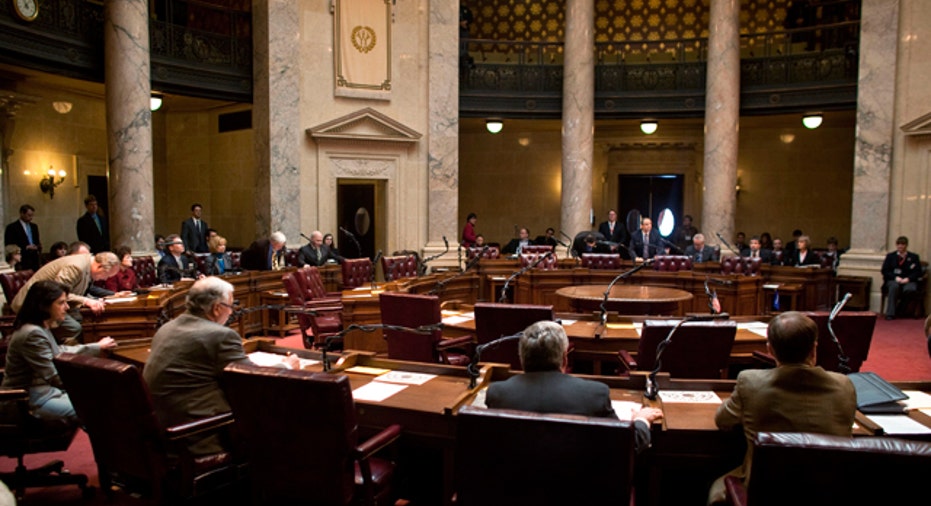 The Wisconsin state Assembly on Friday passed a Republican plan to curb public sector union power over the fierce objections of protesters, setting the stage for a showdown with Senate Democrats who fled the state last week to prevent a vote in that chamber.
After two all-night debating sessions and an eleventh hour Democratic bid for a compromise, the Republican-dominated Assembly abruptly ended all debate early Friday morning and approved the bill by a vote of 51 to 17.
The outcome of the vote, which was taken so fast many Democratic lawmakers who were outside the chamber when it was called were unable to participate, was greeted by chants of "it's not over yet" and "we are here to stay" from more than a thousand protesters who stayed to watch in the capitol rotunda overnight.
Tens of thousands of demonstrators, from inside and outside the state, have converged on Madison in recent days to fight the proposal, which they fear could encourage similar measures in other states and cripple the American labor movement.
Passage of the measure was never in doubt. So as the news sunk in among the demonstrators, the initial confusion quickly gave way and they were singing a spirited version of "We Shall Overcome" within minutes.
Assembly Republicans took a private elevator to an exit sealed off from protesters and did not stop for reporters.
After the vote, the Democrats assembled on a balcony overlooking the rotunda that has been home to tens of thousands of demonstrators, waving at the protesters and telling them the measure's prospects in the state Senate are more uncertain.
The protesters shouted "thank you, thank you" and pumped their fists at the lawmakers, who returned the gestures.Representative Cory Mason, a Racine Democrat, told the demonstrators he believed the abrupt vote, which occurred while several Democrats waited to be heard on the measure, was "a violation of the rules, possibly a violation of the law."
"What happened tonight, for those of you who don't know, was unprecedented," Mason said. "They're so desperate to take away workers they will do anything to ram this through." He predicted the move would "backfire" on the GOP.
Representative Barbara Toles, a Milwaukee Democrat, urged protesters to remain peaceful and promised "the fight isn't over yet."
SENATE STANDOFF
More than 50,000 demonstrators poured into the state capital of Madison over the weekend to protest against the plan. Hundreds continued to protest inside the Capitol on Thursday, turning the building into an indoor campground.
Newly elected Republican Gov. Scott Walker has said the measure is critical to restoring Wisconsin's financial health.
"This is one of the toughest votes this body has taken in decades," Assembly Speaker Jeff Fitzgerald said in a statement posted on the website WisPolitics.com. "But we are, without question, in one of the toughest economic times our state has ever seen."
Passage of the measure in the Assembly will not ease the Senate standoff over a plan that has generated widespread protests among Wisconsin teachers and other union members.
Republicans hold a 19-14 Senate majority but need a quorum of 20 to vote on spending bills. All the Democrats left the state for Illinois last Thursday because they feared they could be compelled to attend the Senate if they remained.
Wisconsin Republicans sent police on Thursday on an unsuccessful search for the runaways. State patrol officers were dispatched to the Democrats' homes on suspicion that some have been sleeping in their own beds at night.
Republican Senate Majority Leader Scott Fitzgerald said he had hoped the Democrats could be convinced to return, although he acknowledged the officers cannot arrest them.
"It's a gesture that shows we're still serious and a call of the house should be honored," he told WisPolitics.com.
Walker has set a deadline of Friday for approval of the measure to give the state time to refinance bonds and make a payment on state debt that is due by March 15. He says the bill is necessary to close a budget deficit of $137 million for this fiscal year and $3.6 billion in the next two years.
OTHER STATES CONSIDER UNION CURBS
Democratic lawmakers and unionized public employees said the Walker plan is an attempt to bust the unions and choke off funding to organized labor, the largest source of funding to the Democratic Party.
If Republicans prevail in Wisconsin, other states could be inspired to take on powerful public unions. Wisconsin-inspired curbs on union rights have been debated in the legislatures of other states including Indiana, Ohio, Tennessee and Kansas.
In Indiana, Democrats boycotting the state legislature appeared to score a victory on Wednesday when a "right to work" law that would restrict unions was put aside until next year.
But Republicans proposed a rule change to extend a reading deadline on the bills from this Friday until next Friday, March 4, to keep the bills alive, said John Schorg, media relations director for the Indiana house Democrats.
U.S. state and local governments are struggling to balance budgets after the recession decimated their finances. Other states like Texas, Arizona and Ohio are relying mainly on cuts in spending, while Minnesota and Illinois are raising taxes.
The Wisconsin changes sought by Walker would make state workers contribute more to health insurance and pensions, end government collection of union dues, let workers opt out of unions and require unions to hold recertification votes every year.
Collective bargaining would be allowed only on wage increases up to the rate of inflation.