Wis. Assembly OKs Limits on Collective Bargaining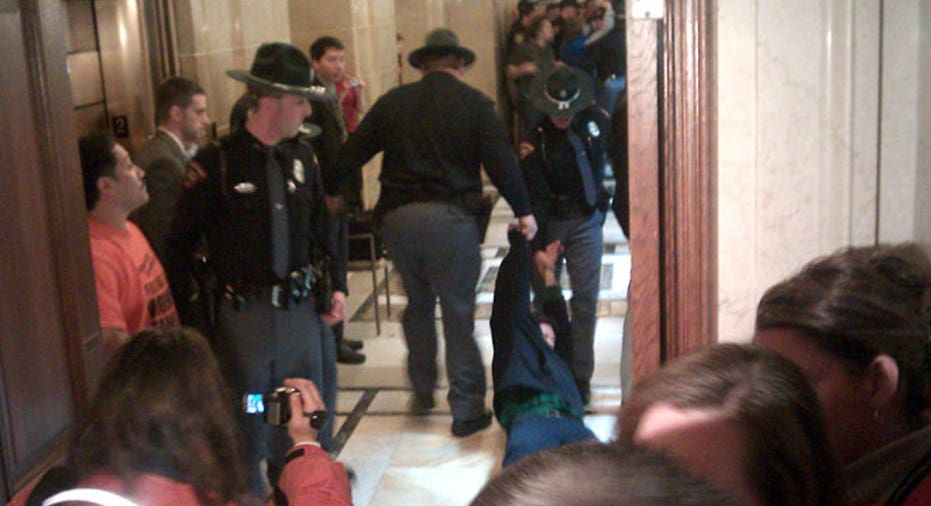 Wisconsin lawmakers, after three weeks of angry protests, gave final approval Thursday to Republican Governor Scott Walker's plan to curb the union rights of public workers.
Walker promised to quickly sign the bill into law, ending a three-week Wisconsin standoff that ignited a national political struggle over efforts by several budget-strapped state governments to rein in the rights of unions.
Protesters inside the state Capitol in Madison shouted "Shame! Shame!" as the Republican-led State Assembly approved the bill on a 53-42 vote after three hours of debate. All but four Republicans voted to approve the plan.
Wisconsin's Republican-led Senate had outflanked Democrats' boycott to pass the heart of Walker's plan Wednesday night, sending it to the assembly. Democrats promised there would be a political price to pay for the action.
Challenges to the bargaining rights of state and local workers are also being weighed in Indiana, Ohio, Idaho, Tennessee, Kansas and several more states -- some of which saw Republicans sweep to victory in November.
The confrontation with unions could be the biggest challenge to labor since then President Ronald Reagan fired striking air traffic controllers nearly 30 years ago.
Republicans say the measures are needed to gain control of deficit-ridden budgets. Democrats and their union backers say Republicans are ramming through union-busting proposals.
Some 10,000 protesters surrounded the Capitol building during the debate, with a large crowd gathering underneath Walker's window noisily accompanied by drums.
Capitol police briefly closed the building and hauled away some protesters -- amid chants of "This is Our House" -- which postponed the start of the assembly's debate for a short time."It's still like the first day of the protests here," said Karin Kinsley, 52. "Energetic. Hopeful. Crowded. Loud."
The AFL-CIO called for its members to rally Thursday in support of public sector workers, saying Senate Republicans and Walker had exercised "the nuclear option to ram through their bill attacking Wisconsin's working families in the dark of night."
In Indiana, more than 8,000 workers converged on the statehouse to protest legislation Democrats say targets public school teachers and others, including a provision that public employees would not have to pay unions dues. Democratic House members have left the state to prevent votes on the bills.
STAKES ARE HIGHThe stakes are high for labor. More than a third of U.S. public employees such as teachers, police and civil service workers belong to unions while only 6.9 percent of private sector workers are unionized. Union membership has been on the decline for decades and fell last year to 11.9 percent of U.S. workers from 12.3 percent.
Action to weaken unions, who are traditionally a Democratic constituency and key source of the party's campaign funds, would threaten prospects for Democrats including President Barack Obama's re-election in November 2012.
Some protesters spent the night in the capitol in spite of a judge's ruling they must clear out -- as the state Senate stripped out the financial elements of Walker's proposal. The move allowed a vote without missing Democrats, who had fled the state to deny Republicans in the chamber a quorum.
Walker has insisted the limits are needed to help the state's cash-poor municipalities deal with a projected $1.27 billion drop in aid over the next two years from the state. Wisconsin is struggling to close its own $3.6 billion budget gap.
In a separate maneuver, Wisconsin officials hope to delay for a month a March 15 deadline to restructure some outstanding bonds that the governor says would save $165 million."We have shown we can have passionate debate. We are civil in the state of Wisconsin. We respect the law," Walker said, but he expressed concerns about outside influences coming into the state to create disturbances.
"The intensity of the protests are making it difficult to even get around into the Capitol," said Senate Democrat Jim Holperin, who was returning to his home state from Illinois. It was unclear when the other Democrats would return.
Democratic House Minority Leader Peter Barca said the Republicans' actions the past few weeks had created "a stain so deep it may never be clean."
Democrats promised to fight on, and they are looking to the courts for relief. Barca filed a complaint that Republicans violated public meeting laws.