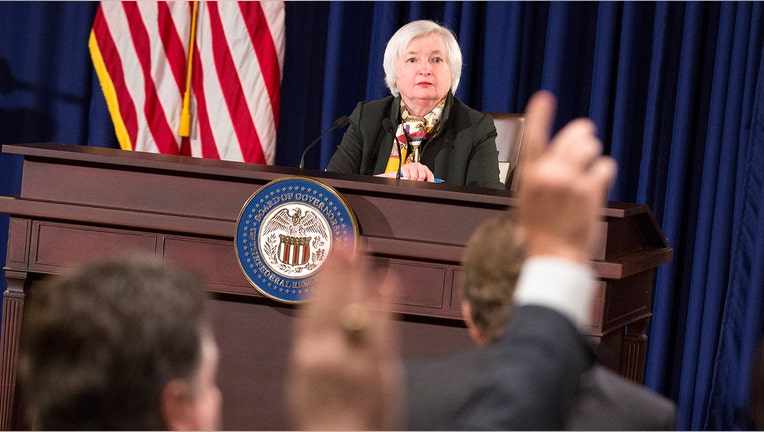 Will she or won't she. That's what everyone wants to know.
While no one actually knows what the Janet Yellen-led Federal Reserve will do tomorrow – raise interest rates for the first time in nearly a decade or delay liftoff for a few months – there is no shortage of opinions.
Goldman Sachs (NYSE:GS) CEO Lloyd Blankfein chimed in Wednesday morning, suggesting the Fed should hold off raising rates until the economic data clearly supports the move higher.
"I wouldn't do it," Blankfein said at a breakfast conference in New York, according to Dow Jones Newswires.
Blankfein said the Fed should resist the urge to act simply because rates have been low for so long. He said a closer look at U.S. economic data reveals deeper problems than some of the headline numbers might suggest, and that China's economic woes may be just starting.
The policy setting Federal Open Markets Committee is meeting today and tomorrow and will release one of the most anticipated policy statements in at least a decade (maybe longer) at 2 p.m. Thursday. Yellen will hold a press conference at 2:30 p.m. Thursday to further explain the Fed's decision.
Scott Wren, senior global equity strategist at Wells Fargo Investment Institute, didn't even hazard a guess at what will happen tomorrow.
"The tension in the markets is so thick you could cut it with a knife. Can you feel it? This strategist certainly can. It has been building for at least two months. Some would even argue it has been building for two years," Wren observed in a research note.
"As the Fed meets this week to discuss monetary policy, the financial markets are like a coiled spring. Will the Fed hike interest rates for the first time since 2006? Or will our central bankers continue to wait for the data to improve? It is all a guessing game right now," he added.
Uncertainty Reigns
Meanwhile, a Wall Street Journal survey of economists showed Wednesday that those surveyed are (not surprisingly) almost evenly split in their views on what the Fed will do. Forty-six percent believe the Fed will raise rates tomorrow while the rest believe the Fed will delay.
Among those who predicted a delay, about 9.5% said the Fed would lift off in October, while 35% said the first rate increase would come in December and 9.5% said the central bank would wait until 2016.
As recently as early August, more than 80% of economists surveyed believed the Fed would start raising rates in September. But all that changed in mid-August when the Chinese stock market melted down and concerns grew that China's economy – the second largest in the world – was showing signs of sustained weakness.
Now uncertainty reigns.
National Federation of Independent Business chief economist William Dunkelberg believes the Fed shares some of the blame for all the uncertainty and that the lack of clarity is damaging to small businesses.
"The Federal Reserve has contributed to the level of economic uncertainty. The Federal Reserve has been unable to make up its mind about restoring 'normality' for years now.
Attempts to 'communicate' have not helped and in the opinion of many observers it has only compounded the uncertainty problem," he said.
What's more, the Fed's ongoing reluctance to raise rates sends the message that the economy is still stumbling, a perception that hurts business because it eats away at consumer sentiment, Dunkelberg said.
If the Fed pulls the trigger on a rate hike tomorrow the increase will be miniscule, a 25 basis points increase that will raise rates to 0.25%-0.50% from their current range of 0%-0.25%.
Most economists believe that the actual fiscal impact of the initial hike will be negligible for some time, but that securities markets – stocks and bonds -- are likely to respond dramatically to the first rate hike.
Fed policy makers have promised that rates will rise gradually once the first hike is announced.