Will Sandy Hook Mark Turning Point for Gun Industry?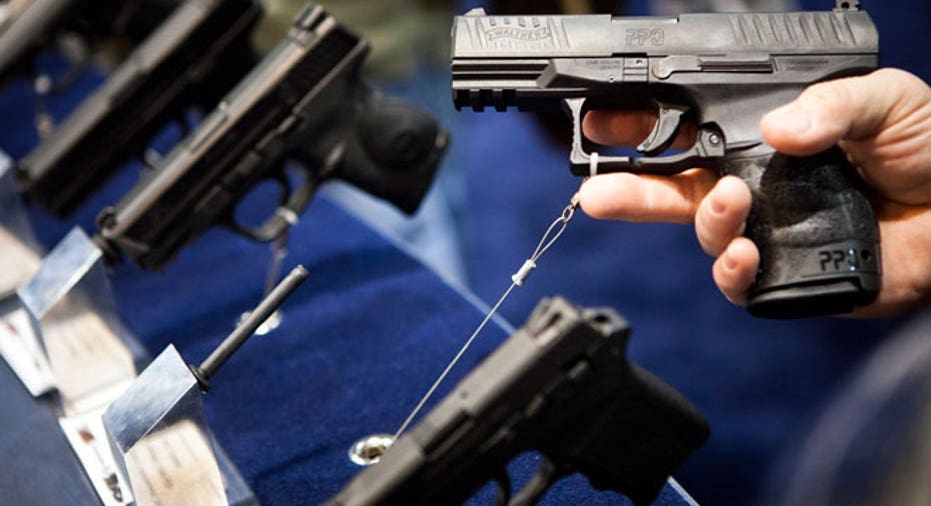 Shares of gun manufacturers barely budged in the aftermath of recent mass shootings, but last week's massacre at Sandy Hook Elementary School appears to have seriously shaken that dynamic.
Bracing for potential gun legislation out of Washington, Smith & Wesson's (NASDAQ:SWHC) stock has plummeted as much as 20% and Cerberus Capital Management disclosed plans to ditch firearm maker Freedom Group.
Simultaneously, demand for guns of all shapes and sizes has surged, likely boosting near-term sales for the $32 billion gun industry even as its long-term outlook is suddenly more murky than in a decade.
The mass shooting in Newtown, Conn. is a "potential game changer," ramping up pressure for stricter gun laws that could have significant "fallout" for gun makers like Smith & Wesson, Cai von Rumohr, analyst at Cowen & Co., wrote in a research note.
It's clear that in addition to an enormous loss of life -- the massacre led to the deaths of 28, including 20 children -- the Sandy Hook tragedy is already having an impact on the business world.
'Robust Demand'
In a sign of exploding demand for guns, the Colorado Bureau of Investigation's InstaCheck saw an all-time record of 4,154 firearm background check submissions the day after the shooting.
"Our numbers surged on Saturday," said a spokesperson for CBI, noting that demand remains "elevated" this week. CBI processed another 2,138 background checks for firearms on Wednesday, leaving a backlog north of 5,000.
While the FBI declined to comment on volume for the National Instant Criminal Background Check Systems, Colorado said the federal system is "experiencing similar volume."
"Our informal channel checks indicate robust demand for tactical rifles, pistols & ammo since the tragedy at Sandy Hook, likely stimulated by the desire to beat any potential change in gun" regulations, von Rumohr wrote while downgrading Smith & Wesson to "neutral" from "outperform."
Roger Parsons, owner of Bigdog Guns & Ammo in Canon City, Colo., knows firsthand how much demand has increased since Sandy Hook.
"I have people wanting everything. Anything I can get my hands on, I can get it sold," he said.
Parsons said it took seven hours to have a firearms background check completed on Saturday, compared with just 45 minutes under ordinary circumstances. He has requests in for six assault-style weapons this week, up from just about two sales a month normally.
Different This Time?
Fears from customers about stricter gun control is "a lot greater" than after other recent mass shootings, Parsons said.
Likewise, this week shares of Smith & Wesson and Sturm, Ruger & Co. (NYSE:RGR) tumbled as much as 19.6% and 16%, respectively, since the day before Sandy Hook.
By comparison, Smith & Wesson dipped just 1.3% on July 20, hours after the shooting in Aurora, Colo., that killed 12 people and injured 58. Within a week, the stock had recovered all of its losses.
"I think people's reaction to this shooting is probably different, simply because of the image one can have of the children huddled together," said Susan Sorenson, a professor at the University of Pennsylvania. "There's a different visceral reaction."
The response in Washington has also changed.
After largely ignoring the matter in his first term, President Obama pledged this week to make gun control a "central issue" by quickly proposing new firearm legislation to Congress. But will a Congress that is struggling mightily to resolve an imminent issue like the fiscal cliff have the ability to tackle a passionate topic like guns?
"One would need a crystal ball for that," said Sorenson. "It's so rare they even have conversations about guns that it's really hard to know whether any sort of action might come of it."
NRA Opposition Looms
The politically powerful National Rifle Association, which has been mostly quiet since Sandy Hook, could very well stand in the way of any meaningful legislation.
"The National Rifle Association of America is made up of four million moms and dads, sons and daughters -- and we were shocked, saddened and heartbroken by the news of the horrific and senseless murders in Newtown," the organization said in a statement this week. "The NRA is prepared to offer meaningful contributions to help make sure this never happens again."
Support for more legislation has already come from a few NRA card-carrying lawmakers, including Democratic Sens. Joe Manchin and Mark Warner.
Richard Sylla, an economist and financial historian at NYU, said the "gun lobby has been strong, but it's weakened by all the tragedies."
"I suspect it will sense that the old game of opposition to any legal interference with gun ownership may be up, and it would want work to shape legislation aimed at a more socially responsible approach to gun ownership and access to guns," Sylla said.
Von Rumohr believes proposals with the best chance of enactment include a ban on consumer sales of high-capacity magazines and tactical rifles, which account for a less than 1% and 20%, respectively, of Smith & Wesson's sales. He said less likely are changes in laws for handguns (65%), hunting rifles (6%) and professional sales (10%).
"Assuming a ban on sale of assault rifles is hardly a sure thing given the NRA's political clout," von Rumohr wrote.
Legislative Fallout
If there is enough support in Washington for new gun laws, history shows the impact of legislation can be dramatic on sales and production.
In 1994, President Clinton signed into law a pair of acts that required background checks and limited the manufacture of semi-automatic weapons and high-capacity magazines, the latter of which expired in 2004.
According to Cowen & Co., gun production soared 45% from 1991 to 5.17 million units in 1994 as consumers braced for legislation, but then tumbled to a range of 3.9 million to 4.3 million for the next 14 years.
By comparison, adjusted NICS background checks in 2012 are projected at almost 13 million units, up 38% from 2010, Cowen estimates.
"Because gun sales in 2012 appear to be overheated just as was the case in 1994, it's possible depending on the legislative outcome that gun sales could be more severely impacted than elimination of assault rifle sales," von Rumohr wrote.
Springfield, Mass.-based Smith & Wesson didn't respond to a request for comment, nor did Cabela's (NYSE:CAB), a specialty retailer of hunting and outdoor merchandise.
However, gun makers point to changing dynamics that suggest greater social acceptance of guns in recent years.
According to the National Sport Shooting Foundation, 47% of respondents indicated they have a gun in their house in 2011, up from 41% the year before. In addition to increased support from women, gun ownership has soared to 36% from 23% in the East and to 53% from 42% in the Midwest.
"It's unclear how these social norms might change as a result of the Newtown tragedy," von Rumohr wrote.