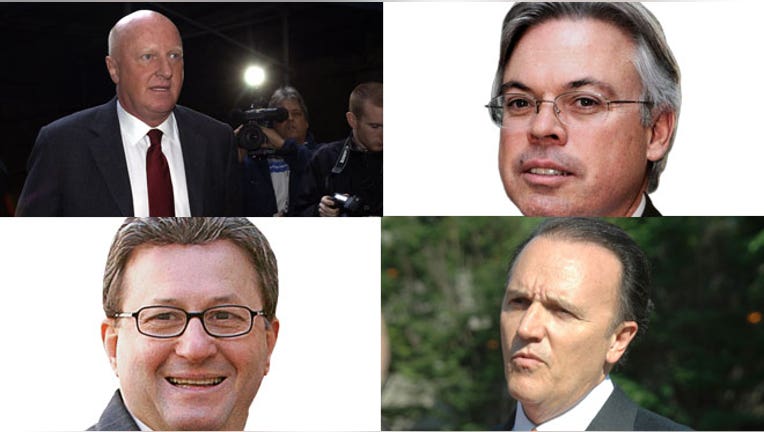 Exclusive: It's not simply a populist narrative, it's a fact: despite tens of billions of dollars in fines levied against the largest Wall Street banks in the wake of the 2008 financial crisis, not a single top executive from one of those firms has been charged with a crime.
Americans are outraged, we are told, and so is Congress. They want perp walks -- the time-honored tradition of accused criminals being led in handcuffs into courtrooms. In this hypothetical instance, a parade of well-groomed, finely-tailored bankers.
But that hasn't happened and, for a variety of reasons, it probably isn't going to.
The narrative was very different 10 years ago. Revelations in the fall of 2001 that energy juggernaut Enron was in fact a tottering house of cards initiated a scourge of sorts that swept up a number of top American chief executives and laid waste to more than a few once-seemingly impregnable U.S. companies.
Enron is long gone, as is its accounting firm Arthur Anderson, the latter dragged down by the centrifugal force of Enron's collapse. Cable giant Adelphia and telecom powerhouse WorldCom were also gone by the mid-2000s, done in following dogged investigations steered by government prosecutors.
Perp walks were common in those days. In short order, as these accused CEOs and COOs stood trial, Americans were titillated daily by revelations of their often-extravagant lifestyles. Figures like Enron founder Kenneth Lay and his top executive Richard Skilling, WorldCom CEO Bernard Ebbers, Tyco International CEO Dennis Kozlowski and HealthSouth CEO Richard Scrushy became household names
Fast forward a decade and many of these once-powerful executives have served their time, free now to start picking up the pieces of careers and lives derailed by convictions and jail terms.
It would stand to reason -- make perfect sense -- if they were the guys yelling loudest for the heads of the Wall Street CEOs who steered their banks into the disastrous shoals of last decade's housing bubble, nearly toppling the global economy in the process.
Far from it, though.
Somebody Said 'We Need to Be Smarter About This'
In interviews with FOXBusiness.com, several former Fortune 500 executives jailed during the corporate purge a decade ago endorsed the government's current strategy of leveling charges, negotiating a settlement, and then assessing huge fines while leaving the companies in question largely intact.
"I think somebody in Washington said we need to be smarter about this."
Every major Wall Street firm -- JPMorgan Chase (NYSE:JPM), Citigroup (NYSE:C), Goldman Sachs (NYSE:GS), Bank of America (NYSE:BAC) and Wells Fargo (NYSE:WFC),  to name a few -- has shelled out hundreds of millions (in some cases billions) under this new approach. The six largest bank holding companies paid more than $85 billion in settlements between 2010 and 2013 in cases tied to the financial crisis, according to data gathered by SNL Financial.
In all of the cases brought so far, the banks have been named as defendants and not a single top-level executive has been charged.
Richard Scrushy, the former HealthSouth CEO who was acquitted of federal charges related to accounting fraud but later jailed for allegedly bribing the governor of Alabama, has nothing but praise for the new approach.
"I think somebody in Washington said 'we need to be smarter about this,'" he said. "They didn't need to do what they did to our company and our employees, and it was a bad financial move by the government. I think somebody in Washington realized this makes no financial sense."
HealthSouth (NYSE:HLS) survived the Scrushy ordeal but not without major trauma. The company, once the largest provider of medical rehab services in the U.S. with 60,000 employees, is now a decidedly slimmed-down version of the sprawling empire Scrushy cobbled together.
The government's current strategy, Scrushy explained, seems to take into account a bigger picture, one that includes the impact criminal charges against top executives can have on companies, perhaps threatening their very existence.
"What's happening today is that they're not doing this. Today the federal government spends very little on the investigation and then collects a huge fine. I think if the government had done that in my case we would have paid the fine and everyone would have moved on. People wouldn't have lost their jobs and the company would have continued to do well," he said.
Too Big To Jail?
U.S. Attorney General Eric Holder has conceded that the Justice Department has been wary of filing criminal charges against the big Wall Street banks and their top executives for fear that toppling one of these behemoths could send shock waves through the economy.
Holder told a Senate committee in early 2013: "I am concerned that the size of some of these institutions becomes so large that it does become difficult for us to prosecute them when we are hit with indications that if we do prosecute -- if we do bring a criminal charge -- it will have a negative impact on the national economy, perhaps even the world economy."
That sentiment was reportedly pervasive during the DOJ-led negotiations that culminated last week with the big Swiss bank Credit Suisse (NYSE:CS) pleading guilty to a single criminal charge of helping wealthy Americans evade taxes. Again, no executives were charged and the CEO is keeping his job.
In response to an inquiry from FOXBusiness.com related to whether the DOJ now favored settlements over criminal indictments of individuals, a DOJ spokesman said the department has brought a "record number" of white-collar criminal cases in the past five years. The spokesman cited cases against "executives, officers and traders" at JPMorgan, Goldman Sachs, Morgan Stanley (NYSE:MS) and the hedge fund SAC Capital, among others, and said the investigations are ongoing.
"Our record demonstrates that when the evidence and the law support it, we have not and will not hesitate to bring cases against anyone, regardless of his or her position, and if the evidence and the law do not support it, we will not bring charges, regardless of the popularity of such restraint," the spokesman said.
Dennis Kozlowski, the former Tyco International CEO, sees the wisdom in large settlements. Kozlowski was at the center of one of the more high-profile white collar trials of the early 2000s (two of them, in fact) after being charged with stealing millions from Tyco to fund a lavish home life.
"Look what the government did to Arthur Anderson and AIG (American International Group). They should not have done that," said Kozlowski.
If the government had decided to criminally prosecute all of the big Wall Street firms whose misdeeds may or may not have contributed to the financial crisis the impact would have been felt across the economy, Kozlowski said. "I think that past experience and the harm that was inflicted on various institutions" 10 years ago led to a change in the DOJ's approach, he said.
Criminal charges filed against a company, its executives or both casts a negative pall over the company that can lead to an exodus by investors, lenders and good employees, he explained. "Guilty or innocent, the firm is hurt severely. Avoiding that best serves the country," said Kozlowski.
Differences Between Crimes Alleged Then and Now
In hindsight, the investigations targeting executives a decade ago were of a more individual nature – allegations that a top-level executive knowingly deceived investors or forced underlings to lie about a company's financial performance. Or, as in Kozlowski's case, illegally used company funds for their own purposes.
The allegations that have arisen in recent years, especially those tied to the financial crisis, are more systemic in nature: banks, bankers, investors, mortgage lenders, home buyers, and even the U.S. government, all caught up in a frenzy brought about by the housing bubble. Moreover, the alleged misdeeds often involved the buying and selling of extremely sophisticated financial instruments by ostensibly sophisticated buyers and sellers.
Those differences are significant, said Jacob Frenkel, now a white-collar criminal defense attorney with Shulman Rogers in Washington, D.C., and a former federal prosecutor and senior counsel with the Securities and Exchange Commission.
"The fingerprints of the corporate executives were on the activities that resulted in them going to jail (a decade ago)," Frenkel said.
Apparently that wasn't the case in the run up to the financial crisis.
"There was widespread recognition that these would be very difficult cases to prove," Frenkel explained. "The government tried and Congress tried to help with its hearings. But at the end of the day a criminal case still requires evidence, evidence that includes either criminal intent or deliberate ignorance. There wasn't enough evidence and that is why we didn't see criminal cases."
Obviously, not everyone is on board with that narrative.
"I don't agree with that one iota," said Joseph Nacchio, the former CEO of Qwest Communications who was convicted of insider trading in 2007, a charge he claims was politically motivated. "They (federal investigators) have unlimited time and resources and nothing happens when they are wrong. They have a case on everybody if they want to."
James Treacy, the former COO of online recruiting agency Monster Worldwide, has another theory.
Treacy suggested that the public's mood was different a decade ago when he was caught up in an options backdating scandal that led to a two-year jail term. The public had been consumed by "the frothy frenzy of the Internet and envy of the Internet explosion," he recalled. That led to a backlash against extraordinary and overt wealth.
When the Enron and WorldCom accounting scandals broke, government regulators at the SEC and DOJ were perceived as being "asleep at the wheel," said Treacy. Those corporate scandals fueled an already growing backlash against the rapid rise of Internet wealth.
Settlements Will Remain Controversial
Eventually the backlash rose to the top of America industry. Figures like Ebbers, Scrushy and Kozlowski, at the time three of the highest paid CEOs in the U.S., were targeted (in part, at least) to satiate the public's envious disdain for wealthy corporate America, Treacy asserted. "I think that was the mood at the time," he said.
Current public sentiment "isn't a jealousy thing aimed at individuals. People are angry at the institutions. They blame the institutions for their mortgage being underwater or for being laid off," he added.
The government's approach of huge settlements rather than criminal indictments is likely to remain controversial.
While the public may call for the heads of Wall Street titans as retribution for the pain wrought by the financial crisis, the impact of filing criminal charges against any large company could ripple back through the economy, inflicting more pain on employees and investors still trying to recover from the recent recession.
On the other hand, the question remains whether a lot of very powerful executives got off scot-free after nearly wrecking the world's economy and pocketing millions along the way.
Kozlowski speculated that it probably serves "the greater purpose to be content with billions of dollars in fines." But added ominously, "If history concludes that there was some intentional fraud, you're looking at a tremendous failure of our criminal justice system."
Eric Spinato contributed to this report.