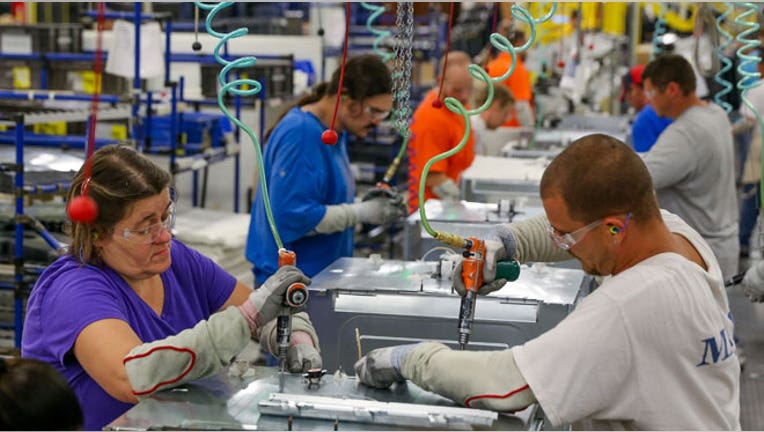 With only a few trading days left to go, will the second quarter GDP reading next month show a hockey stick rebound from the depressed first quarter? New, revised figures show growth decelerated by two-tenths of a percentage point in the first three months, versus the initial estimate of a minus 0.7% drop.
While blame is placed on the cold weather and the west coast port strikes, Stephanie Pomboy at MacroMavens notes a weird anomaly that may explain why growth continues to flatten.
Consumer spending growth is key to the U.S. economy. But spending slowed just as job growth stepped up, as the U.S. economy continues to muddle through in its seventh year of the weakest recovery in the postwar era. Since President Obama took office in January 2009, GDP has grown at an average annual rate of 1.8%.
"It should be patently clear that something isn't what it purports to be on the surface," Pomboy says. Something else is trimming away at consumer wallets, besides glacial job and wage growth.
Something that a rejiggering of one-seventh of the U.S. economy didn't stop—inexorably rising healthcare costs, that, along with the downward trend in salaried jobs, is dragging on consumer spending and in turn sectors like retail, dependent on these outlays.
Pomboy says: "Spending on healthcare (insurance and services) has increased $232 billion over the last twelve months." But that increase accounts for a big "two-thirds of the $353 billion in consumer spending and one-third of the $666 billion growth in total GDP over the stretch," she says.
And wage gains are being wiped out by rising health costs. "The increase in healthcare outlays over the last year is roughly equal to the $284 billion in wage gains for households during that time," Pomboy says.
Despite all the promises that health reform would take a meat axe to health costs, consumers are spending more on health care. Total national health expenditures amounted to $2.9 trillion, up from $2.6 trillion in 2010, the year health reform was enacted, says Kaiser Family Foundation, as the health industry blob that runs our medical system continues to expand.
But ask anyone in the Administration or supporters of health reform about that, and they become about as animated as a CPR dummy. The Federal Reserve's shovel-ready money printing to create confidence, spending, and job growth has been undone by the high cost of affordable health care.
Just as concerning, Pomboy says, is the change in consumer credit, a government release that usually comes in the dead zone hour of 3 p.m. on a Friday afternoon.
Consumer borrowing jumped more than expected in April, the same month consumer spending was flat to down, when you take out healthcare spending. Not good, says Pomboy, in fact, "the few times we have seen credit card borrowing and spending part company in such a manner, the economy was in recession."
Another not-so good trend: How we now define jobs, which might also explain flat to tepid wage growth. "This ain't our old economy. In fact, it is changing before our eyes," says Pomboy.
The analyst notes that, in the last three months, total nonfarm employment increased 537,000. Dig deeper, and you'll find a 219,000 drop in salaried workers that was offset by a 756,000 gain in the ranks of the self-employed, who may earn less, notably in the way of benefits.
"Of course no mention of the boom in 'bloggers'" anywhere "in the giddy celebration of the jobs numbers and the economy's virility," Pomboy says. In 2013, 23 million people were self-employed, according to the U.S. Census Bureau. That's up 1.2% from the year before and up about 24% from 2003.
For now, Standard & Poor's economist Beth Ann Bovino is expecting the second half to gain traction, needed if 2015 is to match last year's crabgrass rate of growth.
But "even if the economy makes a comeback in the second half of the year," Bovino warns, "We now forecast 2015 GDP growth of 2.4 %," same as 2014. In turn, S&P Capital IQ is forecasting companies will grow earnings per share just 0.4% for the year, down from the 7.7% rate booked in 2014.
Analysts continue to be worried about soggy, uninspired earnings. "S&P 500 earnings per share growth will have difficulty keeping its head above water," says S&P Capital IQ's Sam Stovall, as the U.S. continues to appear allergic to growth.