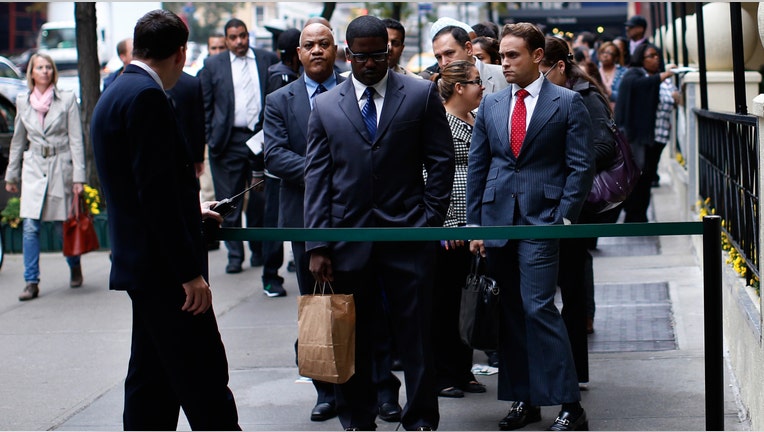 Next week's economic calendar is dominated by the August jobs report due out Friday. Banks and securities markets are closed Monday for the Labor Day holiday.
Analysts are expecting another solid if not spectacular employment report from the Labor Department, projecting the addition of 225,000 new jobs in August and that the unemployment rate will fall to 6.1%.
In July, the economy added 209,000 jobs, fewer than analysts had expected and the unemployment rate ticked higher to 6.2%, the latter viewed as a positive sign because it meant more Americans had returned to the workforce.
Another important element of the jobs report being closely watched by analysts and economists is wages, which forecasters have predicted rose a measly 0.2% last month.
Wages have been stagnant for months and part of the impact is that inflation has remained well below the Federal Reserve's inflation target rate of 2%. The Fed prefers some inflation because it means wages are rising and consumers are spending, which increases demand for goods and pushes prices higher, all of which is good for the economy.
The ISM Manufacturing Index, due out Tuesday, should fall slightly to to 56.8, but continue to show strong manufacturing gains. Inventory building has weakened compared to earlier in the year, but the manufacturing sector remains in solid growth mode, according to analysts at IHS Global Insight.
Motor vehicle sales, due out Wednesday, are expected to have risen to a 16.5-million annual rate in August, spurred ahead by Labor Day promotional activities.
The U.S. trade balance, due out Thursday, is believed to have remained essentially unchanged in July at negative $41.5 billion. Both imports and exports aren't expected to move much from the prior month.
After hitting a nine-year high in July, the ISM Non-Manufacturing Index, due out Thursday, is expected to decline 1.7 points to 57.0 in August. Still, the index level still indicates a robust rate of growth in non-manufacturing industries, according to analysts.