Wary of Trump, China launches EU charm offensive: diplomats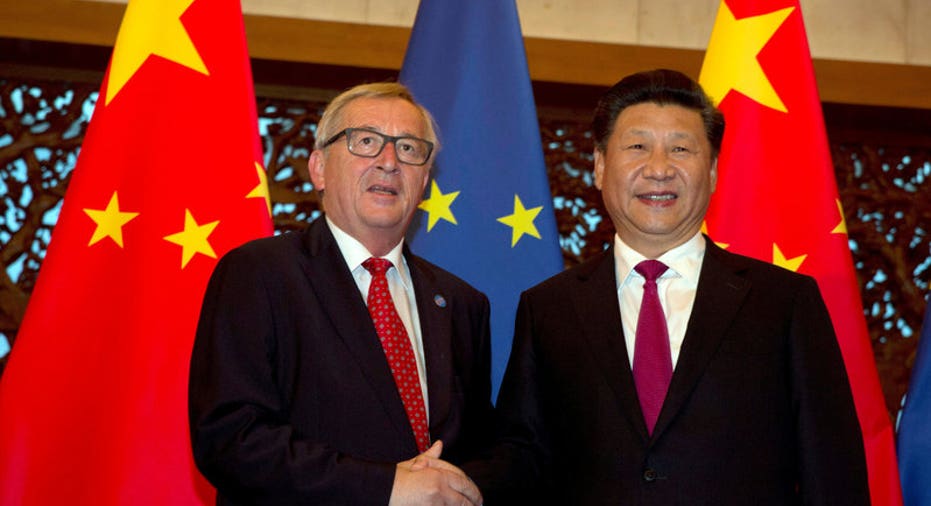 China has launched a charm offensive with the European Union since U.S. President Donald Trump took office, shifting its stance on trade negotiations and signaling closer cooperation on a range of other issues, European diplomats say.
European envoys in Brussels and Beijing sense a greater urgency from China to find allies willing to stand up for globalization amid fears Trump could undermine it with his protectionist "America First" policies.
"Trump is pushing China and Europe together," said one Beijing-based diplomat, citing Chinese support for trade, combating climate change and the United Nations, all areas where the new U.S. president is seeking a change of tack.
Four senior EU diplomats and officials in close contact with the Chinese told Reuters they also see a chance for a breakthrough on business issues that have been moving slowly for years, including a special treaty to increase investment flows.
EU business groups are more skeptical, expressing growing dissatisfaction, like their U.S. counterparts, with limited market access in China and pressing for a firmer response.
Diplomats say one of the clearest outward signs of a change in tone in private diplomatic meetings has been China's decision to drop its public campaign to be recognized by the European Union as an economy directed by the market, not the state.
The case is now being dealt with out of the limelight at the World Trade Organisation in Geneva, in what the diplomats said was a recognition by Beijing that too much pressure could provoke a protectionist backlash in Europe.
Market economy status would make it harder for the European Union to impose punitive tariffs on Chinese imports that Brussels judges as unfairly cheap.
"The market economy status issue, if it is raised at all now, is being discussed at a very low working level," the diplomat said. "That is part of the charm offensive."
Chinese Foreign Ministry spokeswoman Hua Chunying said the issue was still a priority for Beijing, while also noting China's interest in having the EU as a strong partner.
"We hope that the EU can genuinely place an importance on China's reasonable concerns and interests," Hua said.
China has told European officials it wants to bring forward its annual summit with the European Union from its usual July date, Reuters reported in February. The diplomats said efforts to find a suitable early date were continuing.
The summit is a way, they said, for China to press home President Xi Jinping's message at the World Economic Forum in Davos in January, a vigorous defense of open trade and global ties.
INVESTMENT TEST
European companies doing business in China say they have yet to see the change of style translating into less protectionism from Beijing.
But it contrasts sharply with a tense 2016 in which an EU-China summit, overshadowed by an international court ruling that China's claims to the South China Sea were unlawful, ended without the usual joint statement.
Trump has changed China's calculations, diplomats said.
During his presidential campaign, Trump frequently accused China of keeping its currency artificially low against the dollar to make Chinese exports cheaper, "stealing" American manufacturing jobs.
He also aims to reverse former President Barack Obama's anti-fossil fuel strategy that China backed as it seeks to deal with a devastating smog crisis at home.
The Trump administration has said Xi is expected to meet Trump on April 6-7 at the U.S. leader's Mar-a-Lago resort in the United States, although Beijing has not confirmed the talks. A Chinese diplomat said Beijing was looking for "predictability" from Trump.
The European Union remains cautious about the direction of its second-largest trading partner, concerned by China's massive steel exports, its militarization of islands in the South China Sea and a turn toward greater authoritarianism under Xi.
But it is looking to a bilateral investment treaty to make it easier for European companies to do business in China and remove onerous rules forcing them to share know-how.
Chinese direct investment in the European Union jumped by 77 percent last year to more than 35 billion euros ($38 billion), compared to 2015, while EU acquisitions in China fell for the second consecutive year, according to the Rhodium Group.
That illustrates the imbalance in investment between the world's two largest markets, including, on the EU side, Britain, where the government is pinning its hopes on a free trade deal with China as it splits from the rest of the bloc.
An investment treaty would go some way to quiet criticism in Europe of such unequal ties but the talks, which started in 2013, require Beijing to open sensitive sectors like technology and financial services to private firms free of the state.
China's central bank governor Zhou Xiochuan indicated on Sunday a substantial number of sectors would be opened up while adding "we want China to get fair treatment overseas".
One Chinese diplomat said the European Union was being "too ambitious". Formal mention of the proposed China-EU treaty has been struck from Premier Li Keqiang's work report this year, which diplomats said risked confusing Beijing's message.
"We had hoped President Xi's speech in Davos would elevate us from rhetoric about equal treatment toward a tangible commitment to walk the talk," said Joerg Wuttke, president of the European Union Chamber of Commerce in China.
Duncan Freeman, a China expert at the College of Europe university in Belgium, said the treaty touched on the fundamentals of how the economy worked. "That makes it very, very difficult for the Chinese side to discuss," he said.
(Additional reporting by Michael Martina in Beijing; editing by Philippa Fletcher)