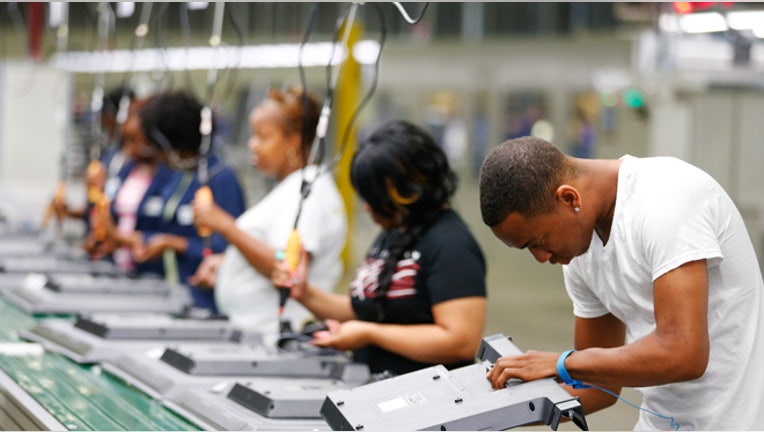 U.S. labor markets are expected to show a significant turnaround in September from the disappointing August numbers, at least in terms of job creation.
Consensus among analysts is that the economy added well over 200,000 jobs last month and that the headline unemployment rate will tick lower to 6%. If those predictions hold labor markets will regain some of the momentum achieved earlier this year when the U.S. created over 200,000 jobs for six straight months.
In August the economy generated just 142,000 new jobs, well below expectations. But that number could be revised higher when the Labor Department releases its September data on Friday.
Once again, however, economists -- especially those at the Federal Reserve -- will be looking well beyond the headline unemployment rate and the number of jobs created to other statistics that provide a deeper sense of the health of labor market, namely wage growth and number of hours worked.
If workers make more money they spend more money, which generates demand for goods and drives prices higher. When that dynamic is balanced it's a reflection of a healthy economy.
"Wage growth is the single most important indicator to watch over the next six months," David Donabedian, chief investment officer at Atlantic Trust Private Wealth Management with $25.4 billion in assets under management, said. "It's a Rorschach test for economic growth and inflationary pressure, and it's a good leading indicator for whether the average American worker is getting ahead."
Wage growth rose by 2.1% in August year-over-year, a slight improvement over previous months (when the rate hovered around 1.5%) but still well below the 3%-3.5% rate the Fed views as necessary to keep inflation at its desired 2% target rate.
Donabedian said economists are closely monitoring hourly wage growth both because it's a leading indicator of where the economy is heading, and also because it will likely provide the clearest sign of when and how the Fed will start raising interest rates. And Donabedian stressed that how rates are raised -- their upward trajectory, in other words -- is far more important than the liftoff date.
"AHE (average hourly earnings) is a measure of where we are on the growth/inflation continuum.  A moderate rate of growth in AHE is 'good' for the economy – it signifies that paychecks are rising which feeds overall economic activity, and suggests improved standards of living.  However, it can become too much of a good thing – indicative of rising wage pressures, which can lead to higher inflation and also cut corporate profit margins," he said.
Fed Chair Janet Yellen has frequently highlighted wage growth as an indicator the Fed is watching for signs that labor markets are strengthening beyond the declining headline unemployment rate. Yellen has cited stagnant wage growth as a sign of "slack" in the labor market that needs to tighten before the Fed will raise interest rates.
Wage growth is currently "low, but rising," according to Donabedian, up 2.1% year-over-year, a figure that reflects very modest growth in paychecks after inflation is factored in. Still, that's an improvement over the 1.5% growth experienced from 2009-2013
"Janet Yellen is clearly 'rooting' for (wage growth) to move higher as a sign of a healthier labor market. However, once it approaches 3%, markets will worry that it is a sign of 'wage pressures' which could feed inflation," Donabedian explained.
Indeed, wage growth and other inflationary indicators are at the heart of a heated debate within the Fed over the timing and trajectory of rate hikes. The consensus among Fed economists is that hikes should and will occur in mid-2015, soon enough to head off runaway inflation but still kept low long enough to continue providing stimulus to the fragile economic recovery.
When rates move higher it will raise borrowing costs, making it more expensive for consumers to get a mortgage or a car loan, or for small businesses to get a loan for expansion. So-called inflation "doves" at the Fed fear raising borrowing costs could stall the recovery.
Meanwhile, an increasingly vocal group of Fed inflation "hawks" has called for rates to move higher sooner rather than later, possibly as early as the first quarter of 2015 to eliminate any likelihood of an over-heated economy. They argue that keeping rates low will invite runaway inflation and lead to asset bubbles.
Donabedian said wage growth will likely get a six-month window during which higher wages will be welcomed as a contribution to the economic recovery. After that, economists will start to worry about whether higher wages are fueling an overheated economy.