Wage Growth Waiting for Lift From McDonald's and Wal-Mart Raises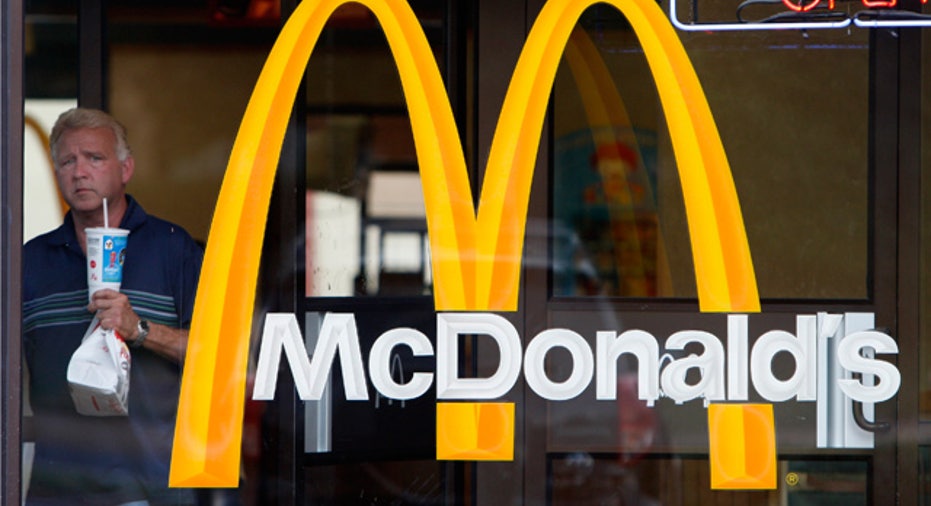 Tens of thousands of America's lowest-paid workers have found themselves beneficiaries in recent weeks of surprise raises bestowed by their bosses at retailing and fast food behemoths such as Wal-Mart (NYSE:WMT), Target (NYSE:TGT) and McDonald's (NYSE:MCD).
Meanwhile, 21 states raised their minimum wages on January 1, boosting the take home pay of many thousands of other low-wage workers.
Yet weak wage growth remains one of the toughest issues confronting U.S. workers even as job creation has surged in the past year (notwithstanding a weak March report) and the headline unemployment rate has tumbled to its lowest level – 5.5% last month -- since 2008.
One element of Friday's broadly disappointing jobs report that wasn't surprising was that average hourly earnings in March rose by just 2.1% from a year earlier, well below the 3%-3.5% growth range economists say is needed to raise inflation to a level deemed healthy by Federal Reserve policy makers.
Last week McDonald's announced it will raise its minimum wage to an average of $9.90 by July 1, a move that will lift the pay of an estimated 90,000 employees at its 1,500 company-owned outlets in the U.S. Roughly 750,000 workers at McDonald's franchises owned by independent operators won't be getting company-sponsored raises, however.
McDonald's pay raise follows in the footsteps of similar wage hikes for entry-level workers announced earlier in the year by retailing giants Wal-Mart, Target, and T.J. Maxx (NYSE:TJX).
A Step in the Right Direction
While some analysts are skeptical of both the motivations of the large corporations and the impact of their respective pay increases, others say it's a step in the right direction and proof that the job market is tightening.
"It's a sign of the long-elusive wage growth finally starting to take hold," said Greg McBride, chief financial analyst at Bankrate.com. "The water's been building behind the dam of wage growth for a couple of years as the labor market has tightened."
The companies that announced the pay raises undoubtedly benefitted from a quick public relations boost in the wake of their announcements, McBride conceded, but the corporations wouldn't have increased their compensation-related expenses unless they had to, he said.
McBride said Wal-Mart, Target and McDonalds, in addition to being forced to pay higher wages by virtue of a tightening work force, were simultaneously trying to lower costs by reducing employee turnover. It's more cost effective, he said, to keep workers already on the payroll than to constantly recruit, hire and train new workers. And one sure-fire way to keep employees longer is to pay them more.
Economists note that pay raises initiated in recent months as the job market has tightened have for the most part come at the low and high ends of the workforce spectrum. Minimum wage workers at Wal-Mart, Target and McDonald's are getting a raise, as are workers at the other end of the spectrum, white collar employees and managers in professional services such as the financial and health care sectors.
Meanwhile, wage growth for the vast middle-class of workers at traditionally blue collar jobs in such sectors as construction and leisure and hospitality has remained stagnant. Education and manufacturing are two more large sectors struggling to generate wage growth.
Until that vast swath of the workforce starts to see pay raises, across-the-board wage growth and the healthy inflation that will follow will remain elusive. Inflation has hovered at around 1% for several years, well below the 2% target rate set by the Fed and central bankers have remained reluctant to further normalize monetary policy – i.e. raise interest rates – until inflation  hits that target rate.
"We still have a long way to go before we see robust wage growth," said Dean Baker, co-director of the Center for Economic Policy Research in Washington, D.C.
PR or Economic Forces?
Baker called the pay raises at Wal-Mart, Target and McDonalds "a good first step," but argued the wage increases won't lift those workers up into the middle class. Besides, the number of retail and restaurant workers who will be impacted by the pay hikes represent "a relatively small segment of the economy," he said.
"Even in the retail sector, it's not a sea change," Baker said.
Baker suggested the pay raises were motivated more by public relations than by economic forces, pointing out that most McDonalds' employees work at franchises owned by independent operators and will not receive the announced pay hikes. "It's a very, very limited move," he said.
McDonald's pay initiative came amid a high-profile national movement seeking to raise hourly pay at all fast food restaurants to $15 an hour. Large rallies in support of the $15 per hour rate are scheduled in several large U.S. cities on April 15.
A McDonald's spokesman disputed the notion that the pay raises offer scant benefits to the company's employees.
"This initiative at McDonald's is about more than wages. It's about life and career assistance,"  spokesman Lisa McComb wrote in an e-mail to FOXBusiness.com. "Employees at both franchised and company-owned restaurants will now have access to free high school completion and college tuition assistance. In addition, as of July 1, 90,000 employees at company-owned restaurants will earn personal paid time off and see a wage increase."
In any case, everyone seems to agree that wage growth will only significantly strengthen over time if job creation remains healthy. Most economists expect it will and that simple supply and demand will eventually lift wages for a much wider swath of American workers.