USDA Slashes Corn Yield Forecast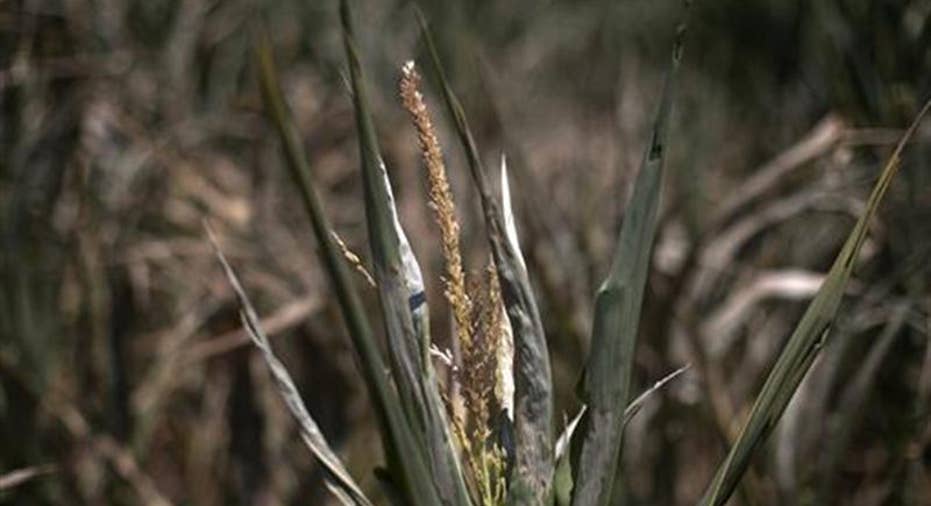 U.S. corn and soybean crops have been slashed even more than expected by the worst drought in half a century and will fail to replenish ultra-low stockpiles, a U.S. government report showed on Friday, raising fears of a new world food crisis.
Corn prices briefly surged to a record on the U.S. Department of Agriculture forecast but then retreated because the government said demand for the grain would fall due to its soaring cost.
In the most authoritative view yet on the state of the withered U.S. crops, the report -- based on samples from parched, scorched fields -- showed the corn harvest would drop 13% from last year, with yields 25% below normal. Inventories of soybeans, a key component of livestock feed from India to Indiana, would be the smallest in nine years.
The grim report is an abrupt reversal from just two months ago when farmers, making the largest corn plantings in 75 years, expected a record haul. Consumers worldwide were also hopeful that a robust harvest from the biggest agricultural exporter would help end a period of depleted global stockpiles. Now, however, many fear record-high prices and meager stockpiles will rule commodity markets for at least a year more -- and it may worsen if growing signs of shortages prompt some countries to impose export bans or make panic purchases, as they did during the last dramatic price spike in 2008.
"Several urgent actions must be taken to address the current situation to prevent a potential global food price crisis," said Shenggen Fan, head of an agricultural think tank funded by the World Bank. In addition to avoiding trade restraints, he said countries should throttle back on using grain to make biofuels. The report could sharpen the emerging debate around the U.S. policy that requires use of 13.2 billion gallons (50 billionliters) of biofuels -- mostly corn ethanol -- this year, equal to 9% of fuel for cars and light trucks. While dozens of politicians and livestock lobby groups have called for relief, the policy has staunch Farm Belt support that is unlikely to waver in an election year.
Corn futures prices, already up more than 60% since before the drought began in mid-June, surged to a record $8.43-3/4 a bushel.
27,000 FARMERS
The impact of the drought has been increasingly apparent over the past eight weeks, but the USDA's report will be the most exhaustive in measuring the damage. The USDA surveys about 27,000 growers and test-samples yield in major states to estimate crop output based on Aug. 1 conditions. It says there is a 10.7% margin of error for its estimate of the corn crop and 11.4% on soybeans.
The corn crop will be 13% smaller than last year, instead of the record crop needed to replenish stocks. Yields, at 123.4 bushels an acre, would be the lowest since 1995 and 25% below normal. Traders had expected a yield of 127.3 bushels an acre. Although record-high prices and small crops will constrict corn and soy use, U.S. stockpiles will be razor-thin -- a three-week supply of corn and a two-week supply of soybeans when the 2013 harvest begins, the USDA projected. The USDA lowered its forecast of Russia's wheat crop by 12% and Kazakhstan's by 15% because of hot, dry weather. China's corn crop is up 2.5%, said the USDA. High prices will bring a record soybean crop in Brazil, up 4% from the previous estimate, so it tops the United States as the world's largest grower. Global wheat consumption will rise as the grain is used as a substitute for corn in livestock feed. Corn consumption would fall by 4% worldwide, with the smaller U.S. crop accounting for three-quarters of the decline.
Less corn will be used in making ethanol due to drought, the USDA said. It lowered its estimate by 8 percent for 2012/13, to 4.5 billion bushels. In its August reports, the USDA slashed its corn and soybean estimates for the second month in a row, reflecting the impact of the drought, which stunted crops when they needed rain to mature. July was the hottest month on record in the continental United States The USDA made the estimates with the harvest season only weeks away for corn and soybeans; the wheat harvest is winding down. Half of the corn crop is in poor or very poor condition -- a year ago, 60 percent was top-rated. More than 60% of the continental United States, including prime farm and ranch territory, was under moderate to exceptional drought this week, a slight improvement. July was the hottest month on record, beating the worst month of the Dust Bowl era in 1936.
Small U.S. crops can carry a global wallop since the United States is the world's largest farm exporter. It grows 40% of the corn and soybeans as well as a fifth of the wheat sold on the world market. Bad weather in Russia and India also is pinching crop output this year. High food prices were a factor in the Arab spring uprisings of 2011. World food prices rose by 6% in July, driven by surging corn and sugar prices, the U.N. Food and Agriculture Organization said. The index is below its February 2011 peak but higher than in 2007-08, when fear of shortages drove up prices and prompted export bans in some countries.
In 11 of the past 20 years, USDA's August forecasts were smaller than the final figure.