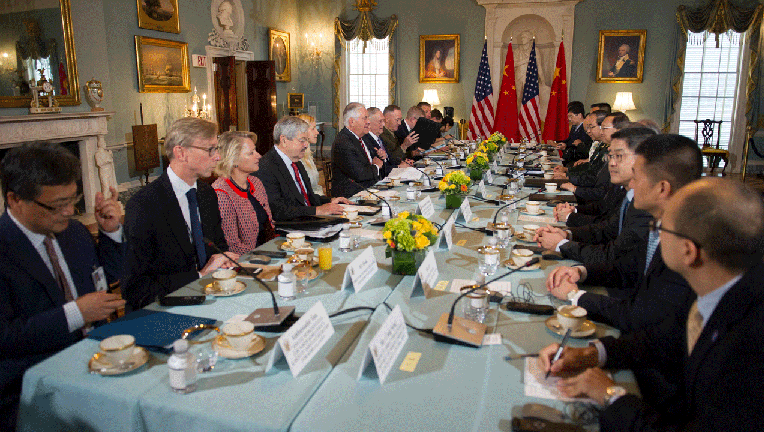 As U.S. tensions with North Korea intensify, the White House pushed China to put pressure on companies that do business in Pyongyang ahead of high-level security talks between Washington and Beijing Wednesday.
Trump has been counting on China to use its economic leverage with the government of North Korean leader Kim Jong Un as American concern grows over the North's acceleration toward having a nuclear missile that can strike the U.S. mainland.
President Trump fired off a tweet that the White House's efforts to rely on China for help with North Korea are not working.
While I greatly appreciate the efforts of President Xi & China to help with North Korea, it has not worked out. At least I know China tried!

— Donald J. Trump (@realDonaldTrump) June 20, 2017
China is North Korea's single most important trading partner. China accounts for an estimated 70% of Pyongyang's total trade, including essential goods and services like food and energy, according to 2016 data from the Congressional Research Service. In 2015 North Korea imported $2.95 billion worth of goods from China, and exported $2.83 billion there, according to data from the Observatory of Economic Complexity.
Nevertheless, Chinese President Xi Jinping's efforts to contain North Korea have delivered few results. North Korea hasn't conducted a nuclear test explosion as feared earlier this year but has kept up its rapid pace of missile launches.
More from FOXBusiness.com...
Washington has one threat it can use with Beijing: The possibility of "secondary" sanctions that go after Chinese companies doing business in North Korea. Such a move risks fraying relations between the world's two biggest economies.
The Chinese state-run Global Times warned in an editorial that if Washington imposes sanctions against Chinese enterprises "it will lead to grave friction between China and the U.S."
The security discussions are occurring amid widespread public outrage over the death of 22-year-old college student Otto Warmbier Monday, who was released from North Korea in a coma just days before his passing. U.S. lawmakers are pushing for a tough response against Pyongyang over Warmbier's treatment.
The Associated Press contributed to this report.