US jobs report to show if Trump era began with strong hiring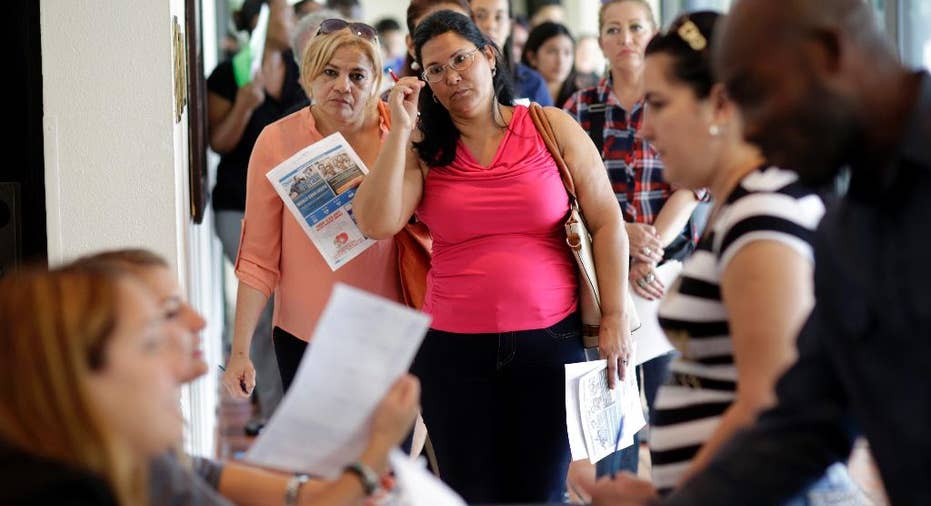 The first U.S. jobs report to be released since Donald Trump became president will reveal whether growing confidence among businesses fueled an accelerated pace of hiring in January.
Economists remain watchful. They have forecast that the government will report Friday that employers added a solid if unspectacular 175,000 jobs, according to data provider FactSet. That's roughly in line with last year's average monthly gain of about 185,000.
The unemployment rate for January is expected to have remained a low 4.7 percent.
Many economists think average pay rose at a healthy clip last month and might even top the year-over-year gain of 2.9 percent in December, which was the sharpest such increase in seven years. One likely contributor was a wave of minimum wage increases that took effect in 19 states last month.
January's jobs figures reflect hiring that occurred mainly before Trump was inaugurated on Jan. 20. Still, it will be the first employment report to be released with Trump occupying the White House, and he seems sure to take a close interest in it.
As a candidate, Trump frequently argued that the government's jobs data exaggerated the health of the economy. He called the unemployment rate a "hoax" and said it declined after the recession under President Barack Obama mainly because many Americans stopped working or looking for work.
The biggest factor in that trend has been widespread retirements by the vast generation of baby boomers.
Measures of business sentiment indicate that many employers have adopted a more positive outlook since Trump's election victory in November. The president's promised tax cuts, deregulation and infrastructure spending have increased optimism that the economy's sluggish pace of growth will pick up.
The National Federation of Independent Business said its measure of small business optimism soared 38 points in December to its highest level since 2004. And the Conference Board's consumer confidence index jumped to a 15-year high in December before dipping slightly last month.
The Federal Reserve has taken notice. It inserted a reference to the improved consumer and business outlook in a statement it issued after its policymakers met this week. The Fed left its key interest rate unchanged but struck a slightly more upbeat tone about the economy.
Mark Vitner, senior economist at Wells Fargo, said a robust jobs report Friday could make it more likely that the Fed will resume raising rates as soon as March, when it will next meet. In December, the Fed increased its benchmark rate for the first time since December 2015, when it raised it after keeping it at a record low for seven years.
"We're 180 degrees from where we were 12 months ago," Vitner said.
At that time, the Fed left rates alone as markets were plummeting over fears of a sharp economic slowdown in China. Worries about deflation also weighed on the minds of global investors, and by early summer the United Kingdom had voted to leave the European Union, thereby further destabilizing markets.
But now, the economy is on firm footing, and the possibility of further stimulus from tax cuts and infrastructure spending could quicken inflation and lead the Fed to raise rates more rapidly, Vitner said.
"It's not inconceivable that some of the job growth tomorrow might be partly related to the optimism for economic growth in 2017," said Joseph LaVorgna, an economist at Deutsche Bank.
LaVorgna said he is optimistic that the economy will accelerate, in part because of Trump's policies. But he thinks hiring is more likely to accelerate later this year.
In the meantime, most recent economic data have been positive and have pointed to a pickup in growth this year after a lackluster 2016.
American factories expanded last month at their fastest pace in more than two years, according to a private survey of purchasing managers. Production and new orders rose at a healthy pace. And a gauge of hiring suggested that manufacturers may have added jobs at a faster pace in January.
Businesses are also spending more on such high-priced items as industrial machinery, computers and autos, a government report last week showed.
Consumers are showing renewed health, too. They boosted their spending in December by the most in three months .
___
Contact Chris Rugaber on Twitter at http://Twitter.com/ChrisRugaber