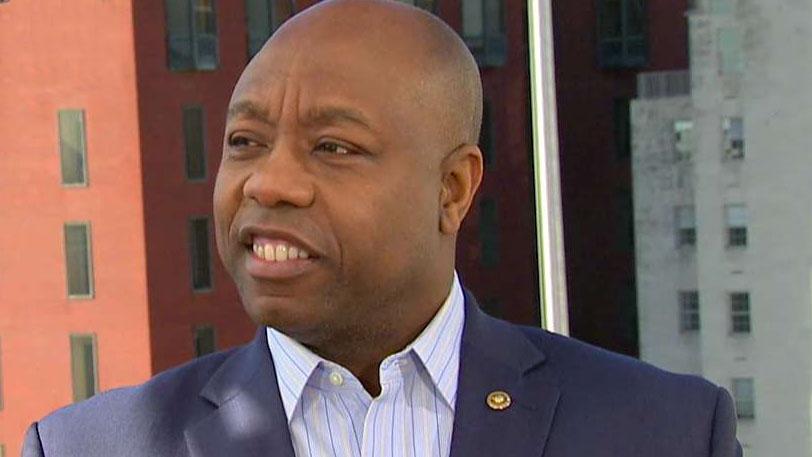 Late Friday night, the majority of the federal government shutdown when Congress hit an impasse on an interim spending bill that would have kept it temporarily operating because of largely partisan immigration disputes, leaving Democrats and Republicans eager to dodge the blame and marring the one-year anniversary of President Donald Trump's presidency.
"It's a 'Schumer shutdown' without any question," Sen. Tim Scott (R-S.C.) told FOX Business' Neil Cavuto. "Every facet of the deal, the Democrats want. The one thing they do not want, is that they do not want the president in the position to make progress on the DACA issue on his timeline. So instead of dealing with the DACA issue before March 5, which we've all committed to doing, [Schumer's] decided to make it a campaign issue and make us the demons."
What happens next depends on Congress, which is in session on Saturday and will likely begin voting on different versions on the plan, Scott said, adding that he believes Congress will be able to pass a budget by now and the end of February.
One such solution came from Sen. Lindsey Graham (R-S.C.) who proposed a continuing resolution, or C.R., that would extend the budge through Feb. 8, instead of the rejected Feb. 16 date. Through his suggestion, which earned him the approval of Senate Majority Leader Mitch McConnell (R-Ky.), Graham proposed to open debate on immigration, disaster relief, military and government spending.
"In light of these realities, I'm hopeful there will be overwhelming bipartisan support for the February 8 proposal," Graham wrote on Twitter.
In the meantime, federal employees will either be furloughed or will work without pay. The Internal Revenue Services, and the Environmental Protection Agency, will both be shutting down, along with tours of the Capitol. Medicare, Medicaid and Social Security checks will remain unaffected, and VA hospitals will remain open.
The Senate voted 50 to 49 to block the bill (which needed 60 votes to pass), with most Democrats – joined by four Republicans – casting "no" votes against it. Democrats wanted to include provisions for the nearly 700,000 undocumented immigrants brought to the U.S. as children, known as Dreamers, who were once protected by the Obama-era Deferred Action for Childhood Arrivals (DACA) program.
While Republicans are also eager to provide Dreamers a path to legal status, they're demanding significant concessions in return.
"I do realize, that without any question paramount to the president's priorities, is making sure border security is infused into whatever deal we make on DACA," Scott said.
Last week, a meeting between Trump and a bipartisan group of senators seemed to hint at a potential deal on immigration, but any thawing tensions were short-lived thanks to reports the next day that the president had allegedly used a vulgar term when referring to immigrants from Haiti and African countries.