US Embassy in Israel to open; security prepared for 'all scenarios'
The U.S. Embassy in Israel officially opens on Monday in Jerusalem – a location which has been at the epicenter of tensions between Israelis and Palestinians, as both claim the holy city as their capital – coinciding with the nation's 70th anniversary.
"It is a historic moment," Danny Danon, Israel's ambassador to the United Nations, told Maria Bartiromo during an interview on "Sunday Morning Futures." "We need to celebrate it, and we intend to celebrate it. We are grateful for President Trump for finally – many presidents promised to move the embassy to Jerusalem. He's delivering, he's doing it."
Israel captured East Jerusalem in the 1967 Mideast war, along with the Gaza Strip and the West Bank, and annexed the city in a move not recognized by the international community. The population of the Old City, as it's known, is about 883,000, nearly 38% of which are Palestinian.
The move from Tel Aviv comes five months after Trump announced that the U.S. would recognize Jerusalem as the capital of Israel, a decision that sparked protests from Palestinians.
"Today, we finally acknowledge the obvious: that Jerusalem is Israel's capital," Trump said in December at the White House. "This is nothing more, or less, than a recognition of reality. It is also the right thing to do. It's something that has to be done."
Though Trump will not be in attendance, his daughter Ivanka and son-in-law Jared Kushner – both senior advisers to the president – as well as Treasury Secretary Steven Mnuchin arrived on Sunday and will represent the U.S. at the festivities. Foreign diplomats, including representatives from Guatemala and Paraguay – both countries followed in Trump's footsteps and chose to move their embassies to Jerusalem – are slated to attend, though ambassadors from several nations in the European Union are expected to boycott.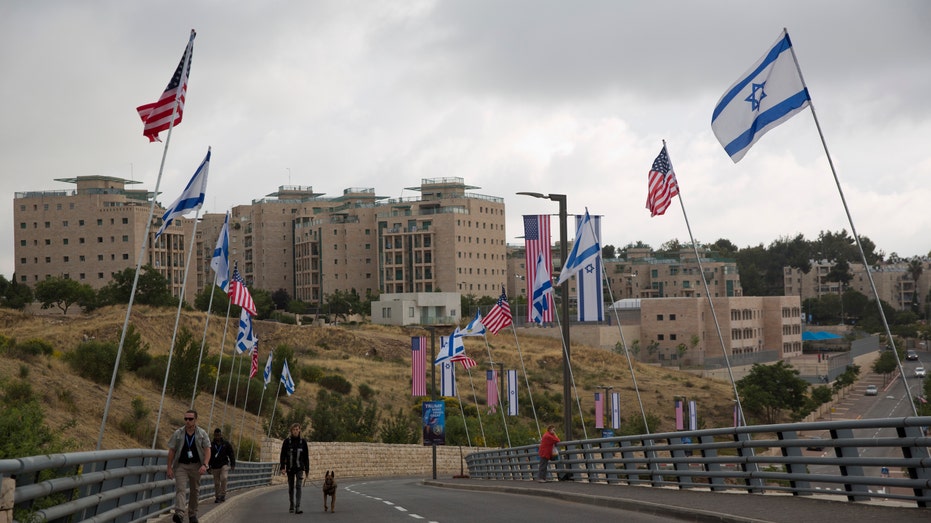 Danon said Israel is preparing "for all scenarios," regarding retaliatory incidents that could occur during the inauguration.
"We expect the Palestinians to demonstrate," he said. "They already are getting ready to do that. I hope they will not send their kids to the fence to use them as human shields. We want to have a peaceful ceremony to celebrate it."
Trump's call to move the embassy was frowned upon by other countries and seen as a hindrance to the potential for peace between Israel and Palestinians. Nearly 130 countries in the United Nations General Assembly, in an emergency session in late December, voted to condemn the president's decision. Nine voted "no" and 35 countries – including U.S. allies Canada, Mexico and Australia – abstained.