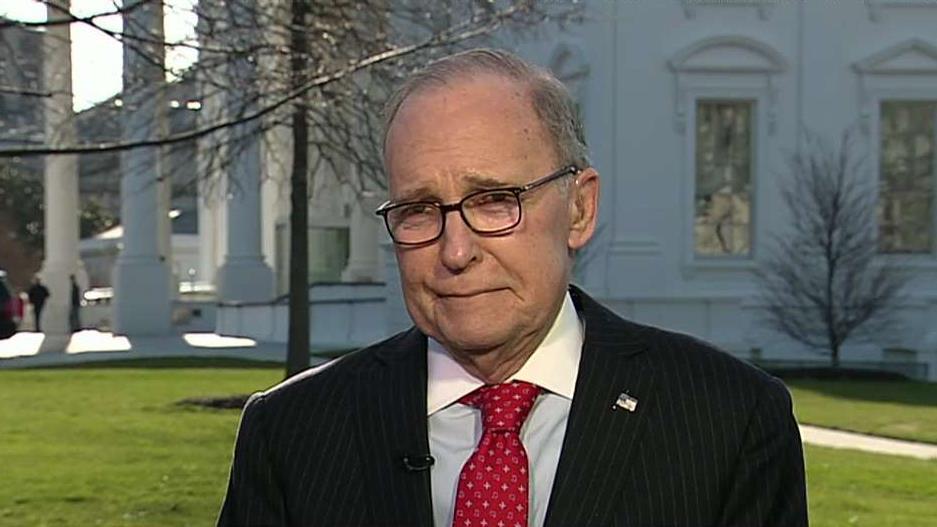 President Donald Trump has officially ended the war on business according to National Economic Council Director Larry Kudlow, who said the U.S. economy has gotten a head start on economic growth.
"I think it's possible," he said, "to be in the three to four percent growth zone," he said.
The Commerce Department revised its first estimate of economic growth in the fourth quarter of 2017 to 2.5 percent, down 0.1 percent from its earlier estimate. The economy grew 2.3% through 2017, up from 1.5% in 2016.
"The last three quarters we picked up from under 2 [percent] to 3.1% at an annual rate. Now three quarters is not a lifetime, I get that, but it's a good start," Kudlow said.
More From FOX Business...
Trump will visit West Virginia on Thursday to tout the benefits of tax reform and wants Congress to consider a "phase two" of the tax plan. While Kudlow could not predict the precise elements of the next package, he said the GOP and President Trump want expensing and personal income rate tax deductions to be permanent.
"That's very high on everybody's list and I think you'd get more bang for the buck on these tax cuts if you do make them permanent," he said. "There are other ideas floating around but perhaps later this year, we'll see something more concrete."
As the economy continues to gain more momentum, wage growth has increased concerns over higher inflation but Kudlow said he's not concerned about wage growth getting too hot.
"We want to remove barriers, including trade barriers. I want to remove tax barriers and regulatory barriers and energy barriers," he said.  "Trump has ended the war on business. He's ended the war on investors. He's ended the war on success. He doesn't want to punish people. He wants to reward them."