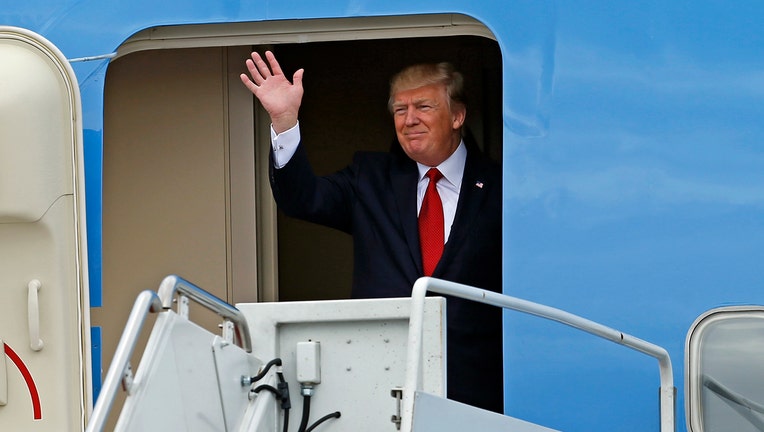 As President Donald Trump and Chinese President Xi Jinping meet for the first time Thursday at Trump's Mar-a-Lago resort, the leaders of the world's two largest economies will attempt to establish a personal relationship despite a deep divide over economic policies and priorities.
President Trump characterized his expectation of the talks with China as "difficult."
However, China may be the country with more to lose economically, Brian Brenberg, chair of the Program in Business and Finance at The King's College, told FOX Business.
"The United States has the upper hand … There's a massive desire on the part of Chinese investors to be a part of the U.S. ... They don't want to see that disrupted," Brenberg said.
Chinese foreign direct investment in the United States has skyrocketed in recent years, tripling between 2015 and 2016 to reach $45.6 billion, according to a report by research firm Rhodium Group.
However, if Trump begins to take punitive measures against China's economic transgressions, including intellectual property theft, censorship of foreign companies and product dumping, the American economy would likely take a hit too.
"You could get this sort of trade war escalation … that would have a negative impact for U.S. consumers," Brenberg said.
China, the largest contributor to the United States' more than $500B trade deficit, underwrote $347 billion of that sum in 2016. In February the U.S. imported nearly $33 billion worth of goods from Beijing, according to the U.S. Census Bureau. Meanwhile, China imported less than $10 billion worth of U.S. goods during the same month.
Last year, China was the United States' third largest export market, behind NAFTA partners Mexico and Canada, according to data from the Commerce Department.
More from FOXBusiness.com...
However, Trump won't have to play hardball with President Xi to make progress on the trade front, Gordon Chang, author of "The Coming Collapse of China," told FOX Business.
"[Trump] might not need to actually impose such bans, quotas or tariffs — the mere threat of them would probably be enough to get China to shut down capacity fast and eliminate subsidies … China needs access to the American market more than American producers need access to China. Trump holds the high cards and should play them," Chang said.
Last week President Trump signed two executive orders aimed at cracking down on trade abuses. Although the administration said the directives had nothing to do with President Xi's visit, the timing could be perceived as a bit suggestive.
Nevertheless, Brenberg believes the two leaders may not dive that deep into controversial topics during their first face-to-face encounter.
"[Trump] is trying to set up a negotiation … [but] I think he is going to play a longer game," he said. "I do expect him to make strong statements on his desire for a fair trade relationship … Businesses would like to see the president talk tough but land punches carefully where they can have the most effect."